This Easy Breakfast Party shop has been compensated by Collective Bias, Inc. and its advertiser. All opinions are mine alone. #DayMaid #CollectiveBias
We're sharing our Easy Party Party ideas, but you could simply use this as ideas of what to bring for breakfast potluck at work or your breakfast ideas for work meetings. When I worked outside of the home many would bring pastries, donuts, bagels, muffins, and none of that was part of a well balanced breakfast.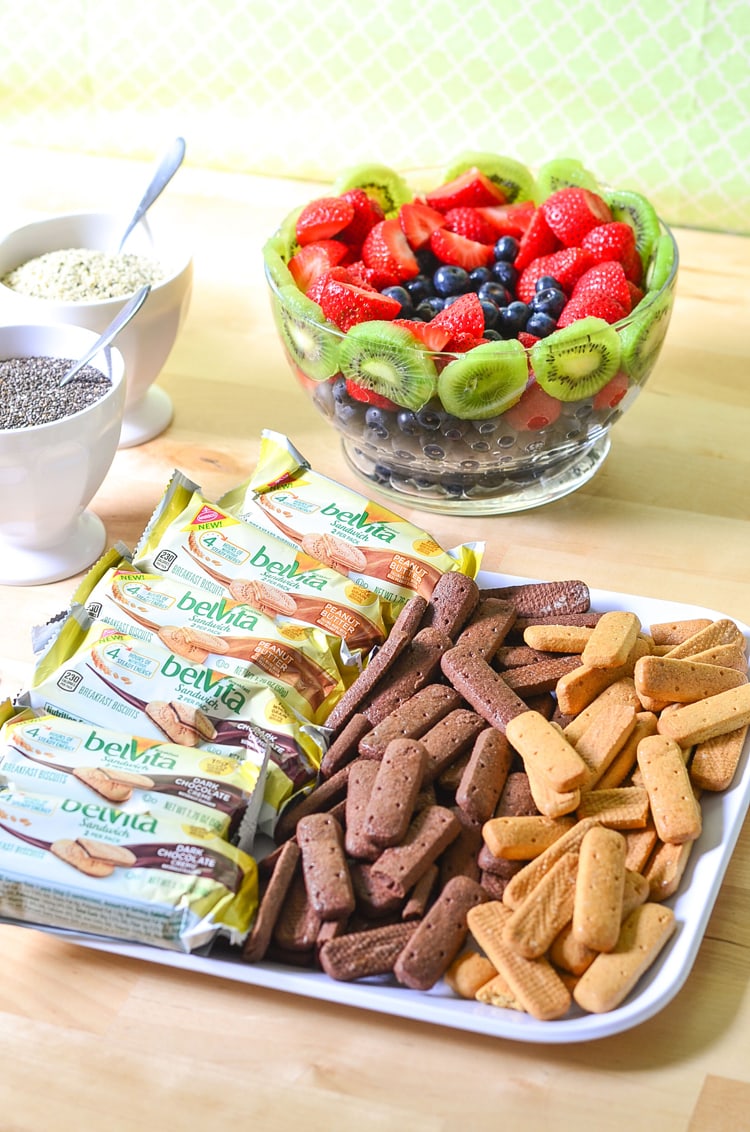 It's SUMMER! We're always looking for an easy breakfast on the go or rushing out of the house to get somewhere and soak up the sun. I thought it would be fun to throw an easy breakfast party for a few friends before we went off on our daily adventure. Breakfast is one of the most important meals, and it's one you should never skip.
Breakfast must have protein, fruit or veggies, and whole grains! We love having yogurt bowls for breakfast with fresh fruit, chia seeds, hemp hearts and then we dunk in Honey Maid Dippers and belVita Breakfast Sandwiches! My favorite is the Dark Chocolate Cream! The belVita Breakfast Sandwiches provides you with 4 hours of nutritious, steady energy and it's even packed with 15g of whole grains. My daughter loves to join in when I make this fun breakfast for everyone breakfast for you, treats for them! (Find even more inspiration here!)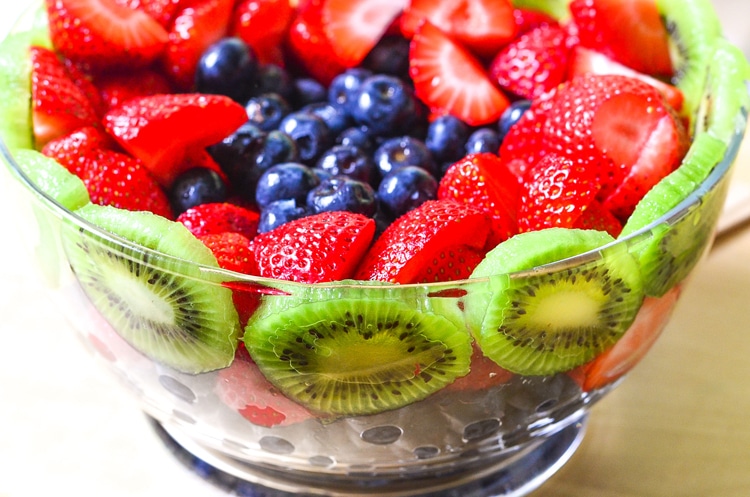 We picked up the following from Walmart
belVita Breakfast Sandwiches Dark Chocolate Crème
belVita Breakfast Sandwiches Peanut Butter
Honey Maid Dippers Chocolate (Instant Rebate Coupon on Honey Maid Dippers for .50 off 1 starting 6/6)
Honey Maid Dippers Honey
Yogurt
Chia Seeds
Hemp Hearts
Fresh berries
Kiwi
We also served a delicious cucumber lemon water – so refreshing! I think next time I may even buy some reusable water bottles instead of my glass mugs for our guest so they can take them home. How fun would that be? 🙂
Ingredients
belVita Breakfast Sandwiches Dark Chocolate Crème

belVita Breakfast Sandwiches Peanut Butter

Honey Maid Dippers Chocolate

Honey Maid Dippers Honey

Yogurt

Kiwi

Strawberry

Blueberries

Chia Seeds

Hemp Hearts
Instructions
Arrange in containers and allow guests to put together.
Everyone loves when I throw my easy breakfast party – it's a great way to ensure we all have a balanced breakfast before heading out. I like to put everything out for everyone to make their own yogurt bowls. I keep the belVita Breakfast Sandwiches in their packages, so everyone has the perfect portion size. If we were in a rush, we could quickly take a package for breakfast on the go with a yogurt.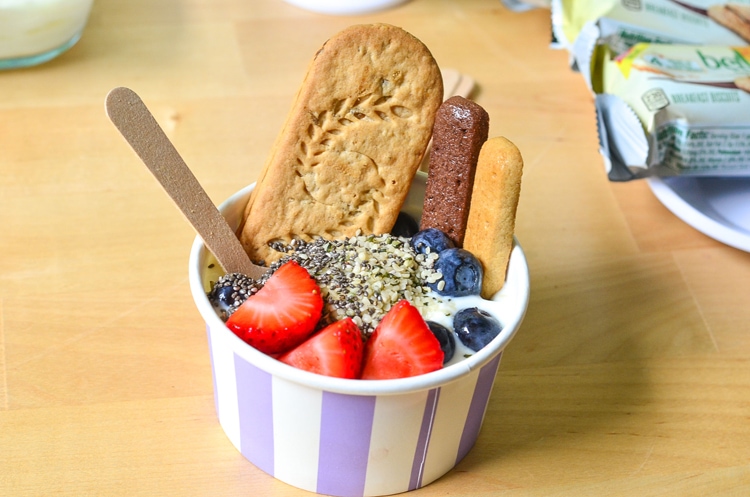 After everyone is done enjoying their breakfast, I like to put out a little going away present. I wrap the belVita Breakfast Sandwiches package with twine and pretty fake flowers. My guests can take one for their breakfast tomorrow, or their next breakfast on the go!