Find Star Wars Toys at Toys R Us!
We recently received a package of Star Wars two Luke Skywalker Lightsaber toys and along with them was Durracell batteries! Head to Toys "R" Us for the best selection of Star Wars toys like the Luke Skywalker Lightsaber! The new Star Wars film will be hitting theaters on December 18th. I can't wait to go see it on the big screen! In anticipation we've been watching all the movies and of course giving our lightsabers quite the workout. Thankfully we have plenty of batteries in case they stop working. So far we haven't changed the batteries even with daily use for 2 weeks! How many times have you forgotten to purchase batteries and always thought "Oh, it comes with batteries, no need to purchase!". Yup, I thought that too. Now I always purchase batteries when we get new toys.
This lightsaber will definitely be a top Star Wars toy at Toys "R" Us!
We love our new lightsabers! They don't just light up, they have sound effects like clashing, battle impact and even crackling sounds!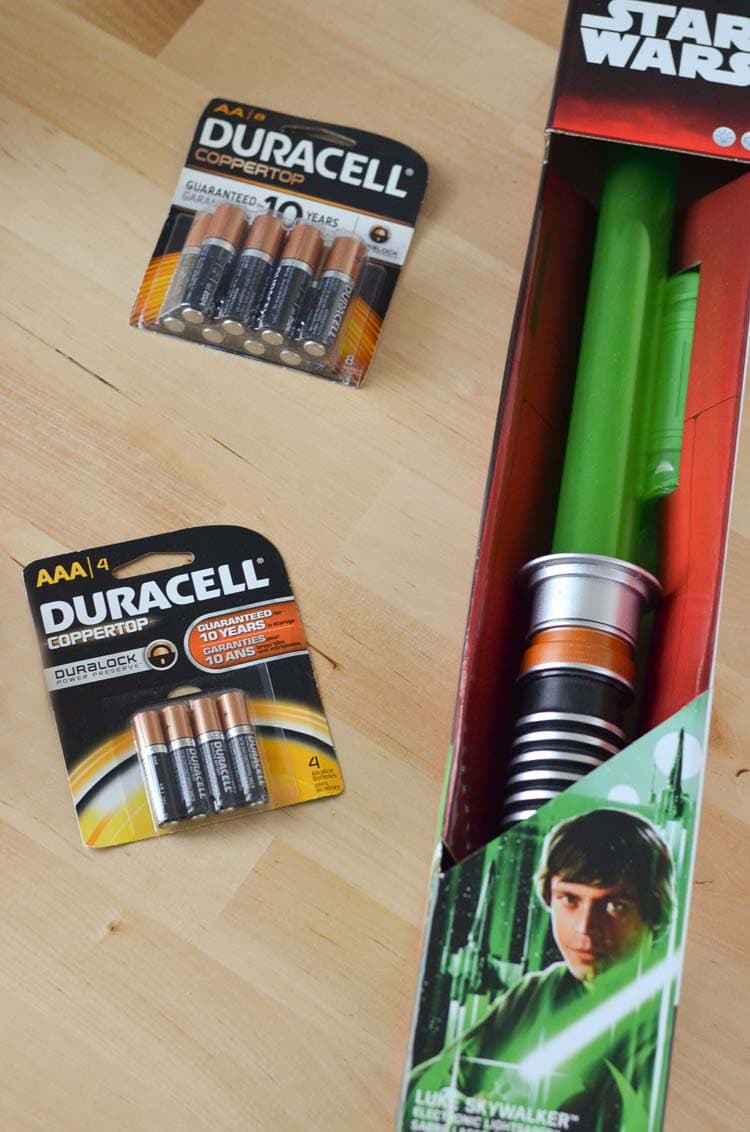 Do you want batteries with that? That is something I constantly think each time I pickup a toy for my daughter, especially when holiday shopping for gifts. I'll never forget her first Christmas.. We purchased her a really cute toy ball that made sounds and rolled all around. Apparently all toys that come with batteries come with tester batteries, oops! Everything was closed on Christmas morning, so we had to take batteries out from another toy for her to play with it because she was crying for it. Of course since she's a baby she had played with it in the store before we bought it. She definitely remember how it worked! Now I am always the one to buy batteries like Duracell when I purchase a toy, even if batteries are included!
One sad story about batteries included.. They put cheapy batteries in toys when they come with them. Not quality batteries like Duracell and when we purchased a talking stuffed animal for her she had it for 2 months before the batteries started to crust and get gross – we had to throw out the toy when we went to change the batteries. Lesson definitely learned.

This year Duracell, Hasbro and Disney have teams up with Toys"R"Us to help you get ready for the holidays and save money on this season's hottest toys!
When we first opened up our lightsabers, all baby girl was saying was "Mommy, look it's broken!". I always open packages and put the new batteries in, so she's definitely used to that! Hubby quickly put the batteries in and her face was aglow, just like her lightsaber!
Starting tomorrow, November 22, look for a $3 OFF coupon when you buy any 2 packages of Duracell batteries (AA/AAA 16pk, D/C 4pk, 9V 2pk or larger, Quantum AA/AAA 6pk, D/C 3pk or larger). You'll find this coupon in most Sunday newspapers.
After that, starting December 13, look for a $1 OFF coupon when you buy one package of Duracell Coppertop and Quantum. This coupon will also be available in most Sunday newspapers.
One lucky reader will win:
$100 Toys"R"Us gift card
AAA Duracell batteries (perfect for your star wars toys!)
Toys R Us Star Wars and Duracell Giveaway

This is a sponsored conversation written by me on behalf of Duracell & Toys "R" Us. The opinions and text are all mine.