This shop has been compensated by Collective Bias, Inc. and its advertiser. All opinions are mine alone. #BDayOnBudget #CollectiveBias
Sweet Baby girl turned 3 this past July. I still can't believe my baby is a full blown toddler. It feels like I just gave birth to her last month, okay yes I did – but just feels like it wasn't three years ago! So cliché, but time sure does fly when you're having fun! 🙂 Chris took us on a much needed vacation for our birthday. I turned 30 and Kay turned 3! We had so much fun and now we're back and refreshed! I couldn't wait to throw a little party for Kay's local friends. We had a small family party right before our vacation and saved the local one for after vacation. The main focus of her parties now is having fun and enjoying. Toddler Disney Princess Birthday Party on a Budget is the best way for us all to enjoy!
-APOLOGIES IN ADVANCE FOR THE FLOOD OF PICTURES! :)-
Since we kept the party small I wanted to also keep a budget. Last year I spent about $500 on her party from food to supplies. This year I spent half and even got to enjoy more. Last year was hectic with the amount of people and the amount of cooking. This year was all about my girl and her favorites! She's truly my little Princess so a Disney Princess Party was just the icing on the cake, or donut! 😉
So this past year baby girl outgrew all of her FPIES triggers and this was HUGE for us! She can now eat much more foods than last year. Now we just have to trial new foods like clams, lobster, shrimp and a few nuts. When we asked her what cake she wanted she said, "no cake, donuts!". We also planned a BBQ like last year ($$$ and time consuming) and she asked for pizza, DONE! We ordered two pies and everyone enjoyed and hubby and I were able to enjoy with them.
Together we made watermelon "cookies" with some cute flower cookie cutters we found at Walmart while shopping for all of our American Greetings Disney Princess party supplies.
You can find all the party supplies in the celebration section, down further is cake stuff too!
I bought hats, goodie bags, stuff for the goodie bags, napkins, birthday princess sash, tiara, plates, and so much more for only $100 and then leftover for food. Everyone raved about the homemade Disney Princess Pink Punch! 🙂 (we used our melon berry splash juice, get the recipe here!) She's still wearing her crown and sash around the house saying "I'm a birthday Princess!". It's so funny how she woke up every day before her birthday for weeks saying, "My birthday is coming soon!" and now she still saying it, haha! I keep telling her that it's not for another year, and she says, "no mama, it's on Saturday!".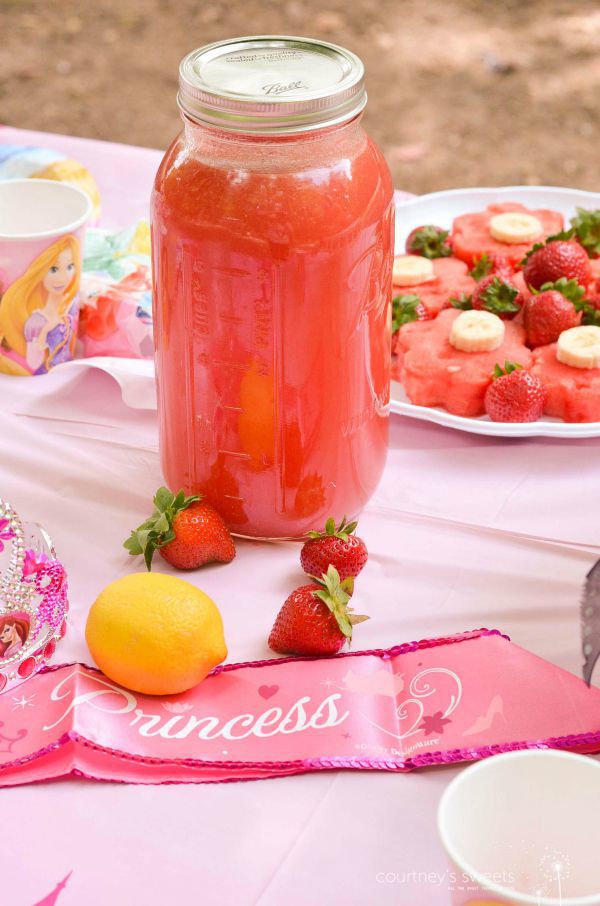 When we were putting all the stuff together for the party Kay didn't like the hats and kept snapping herself, leave it to a toddler to fiddle! Then I had a genius idea! All the guests are girls so I took the necklaces from the gift packs and looped them through the hats. I used the rubber string to tie around the necklace to secure it to the hat. All the girls LOVED them! We really hope you enjoyed our Disney Princess Birthday Party pictures! 🙂