Hey there, I'm Courtney!
I'm a mom, I'm a wife, I'm a recipe developer, I'm a photographer, and I LOVE life.  I especially love the people that are in my life. One thing that has never changed in my entire life is the love I have for family. Family (and friends) are the most important gift we have in our lifetime. I was told for years from doctors that I would have an extremely hard time having children and then God blessed me with my daughter. She is the best blessing I have ever received! I love sharing family updates, our favorite recipes, parties we've thrown, and even some of my photography tips and tricks. Welcome to my blog, where I share all things in life that are Sweet!
Courtney's Sweets may sound like a baking blog, but it's all about the sweet things in life.
My daughter, my life!
I shared my entire pregnancy on my blog, so it's only natural that I would share my daughters milestones and updates.  She is such a blessing, and I cannot thank God enough for her.  She completes our little family and I cannot wait to see her grow, although I hope it goes slow enough for me to enjoy every little moment!  Sweet Baby also has had a very rare allergy called FPIES (read more here) that we talked about often on Courtney's Sweets – every little bit of awareness helps and we're proud to say that we've helped many families reach a diagnosis for their children. After we outgrew FPIES (see can you outgrow FPIES) I knew I had to do something big, so I started a series! I'm the founder of Mini Chef Mondays!
She not only made avocado deviled eggs, but she also used spices & food to make a natural dye!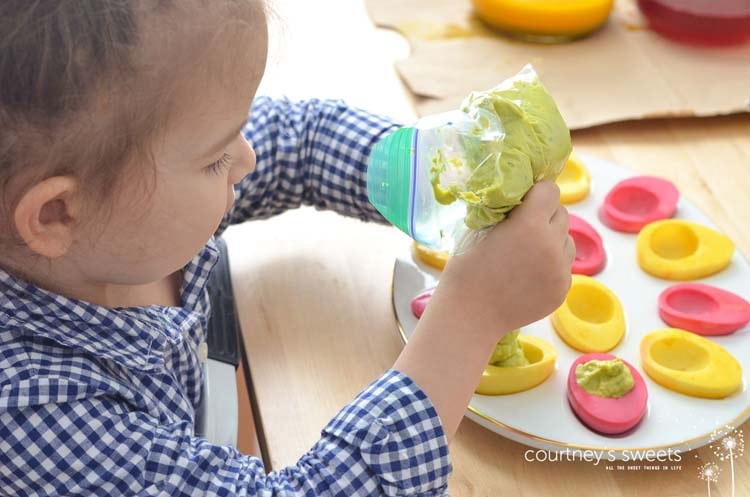 Mini Chef Mondays is where you'll see my daughter share a new recipe every Monday! She is such a pro for age, she's only 3! We even make recipe videos for Mini Chef Mondays! Not only will you see my sweet girl, but also other kiddos too! I had a mission and mindset, the more the merrier! I asked a few of my blogging buddies and they LOVED the idea. So there's a total of 8 bloggers, all blogging about Mini Chef Mondays!

By starting this series I really wanted to get her comfortable in the kitchen. When you have FPIES food can be scary. My goal was to help her get over her fear of food and all her texture and oral aversions. I also wanted to get more kids in the kitchen. It's so important that children know where their food comes from and really touch, taste, and understand food and the cooking process. She is now open to trying new foods, using gadgets in the kitchen and did I mention excited to cook all the time with me? I love having someone to cook with. 🙂
Chris, my other half! 
You know, it's true what they say.. soul mates, the person who completes you. I never knew I could find someone like that. Someone that I could be completely comfortable around and love as if I've known them all my life. I feel that way with Chris. I feel like life with him is the life I've always dreamed about as a little girl. I'm so grateful he was able to meet my parents before they passed, they loved him so very much, and he loves them too! He's the perfect husband and the perfect daddy, we're so lucky! 
Did I mention, Family is my everything?