LG Black Stainless Steel Appliances
I will never forget having my first cell phone. It was an LG flip phone that I loved! It was the first thing I really was responsibly paying for and life was good. Life's good with LG, so good that when hubby and I moved in together we purchased many LG products, including an LG TV. In the next two years we hope to be done with renting (NJ is all about renting!) and finally purchase our own home. I was so thrilled to attend LG's Black Stainless Steel event with HGTV. There was so much valuable information that we can't wait to use for our next home. I know for sure we'll be hiring a designer. I still can't believe I met HGTV Design Stars Emily Henderson and David Bromstad!
David was in the middle of posing for the guys with the BIG cameras, then saw me shooting and posed for me too!

learn how you can win your dream kitchen, plus a consultation with one of these HGTV stars!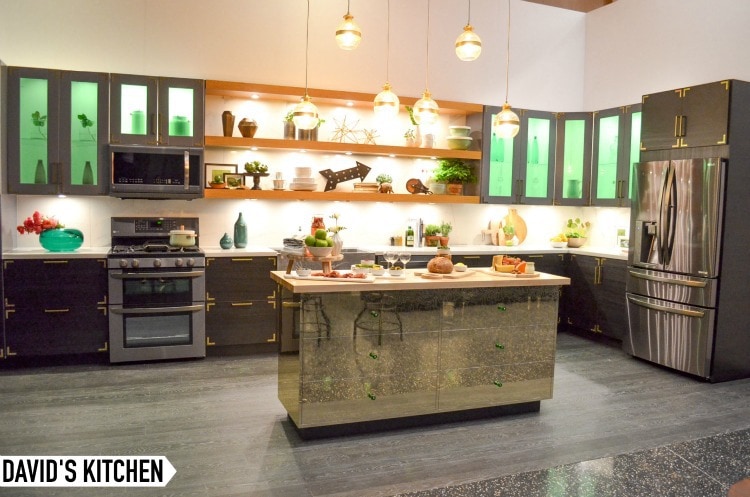 They both designed their own kitchens and they were both beautiful. One thing I really love about the new LG Black Stainless Steel Appliances is they will match any kitchen. As you can see Emily and David's kitchens are completely different, aside from the appliances. One kitchen is beach styled with bright whites and light, whereas David's is a little more dark with a pop of color. The LG appliances fit well within both kitchens. I was personally happy to see how well it matched in the beach style, I love light and bright. The LG worked in that bright space! What's really fun about the green in David's kitchen is that it's not permanent, but just a color coating. You can peel it off and add whatever pop of color you'd like. Emily and David joked how you could change it for the seasons, parties, but no joke, I would definitely do that! Both designers are extremely excited about the LG Black Stainless Steel Appliances since it gives customers another option, aside from the traditional stainless steel.
I was like a kid in a candy store looking at the new Black Stainless Steel Appliances from LG. We rent and have whitish appliances that I would replace in a heartbeat if it was up to us. My daughter has her own series called Mini Chef Mondays and she's extremely involved in the kitchen. If you couldn't tell, she was pretty excited to see the new appliances as well. She went straight to the fridge and guess what, no fingerprints!
We heard from a local contractor and realtor too! It was nice to hear what people are looking for and what's trending right now. It's important to hire a contractor and designer together when you're starting your renovations. This way they can design the space and know where everything can go. Plumbing and electrical can definitely get in the way of some things, but hiring a good designer will be the best money spent.