– One Year Married, couldn't be happier –
-First Picture Together-
-His hand fits perfectly in mine-
Chris and I have been together 6 years, married one this upcoming Saturday. Time goes by soooo fast! Over the years we have gotten so close, I don't think I could be myself completely in front of anyone else but him.. Well okay maybe my sister Breana 😉
But truthfully.. No one else knows me inside out like he does.. As I do to him.. We seriously completely each other.. I appreciate him so much. He's been through so much with me.. In the first few months of us dating my father passed.. It was a huge hit for me.. I had never lost someone so close.. Especially a parent.. Chris was there for me, he is always there for me! Then I was in the hospital with Pancreatitis for 3 months.. Yes a long
time and at that time we still lived about an hour and a half away.. BUT that didn't stop him from coming to visit me every Thursday. If that's not love then what else is??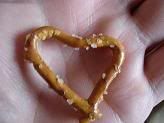 -Chris' Hand with a pretzel shaped as a heart-
I got out of the hospital after my three month stay and he was nothing but an angel helping me throughout everything.. Then.. 2 months later I lost my mom.. I was lost, confused, scared, and just helpless. I had no job because I couldn't work because I was still sick. I had some money in savings but no where near what I needed to survive. So October 5 is when she passed.. Breana and I tried so hard to pay the bills but honestly.. we would never make it alone. Thankfully we had lots of family and friends.. But Breana (My sister) was dating Steve (still together) and I was dating Chris.
November Chris said we have to do something.. Okay sure yeah.. Lets do something.. I had no clue what.. But he said I would not have to worry.. I -trust- him with all my heart.
November 15, 2006 we move in together and it was hard to pay the bills but Chris always made it work.. Thankfully I was MIRACULOUSLY better after my mom died.. The pancreatitis just went away (it did come back off and on for 2-3 years and led to my gallbladder being removed) and I started helping out and found the best job ever.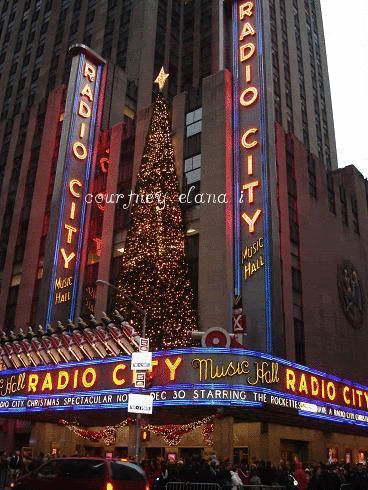 December 25, 2006 I got a HUGE surprise.. First we went to go to see the tree in NYC.. well it was raining, pretty miserable outside.. So first we went to get our picture done.. You know where they draw you.. Well I had a fat lip buck teeth and this wasn't one of the funny ones.. it was supposed to be me in an oil painting.. I got upset because it looked horrible and it didn't help that Chris looked like one of the little Rascals. 😉 (in the picture) So we bought an umbrella for like $15 walk about a block and the thing breaks.. Chris was sooo upset.. I really didn't understand why.. until..
We went home preparing for his family Christmas party.. He paused in front of our tree and said dance with me.. so I did. He put on our song -These are the moments -Edwin McCain- we danced but then all of the sudden he asked me to take off my promise ring.. I didn't know what to think.. was he breaking up with me?? Did he get me another ring?? What's going on?!?!Then he got down on one knee….
Chris proposed!!! Of course I always knew he is the one for me, but I just lost my mom, my dad was gone 3 years and this just made me feel -loved- -safe- -wanted- but most of allcomplete.
We ran to the party, forgot all the goodies that I spent hours baking — who cared, I was engaged! Not only to the perfect man but I was gaining the best family. He made me feel like I was on top of the world.. ready to fall.. but he caught me.
I called my whole family of course they all knew.. Since my parents weren't alive he asked my Aunts, Grandma, and other relatives for their permission. (SO cute) 🙂
We started planning about a few months after, still in shock over my mom.. I'll admit it.. It's extremely hard for a girl to go through planning her wedding without her parents.. NOT for money I could care less about that.. just their presence.. I wanted that magical day and I had it. It was beyond perfect! August 29, 2008 I became what I always dreamed 🙂
Chris you are above and beyond what any girl could hope, wish, or dream for.. and I'm just happy to call myself your wife.
This is just the beginning of this fairy tale..Family means more than anything to me.. I -can't- wait to start ours! 🙂
I love you baby!! Happy Anniversary ! 🙂
-Your Sweet
(ps. Chris has been calling me "sweet" for years.. Hence Courtney's Sweets 🙂