We had fun doing a Toddler Fall and Halloween photo shoot. I eat, sleep and breathe Halloween when October hits! I really enjoy dressing up my daughter all month long and we adore the styles from Gymboree. You can even get lucky locally and find some cute older season Halloween Styles for toddlers in the Gymboree Outlet stores. I prefer to shop online and even use my Gymbucks when I can. I just can't handle all the cute outfits Gymboree makes – we usually go a bit overboard on Halloween and Christmas, who am I kidding.. every time we shop we go overboard!
This adorable cat outfit was the talk of the party at grandma and grandpa's house. All of her cousins wanted to be dressed up too!
What I love about Gymboree is the quality. We purchased the Gnome costume just for fun and we're not sure if it's her Halloween Costume yet or just for dress up, regardless it's on sale right now since they're having their $16.99 and under sale. Time to score big! So much is on sale, I wish I got these deals!!
She really enjoyed picking flowers in her gnome costume, fitting right? 🙂
My other absolute favorite is their pajamas and I couldn't resist getting a Halloween Pajama set. Baby girl woke up and I started to snap away. I just couldn't help taking a mini photoshoot of her in her Gymboree Pajamas, messy hair and all!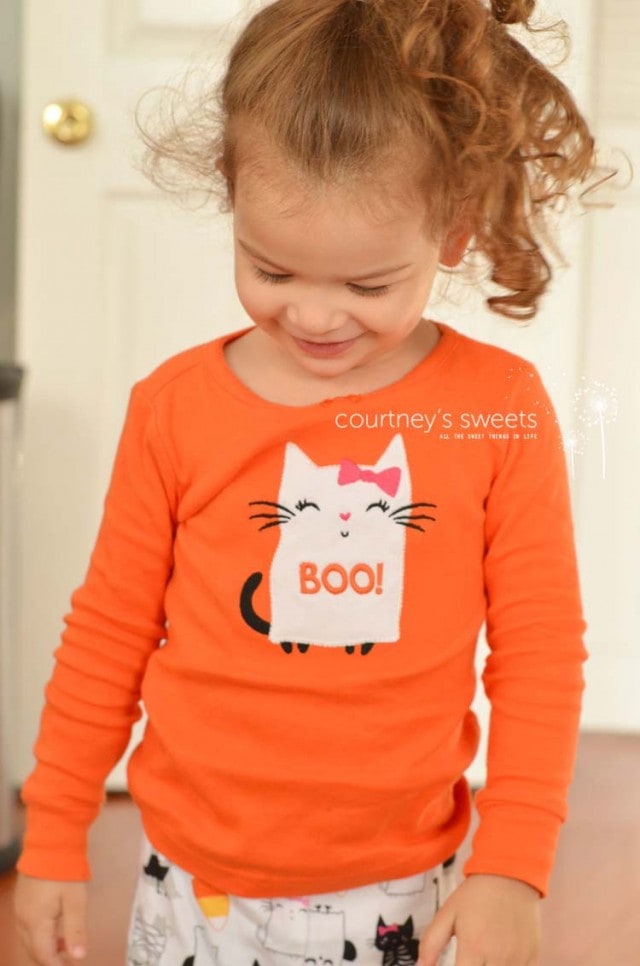 She was cracking up while I took the pictures as she walked to the bathroom. 🙂
Last but not least, we love the everyday fall styles they offer too. They have great clothing for baby, toddler and even older children year round. We're always shopping at Gymboree. You can usually find Gymboree coupons in the mail or even in some magazines. I can't wait to shop Gymboree for Thanksgiving and Christmas! We hope you enjoyed our Fall and Halloween Photo Shoot!
What's your favorite holiday to shop for?
*special thanks to gymboree for giving us a gift card to purchase these looks.