Our Air Fryer Baked Sweet Potato recipe results in a sweet potato baked to perfection!
I'm potato obsessed! I could live off of potatoes if that was a healthy option just to eat potatoes, ALL DAY EVERYDAY!
My husband and our daughter also share a love for potatoes, so we have our fair share of them throughout the week. We love our Air Fryer Baked Garlic Parsley Potatoes, but this Air Fryer Baked Sweet Potato recipe is just as good!
The inside becomes almost creamy, and it's naturally sweet. I just sprinkle a little bit of salt on my baked sweet potato, and I'm ready to dig in! For a special treat, we like to put a bit of butter and parsley too. My husband will even sprinkle a little maple syrup or honey onto his.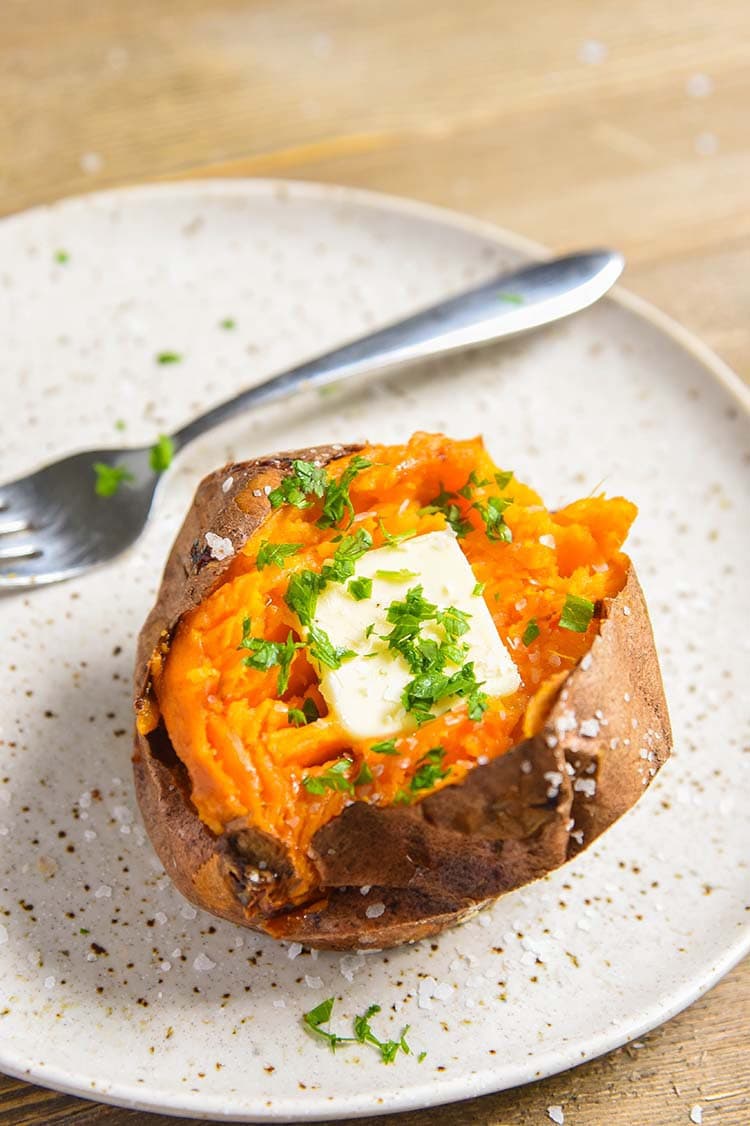 As soon as you cut it open it is already easy enough to eat with your fork or even a spoon. I like to give it a little mash just so that the salt can get into more of the potato. Oh man, so good!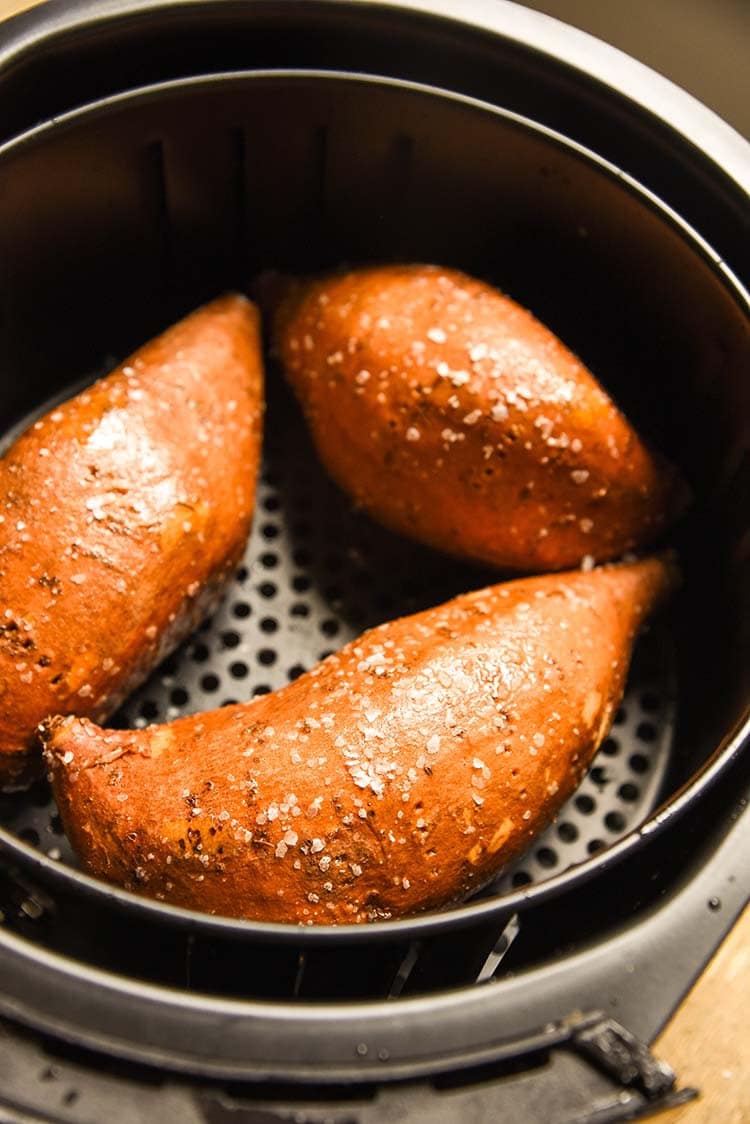 Look at these sweet beauties ready to be turned into the best baked sweet potato you'll ever eat!
If you want really crispy stuff without frying this air fryer is excellent! Fries are crispy, our potatoes are crispy on the outside and perfectly fluffy on the inside.
I will say that this is definitely NOT a deep fryer. Think of it more like a convection oven. You can even bake in your air fryer! 🙂
At first, I used it thinking I could fry anything that I would typically fry like zeppoles but in all honesty, I didn't like it because I was approaching it the wrong way.  I was trying to make deep fried desserts, and the Air Fryer isn't made to do that.
It helps make some fried foods that you'd usually enjoy a much healthier option by using an air oven.
You can cook without any added oil, and it's oil free cooking unless you're making our baked potatoes. We think the oil really helps the skin crisp up so we like to use just a little.
We love sweet potatoes and this Air Fryer Baked Sweet Potato recipe is a KEEPER! 
Air Fryer Sweet Potato
Ingredients
3

sweet potatoes

1

tablespoon

olive oil

1-2

teaspoons

kosher salt
Instructions
Wash your sweet potatoes and then create air holes with a fork in the potatoes.


Sprinkle them with the olive oil & salt, then rub evenly on the potatoes.

Once the potatoes are coated place them into the basket for the Air Fryer and place into the machine.

Cook your potatoes at 392 degrees for 35-40 minutes or until fork tender.

Top with your favorites!
Nutrition Facts
Air Fryer Sweet Potato
Amount Per Serving
Calories 153
Calories from Fat 36
% Daily Value*
Total Fat 4g 6%
Cholesterol 0mg 0%
Sodium 846mg 35%
Potassium 438mg 13%
Total Carbohydrates 26g 9%
Protein 2g 4%
* Percent Daily Values are based on a 2000 calorie diet.