April Fools' Meatloaf Cupcakes have been a yearly tradition in our house.  I love making food fun and cute at the same time.
What's great about April Fools' Meatloaf Cupcakes is that they're all portioned out perfectly, everyone gets their own mini meatloaf with a portion of mashed potatoes.  I personally eat 2 of these April Fools' Meatloaf Cupcakes and I'm full.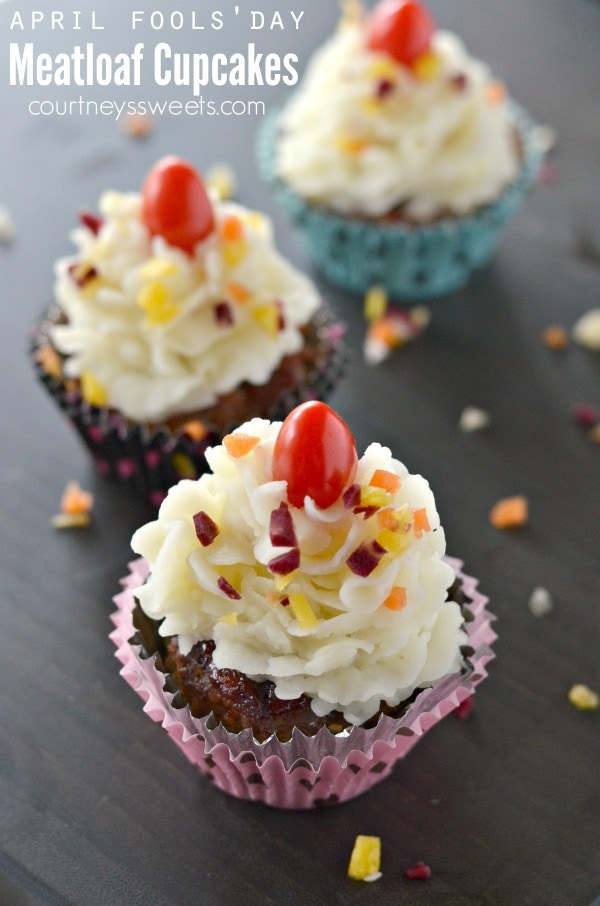 I made meatloaf cupcakes a few years ago and it was fun to get creative with all the toppings.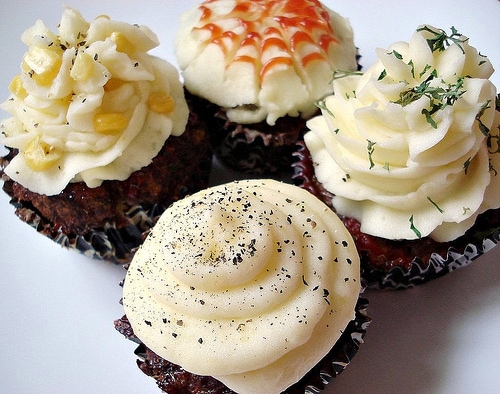 I even made Halloween meatloaf cupcakes.  It was so much fun making pumpkin meatloaf cupcakes using sweet potatoes and broccoli, you'll love my monster mash too!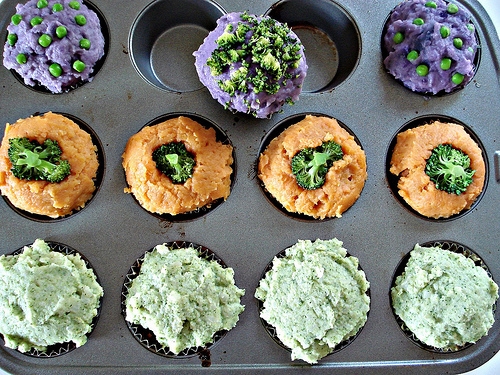 Kay is an extremely picky eater and I know a lot has to do with her FPIES Food Allergy.  I try to make food as inviting as I can for her.
She was excited the entire time we were making these cupcakes.  If you make food fun for kiddos and involve them, they're actually more likely to eat the final product.
You can get as creative as you want with the toppings.  I have used bacon, corn, herbs & seasonings, ketchup, tomatoes and even chopped up carrots for sprinkles.  I find the rainbow carrots are the best for the sprinkles.
These April Fools' Meatloaf Cupcakes will definitely wow your family and even might get your picky eater to eat a "cupcake" for dinner.  I remember growing up everyone hated meatloaf.  I was the odd ball out and LOVED meatloaf.
Meatloaf is actually one of my favorite meals, with a huge serving of mashed potatoes.    I get the perfect mashed potatoes every time using my KitchenAid Stand mixer.  See our post about making the perfect mashed potatoes.
We cook these in an aluminum cupcake wrapped and then transfer to a new one after baking.  I then place it in a pretty cupcake liner to serve.
You could even get more adventurous and add beets into the mix of the potatoes and make them pink!
Make a brown gravy and say it's caramel.  The options are endless with these April Fools' Meatloaf Cupcakes.  Go ahead and make these on April Fools' Day and see how many people you can fool!
For added fun pop in some mozzarella balls or cheddar cubes (just cut a block of cheddar into cubes) for a gooey, cheesy and delicious filling.
April Fools' Meatloaf Cupcakes
Ingredients
1 1/2

lb

lean ground beef

2

eggs

1/2

small onion

, chopped, sautéed with a little olive oil.

1/2

cup

milk

1

piece

of whole wheat bread

, broken up into little pieces

1/8

cup

ketchup

1

teaspoon

dried parsley

1

teaspoon

garlic salt

1/4

teaspoon

cumin

1/8

teaspoon

pepper

1/8

teaspoon

salt

(for the top, 1/3 cup ketchup, 1 teaspoon mustard, 1 teaspoon brown sugar, 1 teaspoon worcestershire sauce)

Mashed Potato "Buttercream"

3

large red potatoes

1/2-3/4

cup

milk

1

tsp

salt

2

tablespoons

butter
Instructions
Meatloaf:

Pre-heat oven 350.

Mix all ingredients by hand, do not over mix.

Roll meatloaf into giant meatballs, and try to form into the cupcake liners, remember they shrink!

Baste the top with the ketchup mixture.

Bake for 30-45 minutes.

Buttercream:

Peel and chop the potatoes and bring to a boil in a large pot.

Once the potatoes are done add them to your stand mixer bowl along with the butter, and salt.

Mix at medium speed until potatoes are broken up, then slowly add the milk.

Add more milk if needed for desired consistency.

Once potatoes are semi-cooled add them to a piping bag with tip of your choice, and top the meatloaf cupcakes.

optional: we like to stuff ours with little mozzarella balls or cubes of cheddar! 🙂