A healthy Baked Falafel Recipe Homemade and super easy! Such an easy healthy lunch or snack recipe and it's vegetarian, vegan and even FREEZER friendly.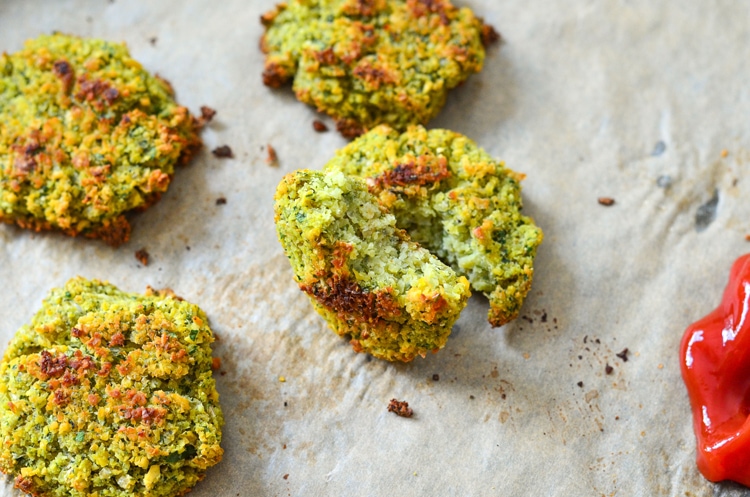 We're so excited to share our baked falafel recipe. We baked 3 batches today in our new countertop oven KitchenAid sent us for National Kids Take Over The Kitchen Day, which is September 13th. We couldn't wait to use it, and we've been testing it out since we received it. It has so many features and can make SO much, so be sure to visit our site on September 13th!! 🙂
My toddler is one of the biggest falafel fans. When she had FPIES we had to get creative when it came to meals and while her cousins would eat chicken nuggets, she would eat our homemade falafel recipe. She didn't miss out one bit, falafel is delicious and nutritious, packed with protein too! Our falafel recipe is vegetarian and vegan also.
Even better, it's baked, not fried. If you like fried falafel you could absolutely fry these up.

We always make a big batch and then freeze some for later. When freezing just shape as normal and then freeze, don't cook them before freezing. Being freezer friendly makes our falafel recipe even better for snacking after school. We all love the crunchy texture of falafel so instead of using canned or cooked chickpeas we use dried chickpeas that are soaked overnight. By using dried chickpeas, we don't need to use any binders to keep it together.
Traditionally you'd serve with hummus or tahini, but if you're a mini chef with a sophisticated palate, ketchup is the secret. 😉
Falafel Recipe
Ingredients
2

cups

dried chickpeas

1

cup

fresh parsley

1

cup

fresh cilantro

1

medium onion

, chopped

3

cloves

garlic

, chopped

2

teaspoons

cumin

1

teaspoon

black pepper

1 1/2

teaspoons

salt
Instructions
Rinse chickpeas and place into a large bowl with enough water covering them so that when they expand they're still covered.

Allow chickpeas to soak overnight (12-24 hours) and make sure they're covered.

Once chickpeas are ready give them a good rinse and dry.

Preheat oven to 375 degrees.

Place chickpeas and remaining ingredients into a large food processor.

Process mixture until desired texture.

Once you have achieved the desired texture start to shape your falafel.

Bake falafel for 20-25 minutes, turning once.
My mini chef is in love with cooking, and we're so thrilled how far she's come. We've been getting all things mini, and she had to have a mini oven! Thank you so much to KitchenAid for sending her this gorgeous oven and even letting her pick the color. 🙂 Having an oven for her was a big deal for us. She's very hands on and wants to be involved in the entire cooking process, but the large oven scares her and rightfully so, it's bigger than her. Having a mini oven has not only helped her get even more hands on with her food, but she's even trying foods she wouldn't want to try before, because it came out of her oven!
I am hosting Mini Chef Mondays along with 8 fabulous bloggers! Read how Mini Chef Mondays started.
Join our facebook group to find even more recipes and share recipes too!
Get featured and follow us too!
Be sure to check out each of their Mini Chef posts as well!