this is a partnered post – thanks for supporting brands that make Courtney's Sweets possible.
Infused water is all the rage these days. My husband and I enjoy drinking infused water but my daughter would much rather just drink plain water or juice. A few months ago my husband and I started going to a local juicing store and the juice was SO expensive, it was also full of sugar! I like to control the amount of added and natural sugar in our diets.
Kay loves to eat fruits snacks and candy but I find that she loves frozen juice ice cubes even more! They're less sugar, better than gummy snacks which are bad for your teeth and they're all natural! They taste delicious and I let her enjoy them when they're not too frozen and a little more slushy ice than firm ice. I save the firm ice for her water. We LOVE Bolthouse Farms juices and right now they have their limited edition Watermelon Mint Lemonade out (so good, go get it!!!) We love their organic carrot juice too. I really hope they bring out more organic varieties!
Our family loves to eat healthy. We focus on whole fresh foods! We're so excited to spread the word about ACME produce partners united to raise funds for hunger relief. This Philabundance for Feeding America campaign between Produce for Kids® & ACME Markets launched on April 24 and will last until June 4th. We hope they can raise enough money to provide a enough food to help fund and feed the largest hunger relief organization in the Delaware Valley, and other local Feeding America food banks.
This program is also about sharing healthy eating habits for families. We love all the brands that are helping this campaign and even use most of them regularly! By purchasing from these brands, the suppliers will make a donation to Philabundance through June 4th! Plus ACME shoppers can sample simple healthy Produce For Kids recipes at participating stores on May 15. You may even see characters from Cloudy with a Chance of Meatballs 2! 🙂
This is the 13th annual campaign for Produce for Kids and through these campaigns they have raised $5million for children's charities since 2002. Produce for Kids has over 200 registered dietitian-approved and family tested recipes, meal planning tools and tons of healthy tops for parents from real parents!
If you make any recipes at home we'd love to see your creations, be sure to use the hashtag #produceforkids on social media!
ACME "At ACME, our mission is not only to provide our customers with a fresh and healthy experience every time they enter our stores, but to also create strong local communities," said Jay Schneider, produce sales manager, ACME Markets. "We are proud to partner with Produce for Kids on an effort that encourages our shoppers to introduce fresh fruits and vegetables to their families while supporting local children in need."
Produce For Kids "We are proud of our partnership with ACME Markets to educate families about the benefits of eating nutritious produce as part of a healthy lifestyle," said John Shuman, president of Produce for Kids. "We are extremely proud of the $5 million we have raised thus far to support local children's charities, and we are excited to partner with local ACME Feeding America® food banks this year to help put an end to childhood hunger." For more information about the ACME and Produce for Kids campaign, visit www.produceforkids.com.
Now back to our Fun Fruit and Vegetable Infused Water for Kids or adults 😉 I love this since my daughter LOVES to dig her hands into her cup and eat the ice. This juicy ice is less harmful for her teeth than regular ice. It also makes her water taste delicious!!
Fun Fruit and Vegetable Infused Water for Kids - Feeding America
Make this easy fruit and vegetable infused water for kids. Fun ice cubes and a refreshing beverage.
Print
Rate
Ingredients
1/2

Fruit Juice

1/2

Vegetable Juice

Water
Instructions
Pour your juice into fun shaped silicone molds.

Freeze for at least 5 hours until ice is formed and place into cups with water.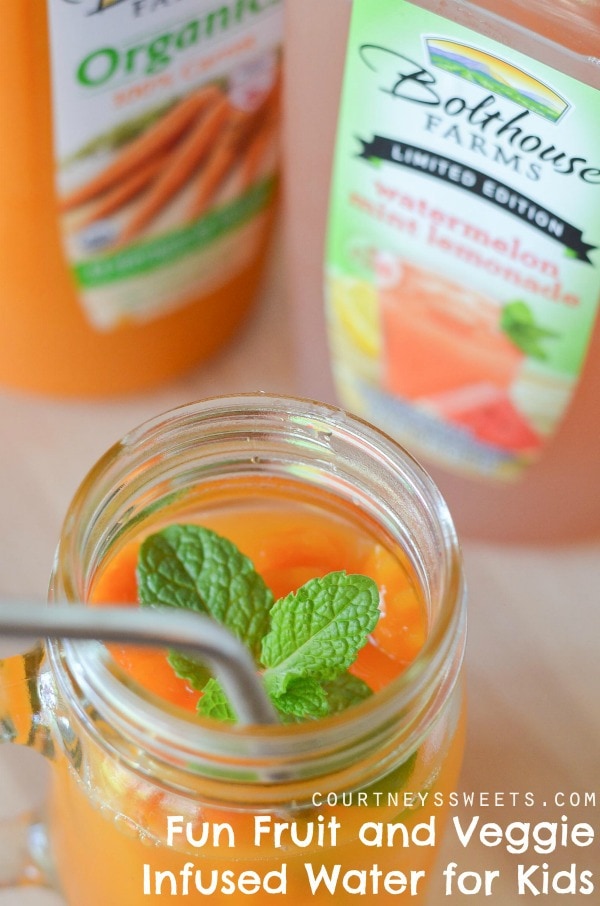 Find more fun recipes at Produce for Kids!