Unicorn Food for Breakfast! Make our Unicorn Cream Cheese Spread for your favorite bagel breakfast! Great for birthday parties PLUS we use natural food dye!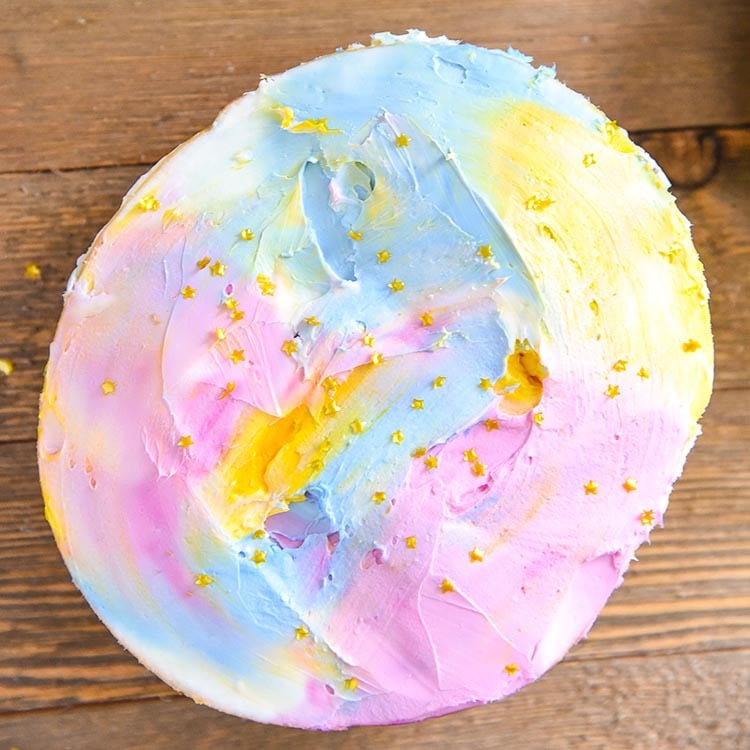 Everything is about unicorns! From unicorn toast to unicorn ice cream, there's a unicorn recipe for everything from breakfast to dessert. We haven't really tried any unicorn recipes as many of them call for tons of food coloring.
We do use food coloring sometimes, but it's usually naturally dyed. We have a few that we love, but they never gave us the colors we wanted. They weren't vibrant and fun like real food dyes.
How to Make Unicorn Cream Cheese Spread
To make your unicorn cream cheese spread you'll need food coloring. Whether it's natural or unnatural. The best colors for natural are blue, yellow, and pink. You can also find other natural food dyes on the market, however, we chose natural powdered color for the vibrant colors they give.
McCormick Color From Nature, 0.51 oz

Then when I was getting Kay something online I saw NATURAL Food Dye Powders. The powders seemed so promising so I picked up a box and had to try it.
By using color from nature food colors we were able to achieve the fun colors we wanted.
The colors are vibrant and fun and they actually look like unicorn colors!
My mini chef was so excited to see her bagel when she woke up. 🙂
I put some on her bagel with some gold stars to make them even more fun.
The stars are completely optional but they definitely add the unicorn magic.
You could also use yellow sprinkles. I didn't use sprinkles as they are sweet and the cream cheese isn't.

Wilton Edible Glitter, Gold Stars, 0.04 Ounce

Once you make your cream cheese you can either mix it to give it another color (green) or keep it separated and spread on so you can see the colors individually. I took a butter knife and put all the colors on and then smeared it. Then for another look, I completely mixed it and then you'll see it took on a green almost mermaid look.
How to Make Whipped Cream Cheese Spread
If you want your cream cheese a little lighter you can simply add in a little bit of milk. This will make it thinner and easier to spread. Give it a good whip with your hand mixer or stand mixer. We used full fat cream cheese, but you can use low fat cream cheese as well for this recipe.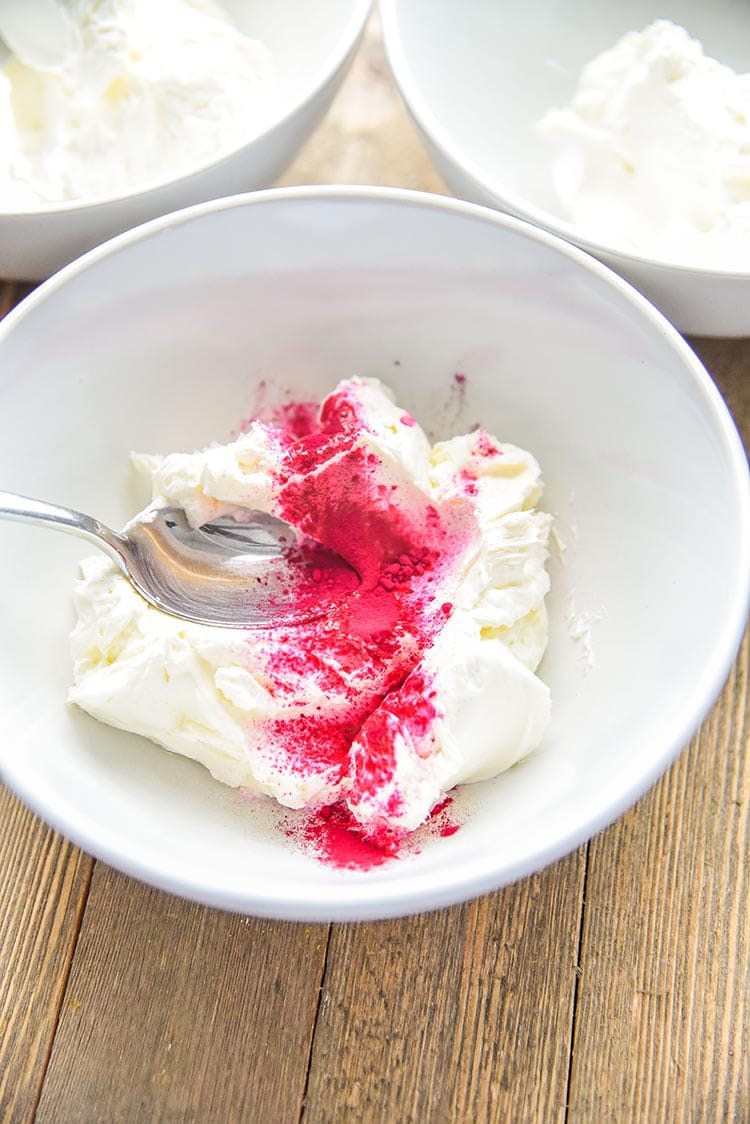 How to Store Your Homemade Cream Cheese Spread
We like to put our unicorn cream cheese spread into an air tight glass container.
We've had no issues keeping for up to 4 days (haven't had it longer than that since we eat it up!) 🙂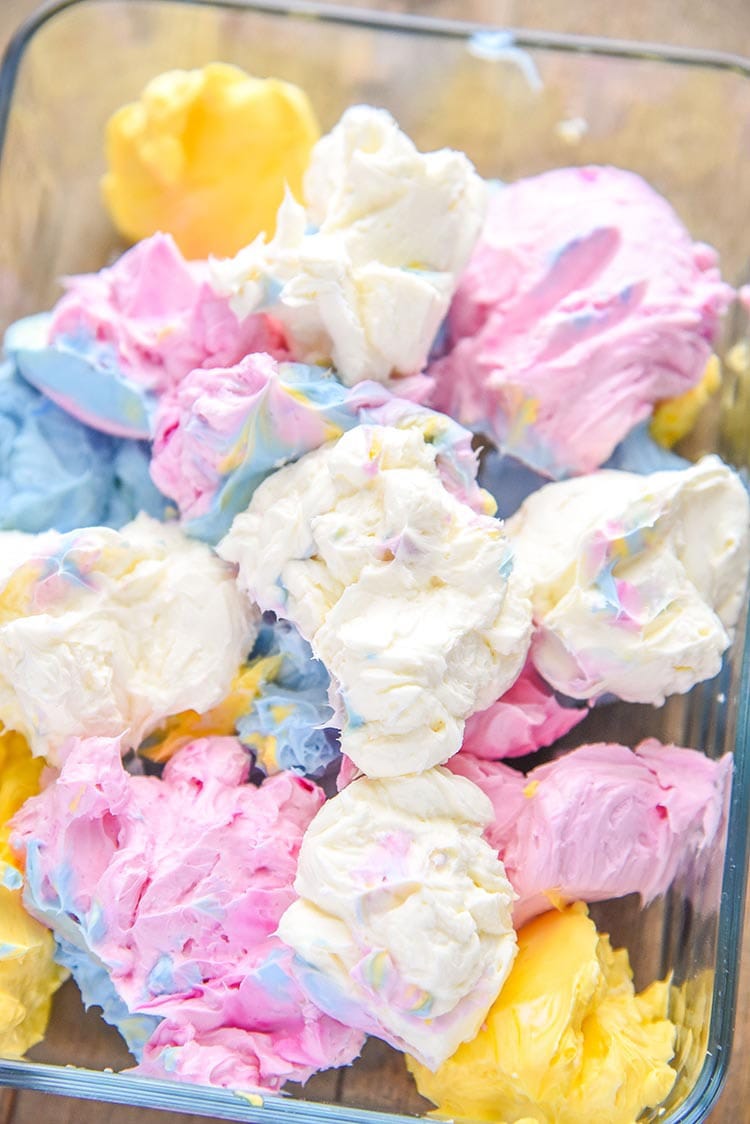 If you enjoyed our Unicorn Cream Cheese Spread Recipe don't forget to pin it to your favorite pinterest board! 🙂
Be sure follow us on Pinterest! We're always pinning simple and tasty recipes!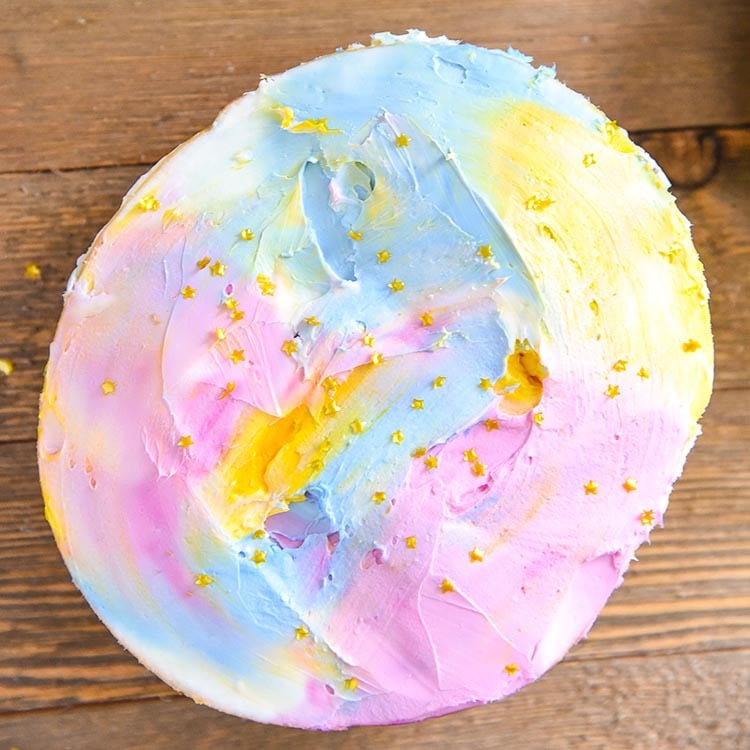 Unicorn Cream Cheese Spread
Unicorn Food for Breakfast! Make our Unicorn Cream Cheese Spread for your favorite bagel breakfast! Great for birthday parties PLUS we use natural food dye!
click the stars to rate this recipe
Print
Pin Recipe
Ingredients
3

8oz

bars of cream cheese, room temperature

natural food dye

gold stars
Instructions
Whip the cream cheese in a stand mixer until creamy and spreadable.

Divide the cream cheese into four equal parts.

Color one part pink, one part blue, one part yellow, and keep one part plain.

Once all are fully colored and mixed place into an air tight container to store in the fridge.

Do not mix, just place them in if you don't want them to turn green.

Spread onto your bagel and sprinkle on some gold stars to enjoy your magical unicorn breakfast bagel!
Nutrition
Serving:
28
g
|
Calories:
90
kcal
|
Carbohydrates:
2
g
|
Protein:
2
g
|
Fat:
9
g
|
Saturated Fat:
6
g
|
Cholesterol:
30
mg
|
Sodium:
95
mg
|
Sugar:
2
g
|
Vitamin A:
400
IU
|
Calcium:
20
mg
The nutritional information is automatically calculated and can vary based ingredients and products used. If the nutrition numbers are important for you we recommend calculating them yourself.
I am hosting Mini Chef Mondays along with 4 fabulous bloggers, find out more about the Mini Chef Mondays Team!
Join our facebook group to find even more recipes and share your own recipes!
Get featured and follow us too!
Be sure to check out each of their Mini Chef posts as well!