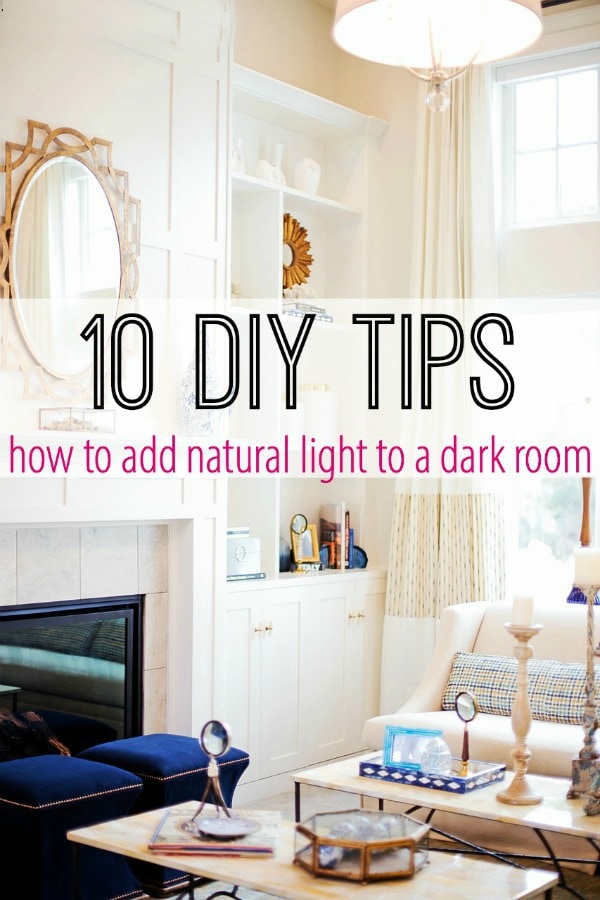 We're sharing 10 diy tips to add natural light to a dark room. Being in the dark is no fun – we need light and light can really set our mood. I know personally when I am stuck in a dark room it's depressing. I NEED natural light to be happy. I'm sure we've all read tons of articles on dark room tips and tricks. These are the best dark room tips and tricks I've tried or come across.
1. Mirrors
Light will bounce off the mirrors and create a lighting effect since it will reflect the light in other directions. The bigger the mirror the better. We have a HUGE mirror above our couch to direct the light from the one window in our condo.
2. Bright Paint Colors
Do not paint those walls dark colors. A red or brown room will darken the room, whereas if you paint with lights like white and even a light grey you'll brighten up the room naturally. We used all bright colors in our condo. Light blue, white and light beige are what we used and by using light colors the light reflects off of them. Condos are notorious for being dark, unless you live on the end.
3. Glass Doors
Do you have doors everywhere? Doors can actually block light that may be coming in. Go transparent and use glass doors to allow light to enter each room. Consider etched or reeded glass for privacy in bedrooms and bathrooms. We had french doors in our old place and it was beautiful and allow natural light to pour into the hallway and living room.
4. Go Sheer
Sheer blinds allow the maximum amount of light to flow into the home. You can have your pretty window treatment and light too with this option.
5. Light Bulbs
Choose the right light bulbs. Ditch the yellow and go for the natural daylight options. It may be a little more expensive, but it's definitely worth it.
6. Bright Furniture
Black couch, black tv stand, black computer desk, black table and black coffee table. It's drab and boring. It's all dark. Go for natural woods or white furniture to brighten areas of your home with furniture.
7. Go Potted
Potted Plants add a pop of color to your home. They can help brighten your place by brightening your mood. Did you know that plants can also imporve the air quality in your home? Cool, huh?
8. Tear the walls down
If the walls aren't low bearing, tear them down! You'll get more of an open floor plan and allow light to fill entire spaces without being blocked by useless walls. Have a dark kitchen thanks to a wall? Open it up a little or take it away all together. This is a great investment.
9. Add more windows or skylights
This is the ideal option to get natural light into your home. If you own your home it's a wise investment to consider adding either more windows or skylights. Not only will it benefit you, but also your resale value.
10. Overhead lighting or recessed lighting.
Let's face it. If you don't have much windows and can't make new ones – you'll need artificial lights. If you place a floor lamp in every corner that will brighten up that corner. We purchased 3 cheapo floor lamps from our local Target and it's still dark in our living room, why? The lights aren't overhead. To get light to disperse evenly in the room it's best to have overhead or recessed lighting.
We hope you enjoyed our dark room tips and tricks – 10 diy tips to add natural light to a dark room!