2015 Dodge Durango Limited Rallye AWD – You can own this exact model we tested from DriveShop through Dodge for $48,460. This vehicle has a combined MPG of 19, City 17 and highway 24.
 
We're a Dodge family. We love our Dodge Ram 1500 with Quad Cab, but as a mom I really love an SUV over a pickup. I do take out the Ram, but I wish I could get the Dodge Ram. That my friends, is where the Dodge Durango comes in! This is the best of both worlds.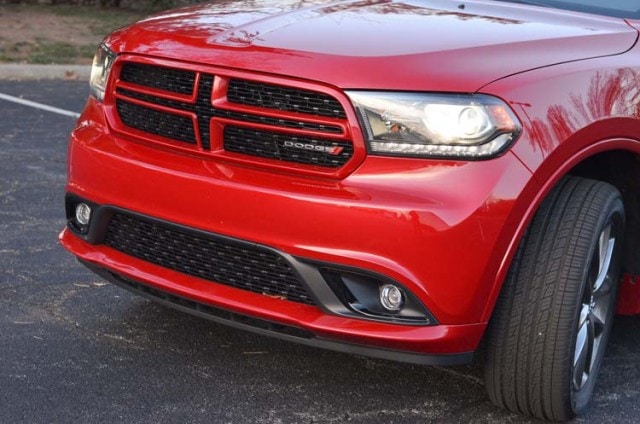 My husband and I both love this vehicle as well as our family and friends. In fact, my brother in law is considering purchasing this exact configuration. It's a beautiful vehicle, inside and out. We took the Durango to our towns annual holiday parade where Santa comes to town and everyone loved it. The Redline Pearl exterior color was absolutely fitting with the event. I fell in love with this car as soon as I got behind the wheel.

I always get upset when a vehicle is picked up after our review period is over, but this vehicle is one that not only I miss – our family misses! My father in law recently passed away and we've been traveling to and from point a to point b. The space was exactly what we needed so we could just take one car instead of two. The Dodge Durango can seat 7 including the driver. While my husband was inside doing paper work we could all watch a movie in the back.

The weather, while warmer now, was colder when we had this vehicle for loan and the automatic starter was a lifesaver. The power tailgate was extremely helpful when we had to move things as well, open and close with the push of a button.
Safety is a top feature we look for and the Dodge Durango has high scores from IIHS for safety. It's always important to consider safety and ratings when considering your vehicle purchase. The 2015 Dodge Durango Limited Rallye AWD gets a thumbs up from us when it comes to safety features. It's definitely a family SUV we recommend.