This is a sponsored post written by me on behalf of Cooked Perfect® Meatballs. All opinions are 100% mine.
Baked Spaghetti and Meatballs is an easy dinner recipe of Italian Meatballs, Homemade Marinara Sauce, Al Dente Pasta, Ricotta Cheese, Mozzarella, Basil, and Parmesan Cheese.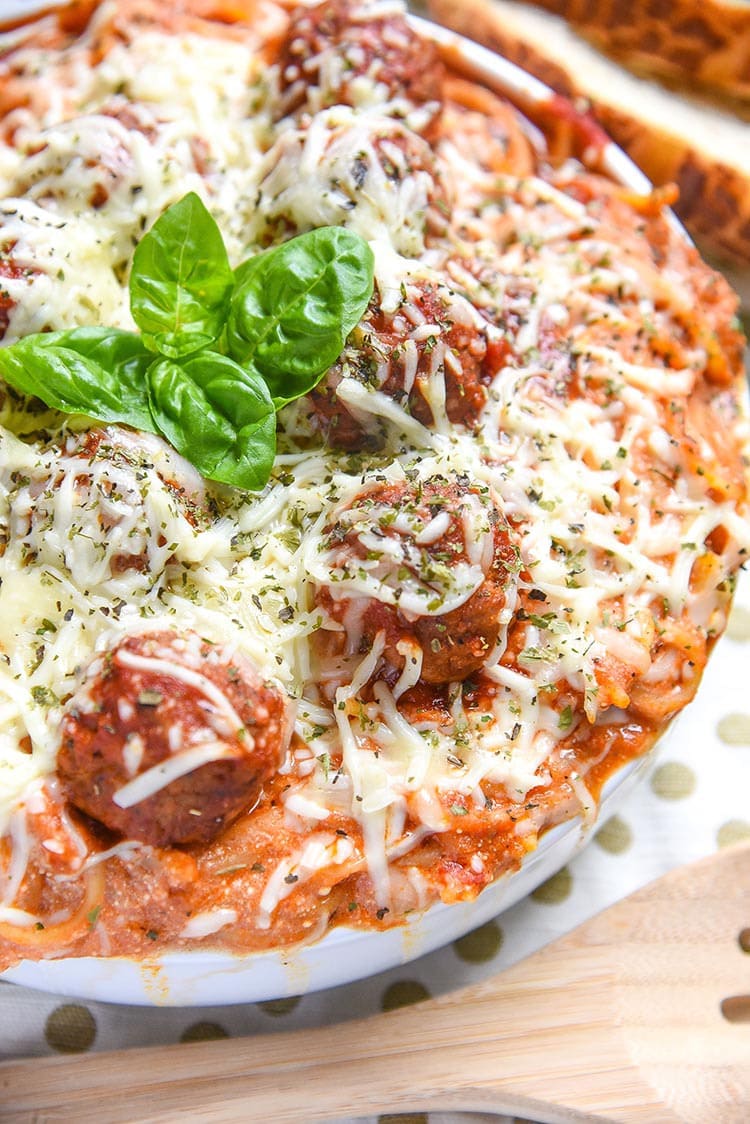 I don't know about you, but I like dinner ready in less than 30 minutes. With my job and working from home, I could cook 3 recipes in the morning, and they're all dessert! People tend to think we have these delicious meals all the time, but in all honesty, we usually have a quick and easy dinner.
Most of the recipes I make for dinner get shot in the early morning hours and while we should eat them for dinner we eat them for lunch so I can get a video recipe and photograph it all.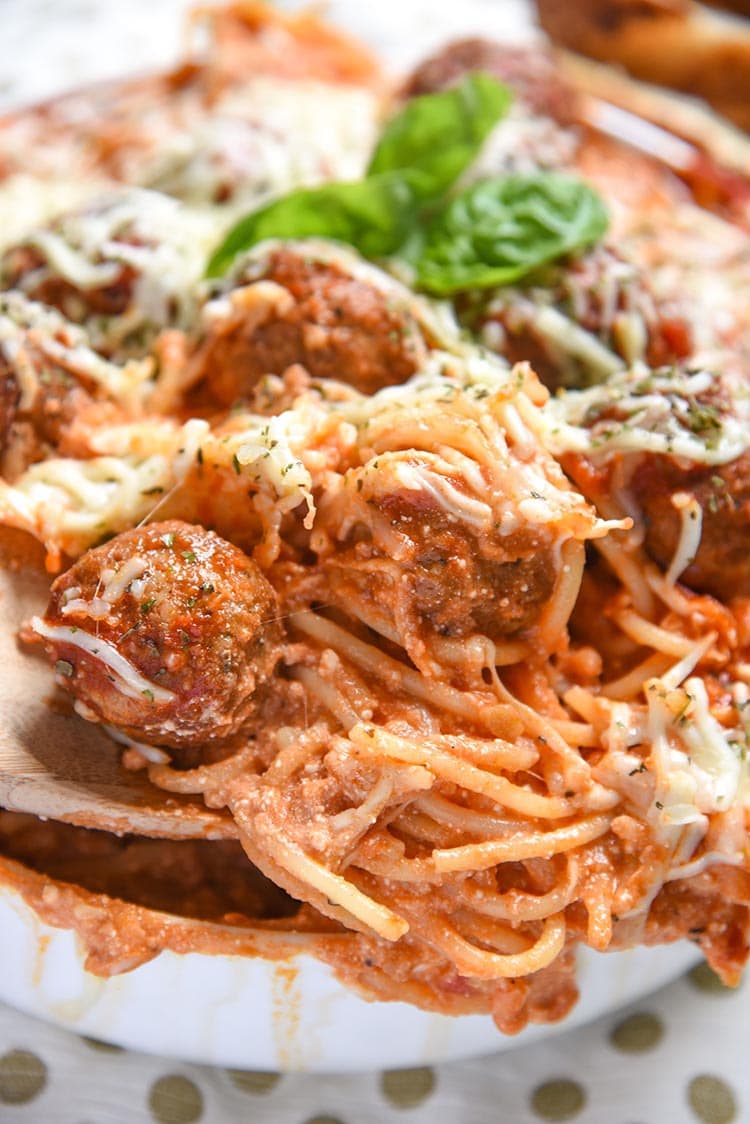 By the time I see 5 pm on my phone I know that my family is eagerly awaiting dinner so what's a mom to do? COOK! My husband is great and has been pitching in with cooking too. Since my daughter is a mini chef we both make the dinner and he usually makes dessert. Dessert is usually a bowl of fresh fruit salad.
This week my husband wanted spaghetti and meatballs and my daughter wanted stuffed shells, how to make them both happy? Combine the two! While shopping at my local grocery store (Find a store), I spotted Cooked Perfect® Fresh Meatballs Italian Style, which has a combination of meat and pork. They were right in the poultry and refrigerated meat section. My family LOVES spaghetti and meatballs, and I'm also looking for fun ways to serve them instead of just cooking them in sauce and spooning them over fresh pasta.
My husband would eat spaghetti and meatballs every day if he were in charge of cooking, and with the Cooked Perfect Fresh meatballs, he could easily do it. 😉
I picked up some other essential ingredients while shopping and then went on my way home to cook. Once I got home I started boiling the water and dropped the pasta in the water when it started to boil. While that cooked I quickly heated the meatballs in a skillet (you can also microwave them in their steam pouch!)and then added our homemade sauce right in with the meatballs. If you don't have a homemade marinara sauce you could easily use your favorite jarred pasta sauce.
I made the spaghetti how I would make stuffed shells with ricotta and mozzarella. Then I turned my attention back to the meatballs and made sure they were nice and juicy, ready to go into the dish to make our Baked Spaghetti and Meatballs.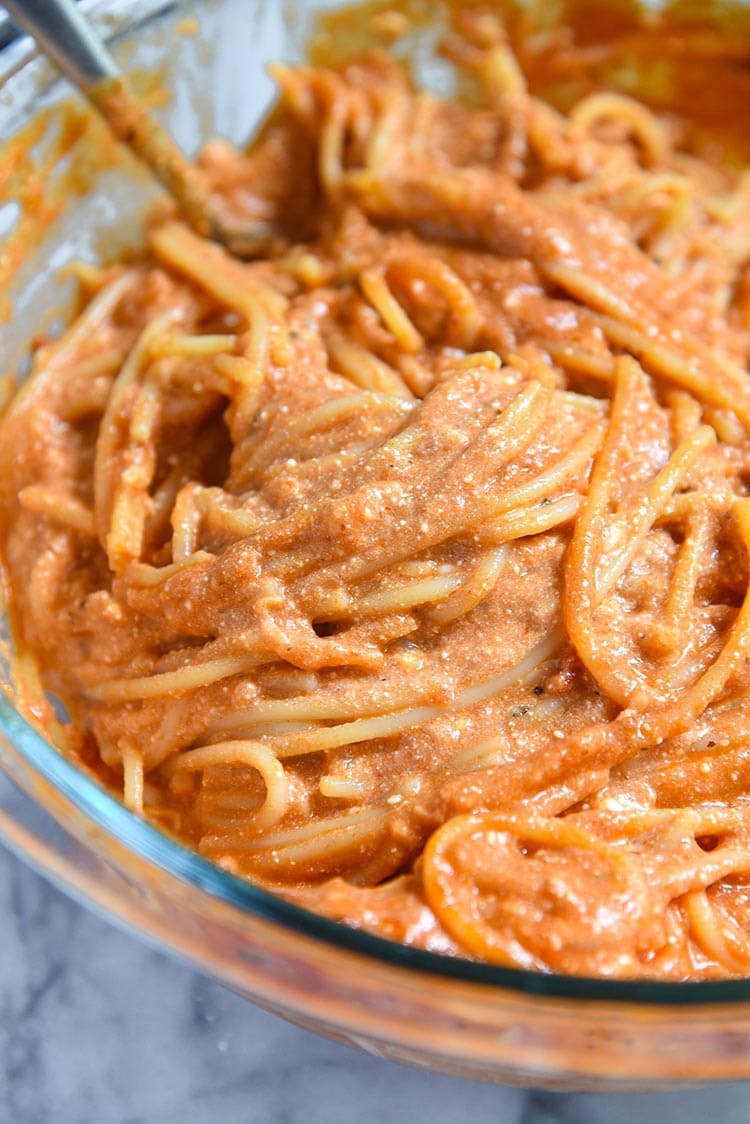 First I poured the pasta into an oven safe dish and then pushed the meatballs into the pasta and left some of the meatballs on top. I then finished off by sprinkling the cheese and some Italian seasonings on top. Quickly baked in the oven and it completed our meal, Baked Spaghetti and Meatballs in less than 30 minutes!

Cooked Perfect Fresh Meatballs come in 4 different flavors: (available in Mid-Atlantic, North East, and Chicago) Don't want fresh? They also make frozen!
Korean BBQ Beef & Pork
Sundried Tomato & Roasted Garlic Chicken
Italian Style Parmesan
Mozzarella Chicken
Why we chose Cooked Perfect Fresh Meatballs:
No preservatives
All natural
Fully cooked
Easy to prepare
Contain real cheese
Savory herbs
Flame broiled (locks in flavor!)
Can be cooked in the microwave (steam pouch maintains moisture, cooks in just 2 minutes!)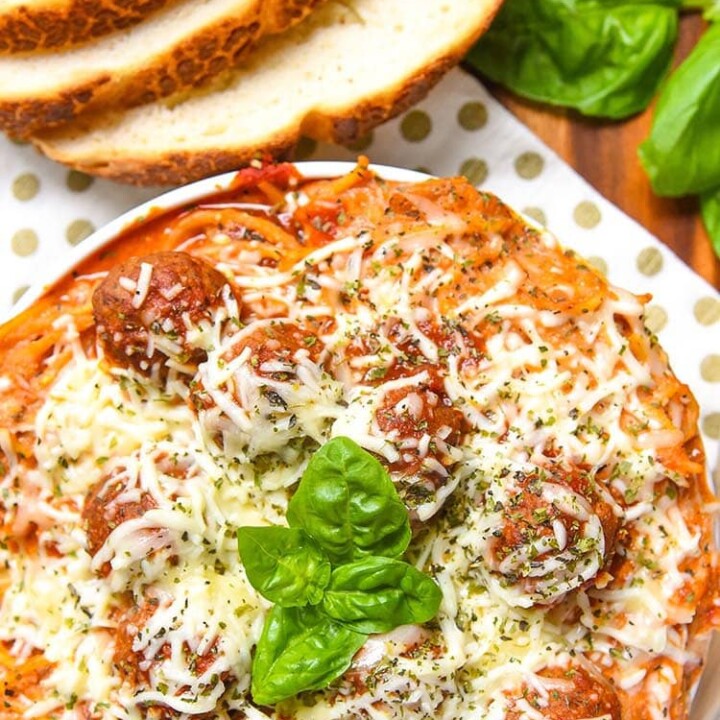 Baked Spaghetti and Meatballs
Baked Spaghetti and Meatballs is an easy dinner recipe of Italian Meatballs with Beef and Pork, Homemade Marinara Sauce, Al Dente Pasta, Ricotta Cheese, Mozzarella, Basil, and Parmesan Cheese.
click the stars to rate this recipe
Print
Pin Recipe
Ingredients
1

pkg

Cooked Perfect Italian Style Meatballs

3

cups

Marinara Sauce

1

box

Spaghetti

1

cup

Ricotta Cheese

1 1/2

cup

Mozzarella Cheese

1/4

tsp

Basil

1/4

tsp

Oregano

1/4

tsp

Parsley
Instructions
Heat a large skillet up the meatballs with marinara.


Meanwhile, boil water in large saucepan and cook pasta until just about al dente.


Once pasta is fully cooked drain until there's only about 1/2 cup of pasta water left.

Remove meatballs from sauce.

In a large bowl mix the pasta, cheeses (aside from 1/2 cup of mozzarella), and sauce.

Place the spaghetti mixture into a safe oven dish.

Top with half of the meatballs and push them into the pasta.

Top with remaining meatballs, mozzarella, and seasonings.

Bake in a 350-degree oven for 15-20 minutes.
Nutrition
Calories:
1141
kcal
|
Carbohydrates:
96
g
|
Protein:
62
g
|
Fat:
55
g
|
Saturated Fat:
24
g
|
Cholesterol:
186
mg
|
Sodium:
1379
mg
|
Potassium:
1443
mg
|
Fiber:
6
g
|
Sugar:
11
g
|
Vitamin A:
1355
IU
|
Vitamin C:
14
mg
|
Calcium:
411
mg
|
Iron:
5.3
mg
The nutritional information is automatically calculated and can vary based ingredients and products used. If the nutrition numbers are important for you we recommend calculating them yourself.