We did it, Banana Split Frozen Yogurt Bark!  You're going to love our new Mini Chef Mondays Frozen Fruit Yogurt Bark. This time we made a Banana Split Frozen Yogurt Bark! It's so good and healthy too. Our new favorite Banana Split Dessert Recipe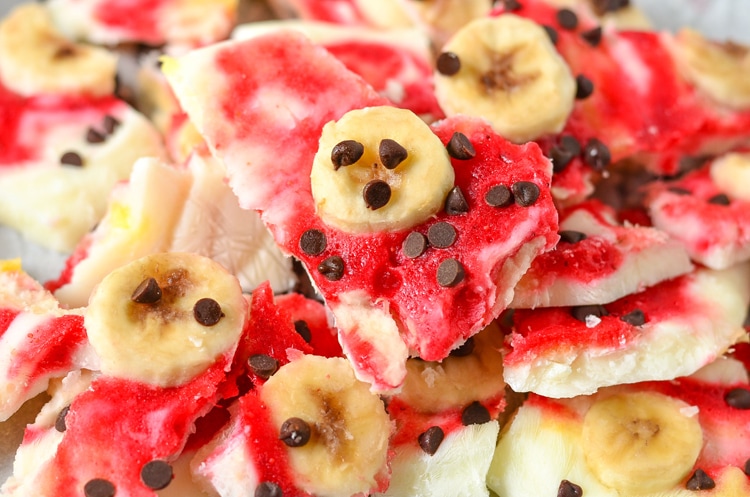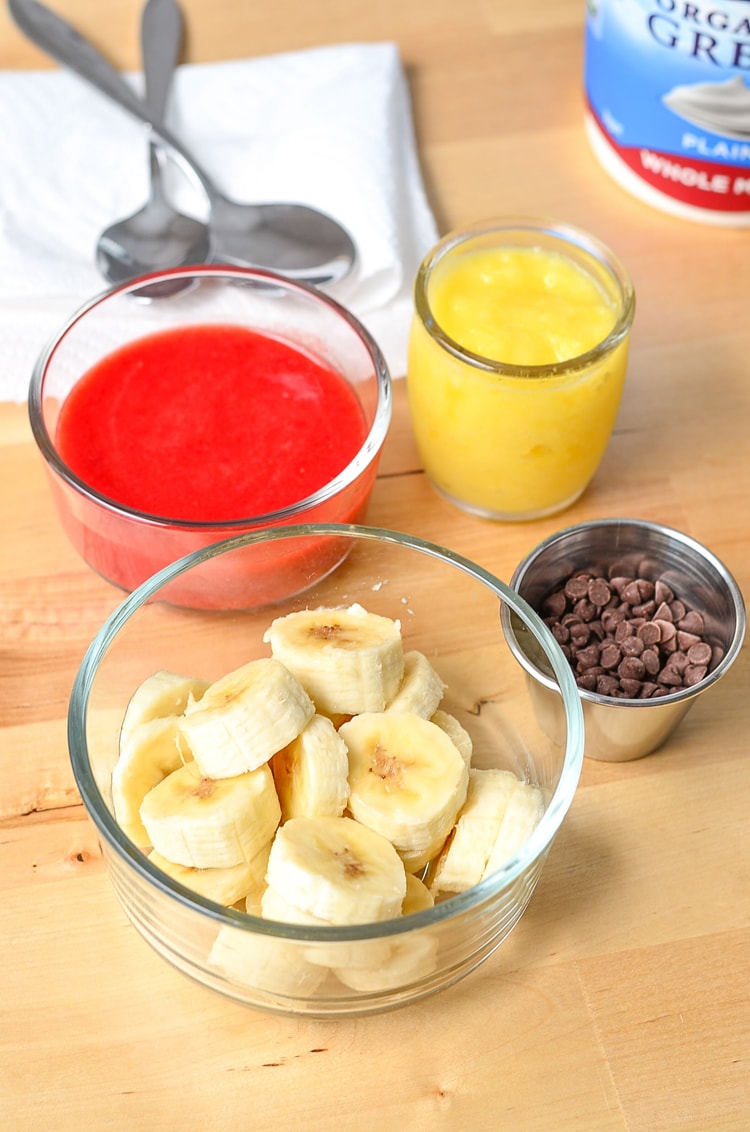 Our last frozen yogurt bark recipe was made with a variety of fruits, this time we're using what you'd typically have in a banana split, minus the nuts. We blended up our ingredients so it wasn't too much to chew and let the banana stay whole since it's called a banana split. 🙂
We always have yogurt in the house and this time we tried it with greek yogurt instead of regular plain yogurt. It was a little more creamy and we loved the flavor combination! It's so good! If you want you could even do melted chocolate, or chocolate syrup instead of the chocolate chips. When I gave my mini chef the option she chose the mini chocolate chips, yum!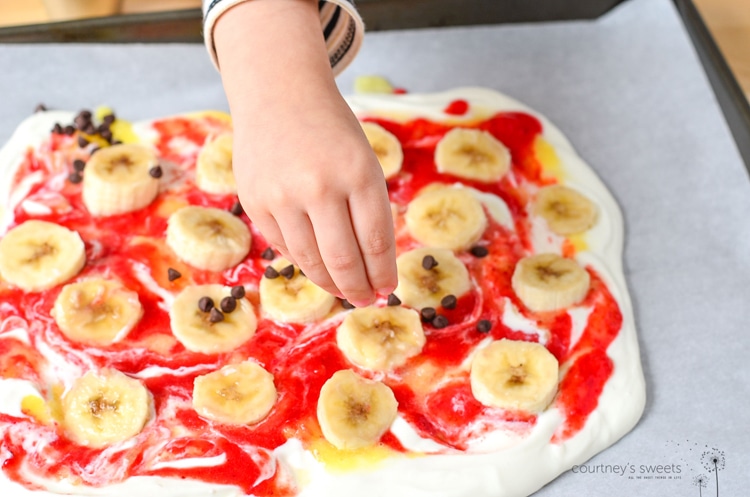 If you don't want to use fresh produce you can absolutely use frozen! Frozen is a great and affordable way to purchase fruits and vegetables, especially organic. Not only is it packed at peak freshness, you can use them in many recipes and save the fresh for enjoying, well fresh!
We started Mini Chef Mondays to really help my toddler overcome her texture and oral aversions. Today when she got to the bananas it was a huge struggle, but she eventually did it put on 3 of them! So, so, so proud of her!
Talking about being proud of her.. we're having so much fun using the Vroom APP. We did a partnered post with them last week, we're real superheroes. We fell in love with their FREE app! It's so nice to do a daily brain boosting activity with my little one. 🙂 Yesterday they had me copy everything she did and she was cracking up, usually she copies me. One of my favorites that we now do daily was "In Plain Sight", so if I was looking for something in the fridge and I see it, but want her to find it I would say "Where are the strawberries? I can't find them!" and then let her help me find them.
Banana Split Frozen Yogurt Bark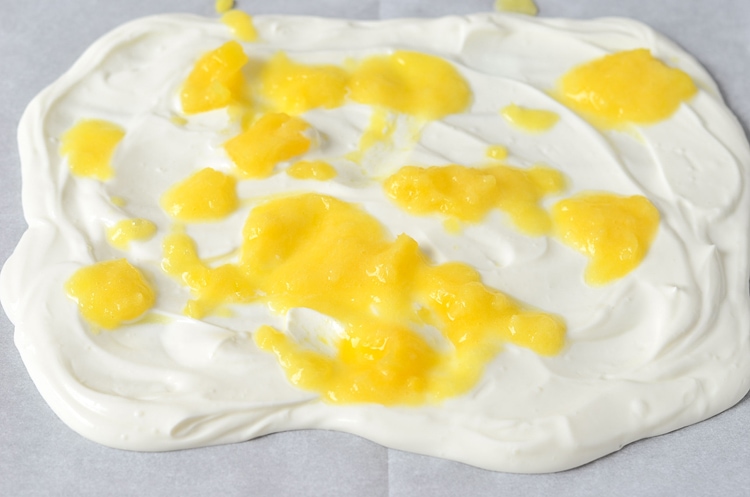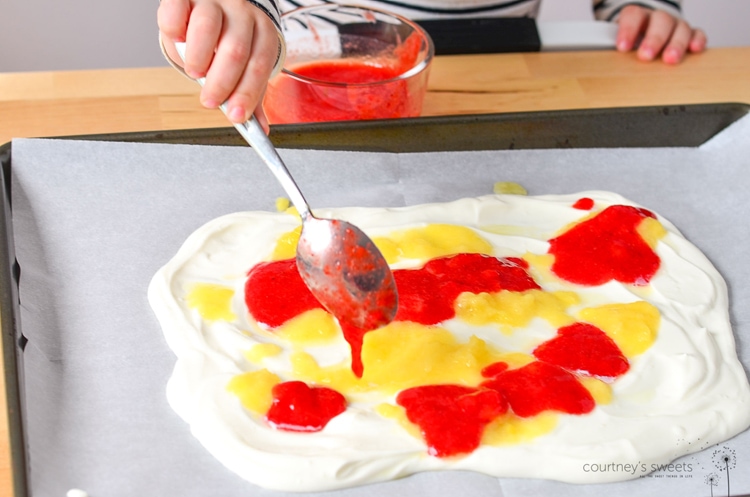 Banana Split Frozen Yogurt Bark
Ingredients
2

cups

whole milk greek yogurt

1

teaspoon

real vanilla extract

1/3

cup

pureed pineapple

(chunky)

1/3

cup

pureed strawberries

(chunky)

1

banana

, sliced

1/8

cup

chocolate chips
Instructions
Line a large baking sheet with parchment paper.

Mix the yogurt with vanilla.

Pour the yogurt onto the baking sheet and spread a little to even.

Sprinkle on the fruits and chocolate

Freeze for 3-4 hours until frozen solid.

Slice up and enjoy!
I am hosting Mini Chef Mondays along with 8 fabulous bloggers! Read how Mini Chef Mondays started, plus how to link up!
Join our facebook group to find even more recipes and share recipes too!
Get featured and follow us too!
Be sure to check out each of their Mini Chef posts as well!