Bow-ties with Parsley Garlic Butter Sauce – Simple, Quick and Delicious! Looking for the best side dish to entertain? Wow your guests with a recipe that takes less than 15 minutes to make!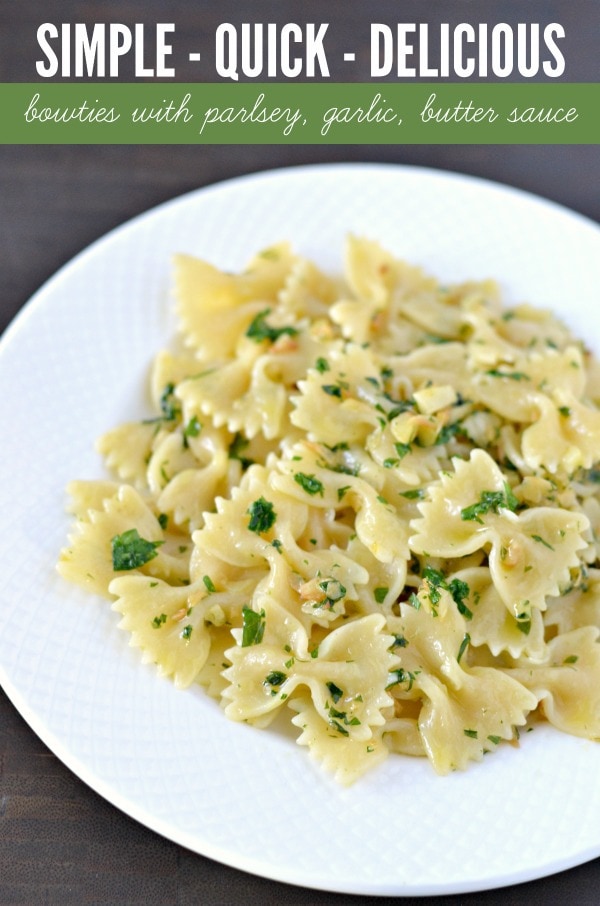 this post contains affiliate links – if you make a purchase through the link we earn a commission, thanks for supporting our site!
First things first.. definitely invest in a quality garlic peeler and garlic press for your garlic. Both of these items will cut down the process time for your garlic, bonus, no garlicky stinky fingers! and My toddler loves to eat pasta.  Of course growing up with a large Italian family pasta and garlic were main staples in our home.  I loved when my mother would make bow-ties with parsley garlic butter sauce.
The garlic would be slightly caramelized and tender, the butter would be left on the plate when all was done so you could even sop it up with some fresh Italian bread.  There's so many memories that involve food with my family, we really loved to eat, especially together.  Every Sunday we'd head over to my grandparents house for a huge Italian Dinner Feast.  Meatballs, Sunday Sauce, Pizza, Spaghetti with Bologanse, homemade zeppoles and of course love!  My grandma always cooked with extra love!  I seriously miss her cooking, especially her potato salad.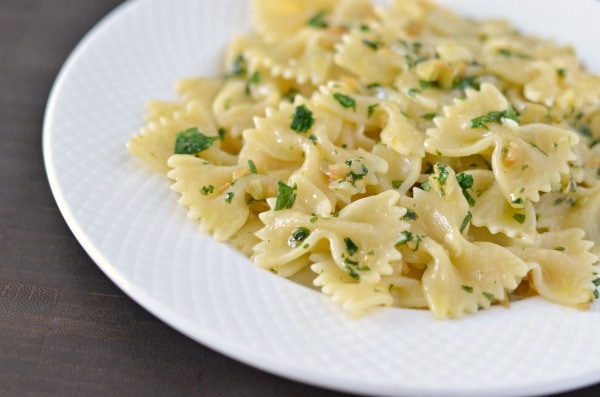 While I was pregnant with Kay all 3 of her great grandmothers were extremely excited to meet her.  My gram, my mom mom and Chris' Grandma Gerri.  I still cannot believe they all passed when I was pregnant.  Not one of them got to meet her.  I'm still in shock about it.  I tell her all about her grandmothers and how they would have loved so much to be here with her.  I look forward to the Sunday dinners that we create in our home.  I plan to start the tradition with our family and hope that Kay carries the tradition on.  She loves to eat, her new favorite is baked potatoes!  When I made bow-ties with parsley garlic butter sauce she devoured her bowl I made her and asked for more right away.  I of course refilled her bowl!  Her little hands were all greasy from the butter and oil and her tiny lips and cheeks as well.  It's so fun to see her finally enjoy food!  I can't believe just a year ago she was only enjoying fruits and veggies.  This pasta is a family favorite and I hope you enjoy it too!

Bow-ties with Parsley Garlic Butter Sauce
Ingredients
1

box of bow-ties

1

bulb garlic

, chopped

3

tablespoons

butter

2

tablespoons

olive oil

handful of parsley

, chopped

salt to taste

(I use about 1 teaspoon, don't forget to salt your pasta water!)
Instructions
Boil pasta and drain reserving about 1 cup of pasta water.

In a large skillet brown garlic in butter and olive oil.

Once the garlic is softened toss it in with the bow-ties.

Sprinkle in parsley and salt, add in pasta water until all pasta is dressed.