So since having the baby it's been extremely hard to find a place to go out to eat that is healthy.. I would love to find a place she could actually eat at with us once she's eating more normally especially when we're travelling to see family. We just recently had Chipotle (yes I must be under some sort of rock..) but I found it to be a bit greasy, and the chicken was definitely not white meat. It was good, just wish it was a little less oil in the food and of course breast meat.


That made me realize how easy and fun it would be to make our own at home! Much cheaper too! We love making cilantro lime rice and we love fresh vegetables so it was a perfect idea. We've now been having this for dinner at least 2 times a month! Whenever I make this it actually lasts us for two dinners – sometimes I even substitute the chicken for Tilapia!
Chicken and Rice Bowls
makes 4 servings
Chicken
4 Chicken Breasts, cut into chunks
1 Teaspoon Onion Powder
1 Teaspoon Smoky Paprika Chipotle Seasoning (I buy this from Marshall's or BJ's)
1 Teaspoon Chili Powder
1 Teaspoon Garlic Salt
1/2 Teaspoon Cumin
1/2 Teaspoon Oregano
1/2 Teaspoon Pepper
Pico De Gallo
4-6 Roma Tomatoes (small would be 6 large would be 4)
1/2 an Onion
2 Cloves of Garlic
1 Jalapeno, no seeds or pith
1/2 Bunch of Cilantro
Juice of 1 lime
Salt & Pepper to taste




Rice
2 Cups of Brown Rice, cooked with water and stems of cilantro
1/2 Bunch of Cilantro leaves chopped
Juice of 2 Limes
Salt to taste
1 Avocado mushed
2 Heads of Romaine Sliced
In a bowl designated for raw chicken mix seasonings with chicken chunks.
Take a large skillet; heat with olive oil and place seasoned chicken into pan once hot.
Meanwhile start making the pico so the flavors can meld.
Chop tomatoes, garlic – mince the garlic, jalapeno, and cilantro. Place into a large bowl and mix in the juice from lime and salt and pepper to taste.
Check on chicken and give a toss if needed.
In a large bowl put rice and discard the stems of cilantro. Toss in the cilantro leaves chopped, lime juice, and salt.
Once the chicken is done place in a bowl to rest – and start to smash your avocado. (If you feel the need for sour cream try some plain greek yogurt)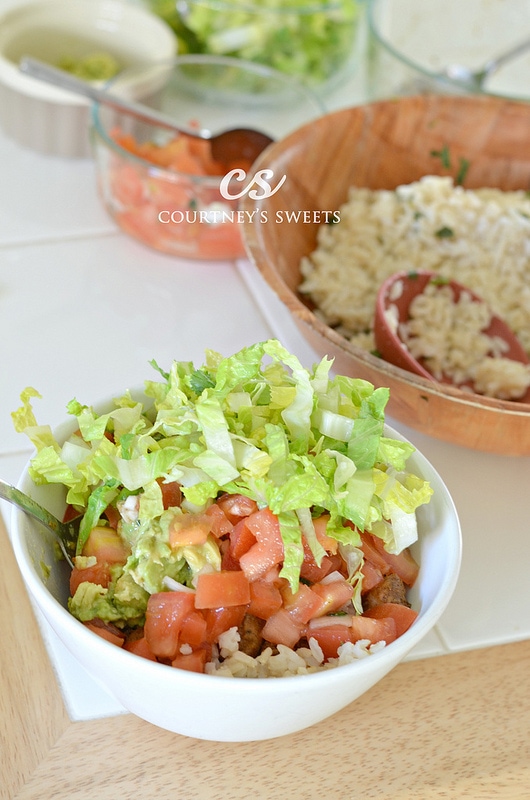 Assemble the bowls. Rice, Chicken, Pico, Avocado, and Shredded Romaine. Enjoy!