Our tasty Chicken Egg Roll Bowl recipe is a fun take on your favorite stuffing in an egg roll, but you can eat it out of a bowl with a spoon!
We love making one pot meals healthy whenever we can!
If you want to indulge with this recipe you could absolutely make it into a chicken potstickers recipe by stuffing it into some wonton wrappers or even into an eggroll wrapper.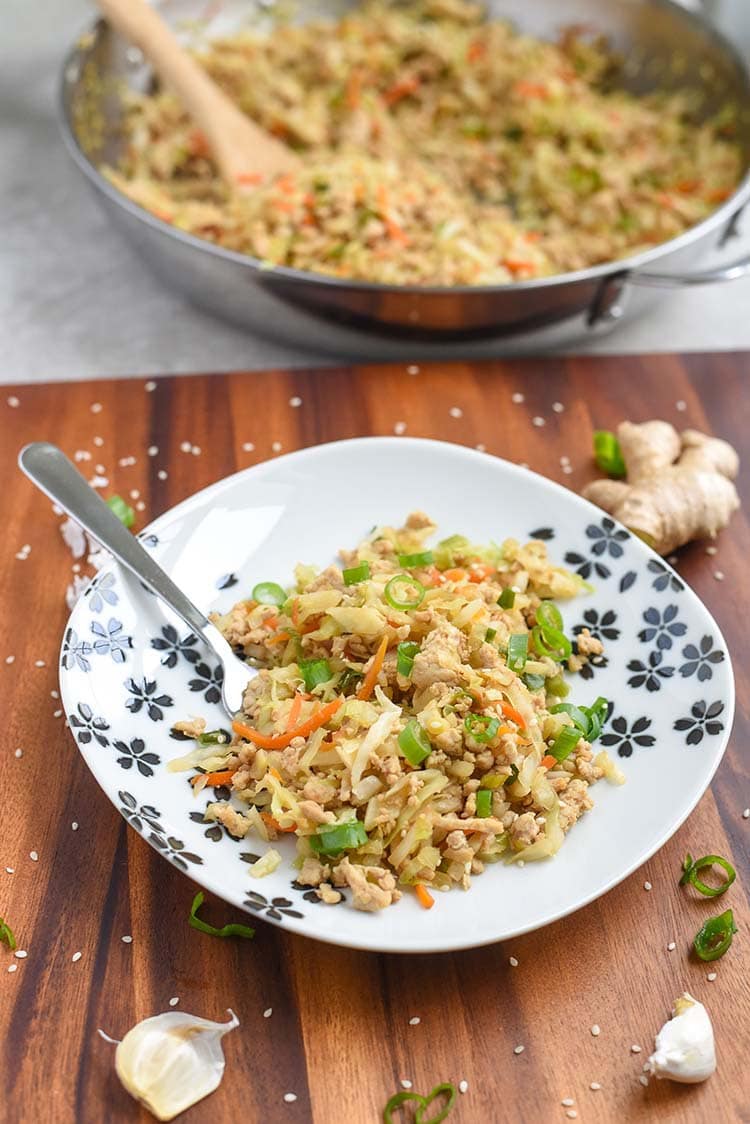 Coconut Secret Organic Raw Coconut Aminos Soy-Free Seasoning Sauce-8 Oz

My family really enjoys flavorful food and the fresh ginger and garlic with the liquid coconut aminos (healthy replacement for soy sauce) and toasted sesame oil are all packed with flavor.
Coconut Aminos is great for those who suffer from soy allergies and gluten intolerant. 
It's a great soy-free alternative for your favorite marinades, dressings, stir-frys and of course sushi!
Best of all it doesn't have a coconut flavor, so no worries there!
It's actually made from the coconut sap and it has a rich salty flavor, with a hint of sweetness. It's perfect for our recipes where we use soy sauce, especially this chicken egg roll bowl recipe!
When I make this recipe I usually double or even triple the cabbage and use less protein and sometimes we have even made it without the protein too!
We have always made this recipe with pork, but we wanted to try with lean ground chicken breast and it was such a hit and just as good!
I love how this is such a quick and easy recipe that you literally only need one pan for. This cooks up in just under 20 minutes and the whole family enjoys it.
You can serve it in a bowl on it's own, over rice, over some cooked lomein noodles, or even stuff it into the wonton or eggroll wrappers like I mentioned above. There's really no wrong way to enjoy this recipe.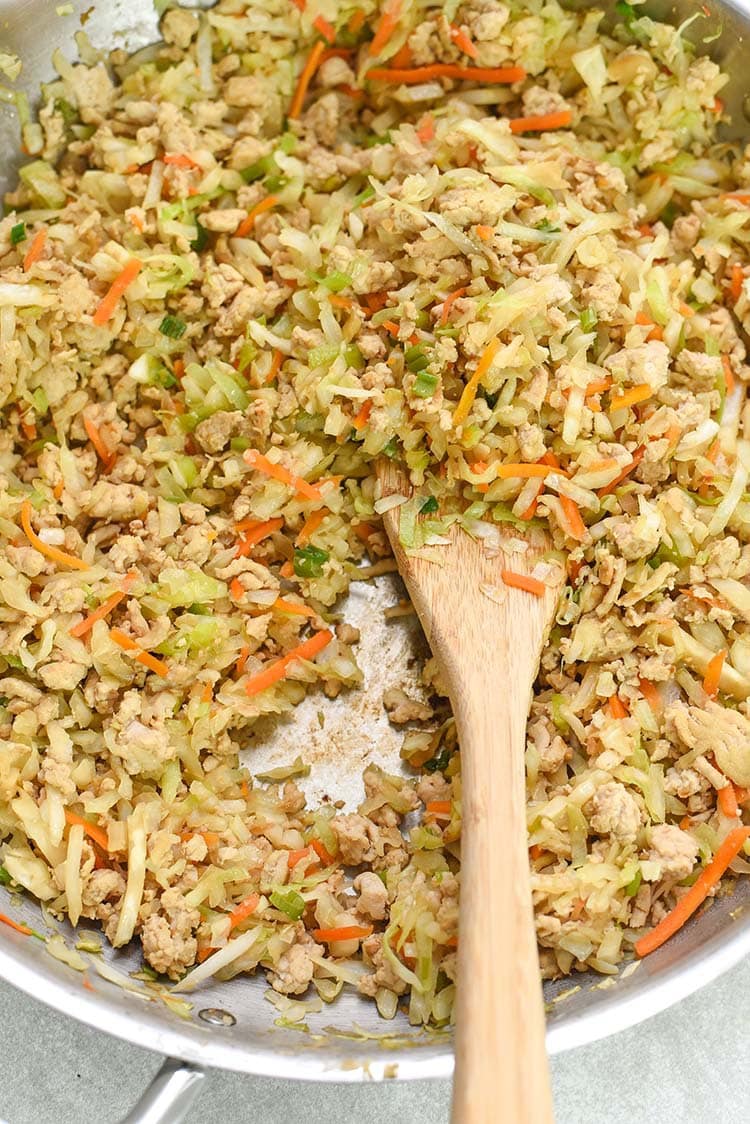 If you like cauliflower rice that's also a great addition to toss in with the coleslaw mix so it cooks down together. I don't add any salt and pepper to this recipe since we add quite a bit of seasoning with the fresh vegetables and oils. If you're using soy sauce make sure you add a little bit and then try it before adding the amount equal to the
If you're using soy sauce make sure you add a little bit and then try it before adding the amount equal to the aminos, coconut aminos isn't as strong as soy sauce.
Super easy, Chicken Egg Roll in a Bowl
Chicken Egg Roll Bowl
Ingredients
1

teaspoon

olive oil

1

lb

ground chicken breast

3

stalks green onions

, sliced

1 1/2

tablespoons

freshly grated ginger

1/2

tablespoon

freshly grated garlic

3

cups

coleslaw mix

(shredded cabbage and carrots)

1

tablespoon

toasted sesame oil

5

tablespoons

coconut aminos
Instructions
In a large skillet heat up some olive oil.

Once the pan is hot add in the chicken and cook until browned.

When chicken is fully cooked add in most of the green onions (reserve some for garnish), ginger, garlic, and 3 tablespoons coconut aminos and mix well.

Now add in the coleslaw, sesame oil, and 2 tablespoons coconut aminos.

Cook until cabbage and carrots are tender.

Serve as desired.