Our easy Chocolate Caramel Apple Nachos Recipe is FUN way to eat an apple a day! Special thanks to Handstands Kids for sending us some adorable apple apparel!
This post contains affiliate links so if you make a purchase we earn a commission. Thanks for your support!
Our family loves apples! We go apple picking every year and buy more than our weight in apples. We love to eat them on their own and sometimes we make them a sweet and delicious treat for dessert. Our favorite apple dessert is chocolate caramel apple nachos. This recipe is so easy and you can put whatever you want on the apples! Our favorites are chocolate, caramel, apples and crushed peanuts!
Making this when you're a 3 year old can get a little messy, so be sure to suit up in your favorite apron and chefs hat! We adore our apple a day collection items from Handstand Kids! (pssst! Use coupon code: Mini and save 25% on your order) They have a ton of options for boys and girls, moms and dads too. We received an adorable tote bag for grocery shopping and periscope! Yes!! We finally joined periscope and we hope to do a few live shopping for Mini Chef Mondays. You'll see our adorable tote in most of these scopes so make sure you're following!
We love our apple corer and slicer so much! Mommy or daddy can do the heavy work and baby girl can push it through with the base. We just ordered the thin apple slicer too!
Wearing her apron and chef's hat made her so excited for her apple nachos recipe. You can make this as nachos or even do as a dip!
Have fun crushing and smashing the peanuts by putting into a plastic bag and banging on them.
We had so much fun making this to share with you!
Chocolate Caramel Apple Nachos
Ingredients
apples

caramel sauce

melted chocolate

peanuts
Instructions
Cut apples as desired and arrange on a plate.

Drizzle apples with caramel and melted chocolate.

Place the peanuts into a baggy and smash!

Sprinkle peanuts over top and enjoy!
I am hosting Mini Chef Mondays along with 11 fabulous bloggers! Read how Mini Chef Mondays started and how to link up!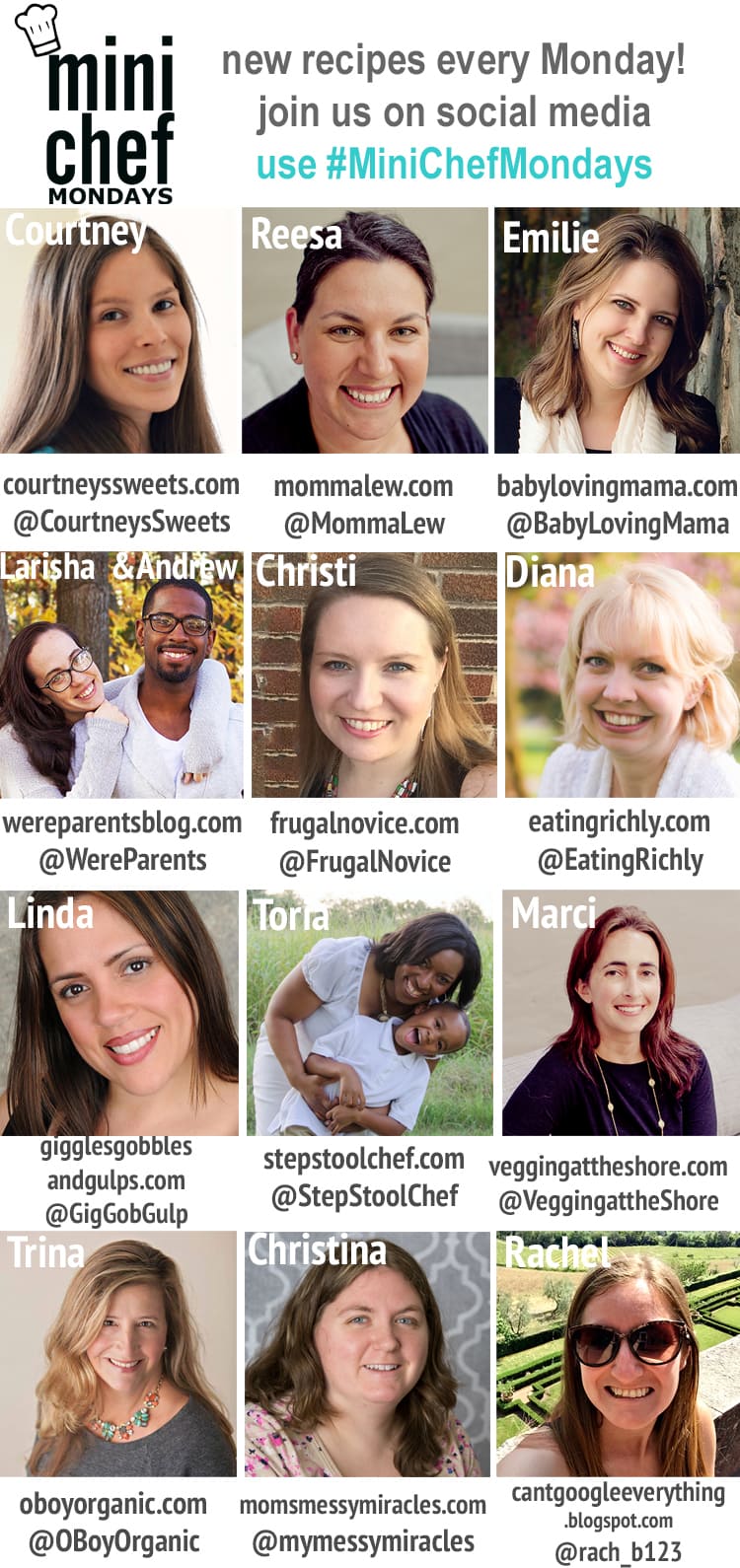 Be sure to check out each of their Mini Chef posts as well. We would love it if you would share your Mini Chef posts with us each week, too! Follow along socially and join in on the fun by using our hashtag #MiniChefMondays to share creations your mini chef created in the kitchen. Additionally, if you have a kid-friendly recipe that kids can easily recreate, link up! Don't have a blog? Share the URL of your instagram photo in our linky below.
If you enjoyed this recipe, be sure to check out all of our other delicious recipes and blog posts on Pinterest!