The best grilled chicken burger recipe, sure to please any picky eaters. Topped with bacon, avocado, crisp green leaf lettuce, and juicy jersey tomatoes.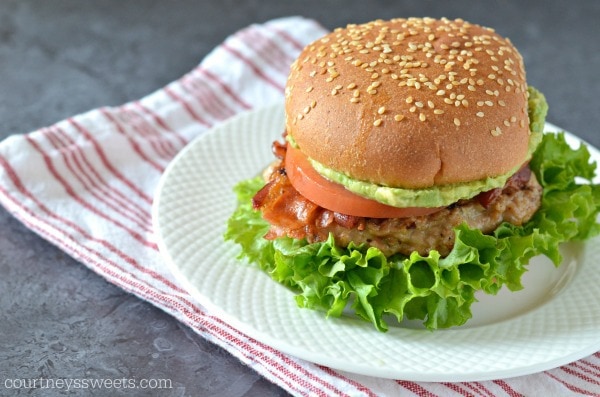 This burger.. it's incredible.  Want to know my biggest pet peeve about burgers?  When they taste like meatloaf.  I hate a burger with added things like breadcrumbs, eggs, and milk.. Seriously.. meatloaf is good but if you're going to call it a burger.. don't.   Whenever I make a ground beef burger or even a chicken burger I just lightly season them.  For beef I do simple salt and pepper, but I get a little more spicy with the chicken.  The chicken doesn't have all that fat to flavor so I love to add things like bacon and avocado to really make it a big flavor punch!
The fresh ingredients really shine through too – like these beautiful local tomatoes I bought.  Not to mention crispy and beautiful green leaf lettuce.  There's never enough toppings on a burger for me and I just love making them at home.   Now that it's summer, Chris and I really enjoy grilling too.  I don't like to eat too much beef and thankfully we really enjoy chicken burgers too!  The only downfall is Chicken is still one of Kay's triggers with her FPIES food allergy.  We're hoping to trial Turkey by August!
Grilled Chicken BLT Burgers | 15 Amazing Recipes for the Grill
Ingredients
1

lb

Ground Chicken Breast

1/2

Teaspoon

Smoked Paprika

1/2

Teaspoon

Garlic Powder

1/4

Teaspoon

Parsley

1/2

Teaspoon

Pepper

1/2

Teaspoon

Salt

8

Slices

of Bacon

4

Burger Buns

2

Avocados

mashed

1

Large Tomato Sliced

Green Leaf Lettuce
Instructions
Mix together the chicken and seasonings, then form into 4 patties.

Place on a hot grill and cook 6-9 minutes on each side. Be sure to cook thoroughly, no raw chicken please!

While the burgers are cooking, place some bacon in a pan or even the oven. Cook until crispy.

Place the burgers on a bun with 2 slices of bacon each, a spoonful of avocado, slices of tomato and beautiful green leaf lettuce. Enjoy!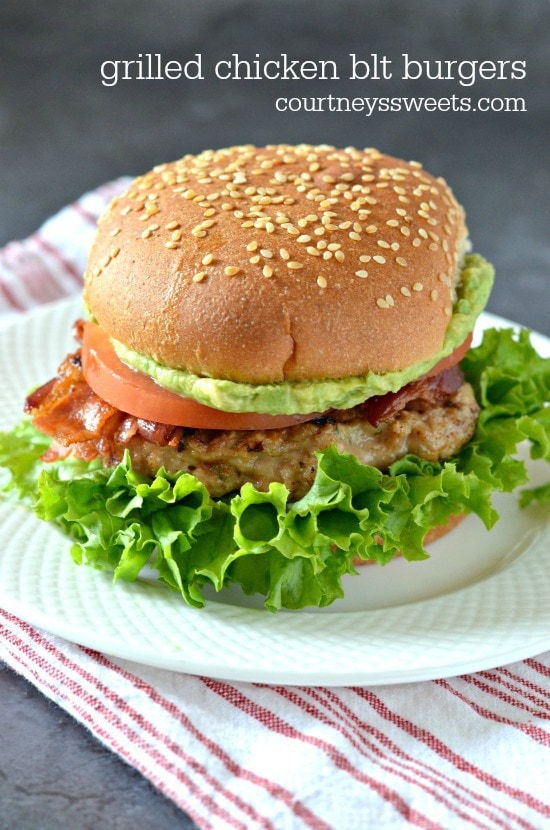 Huge Thank You to our amazing sponsors for making this happen! We couldn't have done have pulled off this huge event for all our readers without the help of: BrylaneHome, Hampton's Lane, and Mr Bar B Q !
Like we said earlier, there are more than 15 other bloggers participating in this great event, make sure to check out their posts too!
Burger Recipes
We're Parents!?– Italian BBQ burgers
Courtney's Sweets – Grilled Chicken BLT Burgers
O'boy Organic – Grilled California Buffalo Burger
Other Grilled Meat Recipes
Momma Lew – Chicken & Peppers Shish Kabobs
Open Hands – Honey BBQ Salmon
Motherhood Community – That's The Rub (Steak Rub)
Raising A Family On A Budget – Sticky Sweet BBQ Ribs
Defining Dad – Rosemary Had a Little Lamb
Grilled Vegetable and Fruit Side Recipes
Diapered Knights – Gourmet Grilled Carrots
Real: The Kitchen & Beyond – Grilled Mixed Fruit w/ Grapefruit Bowl
Mom-Blog – Grilled Beets Salad
Grilled Desserts
Know Your Produce – Grilled Pineapple with Pound Cake
The Suburban Soapbox Grilled Campfire Quesadilla – aka Smores Quesadilla
Giggles Gobbles and Gulps– Grilled Plantains Banana Split
Other Grilled Recipes
Souffle Bombay – Grilled Mushroom Poppers / Grilled Mushrooms Stuffed w/ Cheese, Jalapeno & Bacon
Mommy Snapped – Grilled pizza