This Chicken Meatloaf is full of flavor and super easy to make. Ground Chicken Meatloaf is a healthier alternative that the whole family will love.
Meatloaf is a family favorite here. We love making it in a loaf pan, burger-sized individual meatloaf portions, meatloaf footballs, and even meatloaf cupcakes!
If you grew up eating meatloaf too, you know how good a meatloaf sandwich is, and leftovers are something I always look forward to the next day. This meatloaf is full of flavor and simple to make with staple ingredients.
Recipe ingredients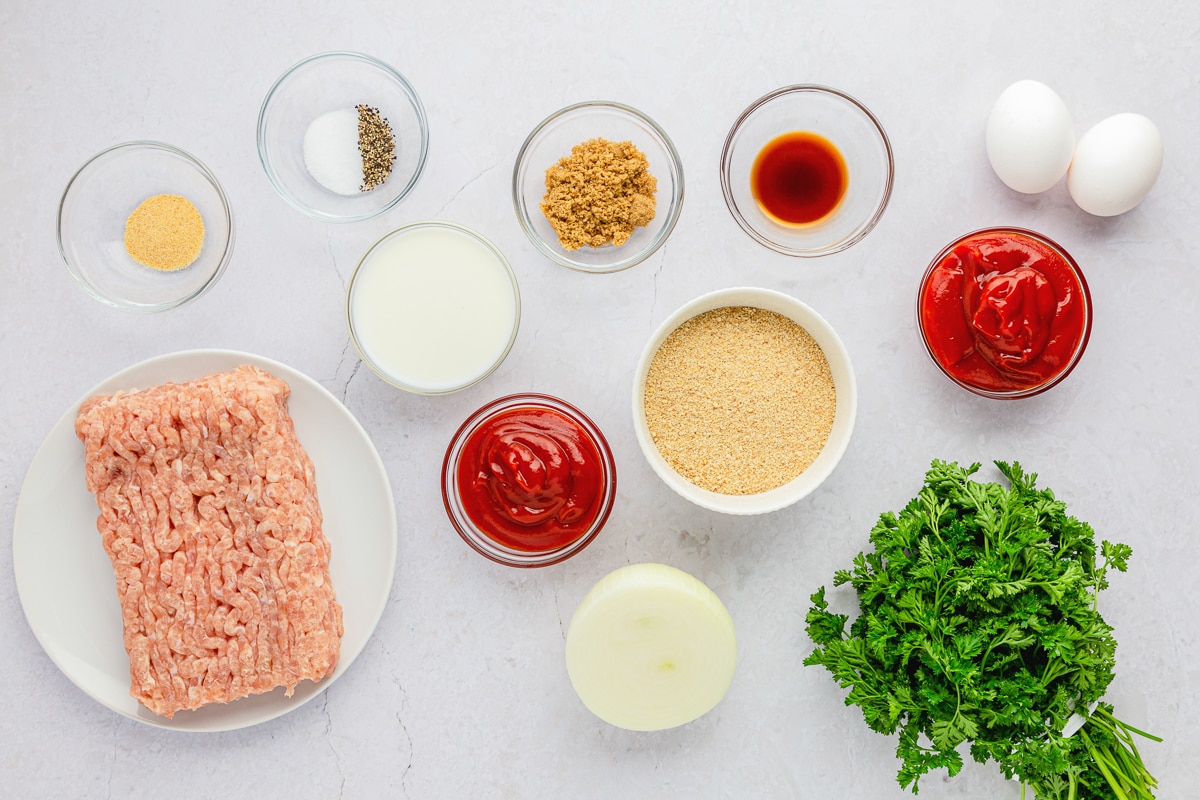 Ingredient notes
Ground Chicken – This recipe works well with ground chicken or ground turkey.
Eggs – We use the whole egg, but you can also just use the whites if you're reducing your fat intake.
Onion – This gives it a delicious flavor. We also add chopped bell peppers sometimes as well.
Milk – We use milk to moisten our meatloaf when adding dry herbs and bread crumbs.
Bread crumbs – We use homemade bread crumbs, but you can also use storebought.
Ketchup – If you don't like ketchup, you could also use marinara sauce.
Herbs and seasonings – We use a simple mixture of parsley, garlic, salt, and pepper, but you can add whatever seasonings you like to your meatloaf.
Brown Sugar – Using brown sugar makes a sweeter glaze on top.
Worcestershire – We love the depth of flavor Worcestershire gives the glaze.
How to make Chicken Meatloaf
For the full ingredient amount and instructions on how to make ground chicken meatloaf, see the recipe card below.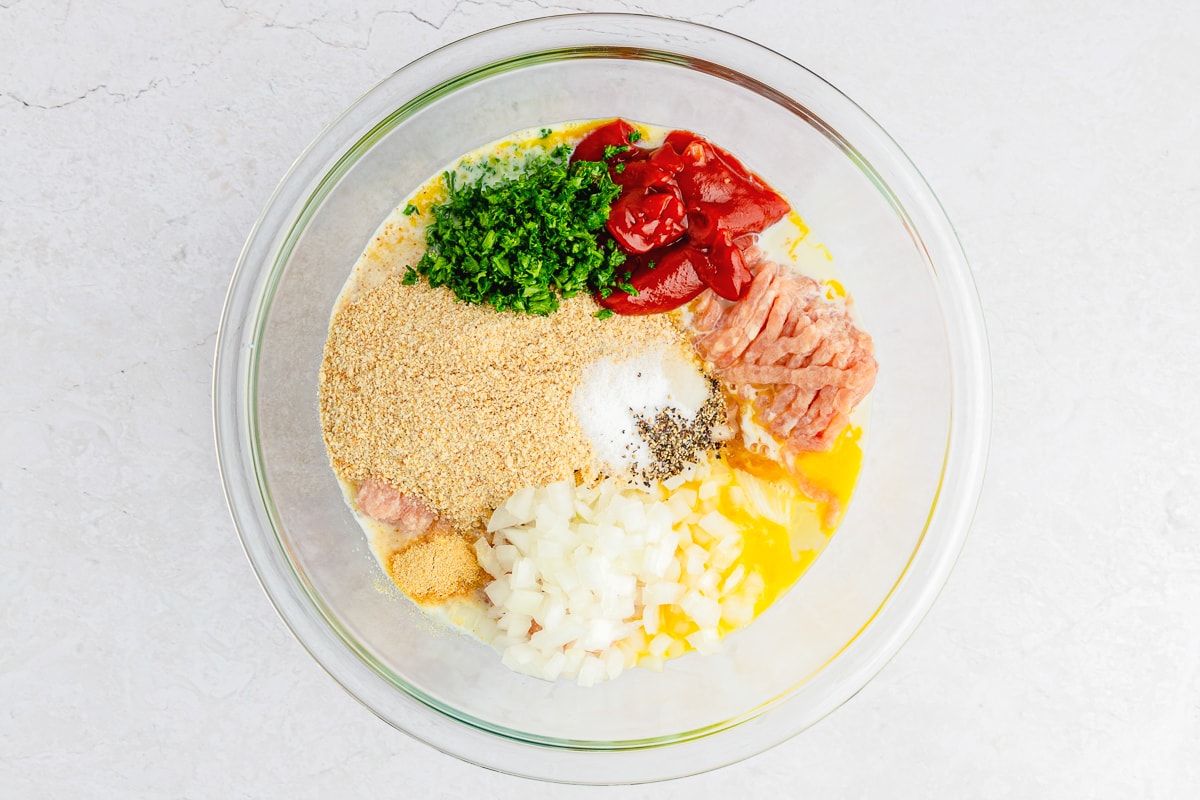 Mix the meatloaf ingredients.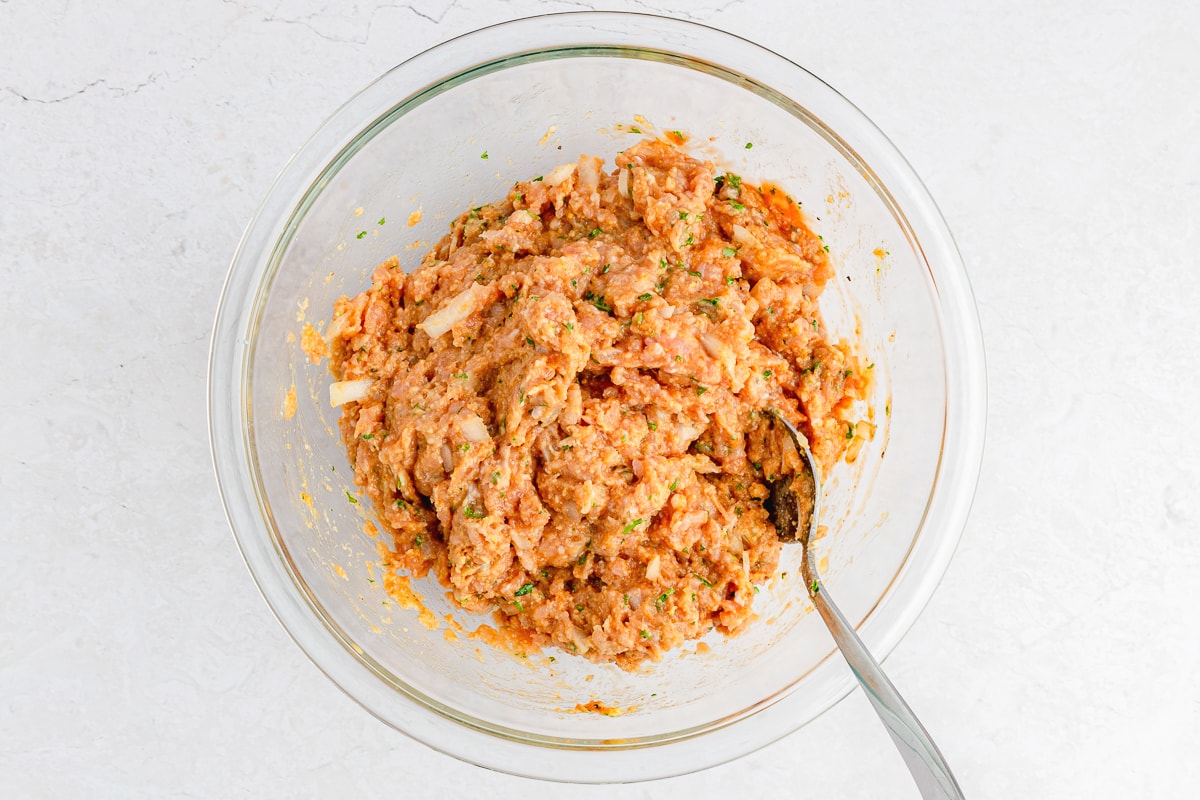 Mix the glaze ingredients.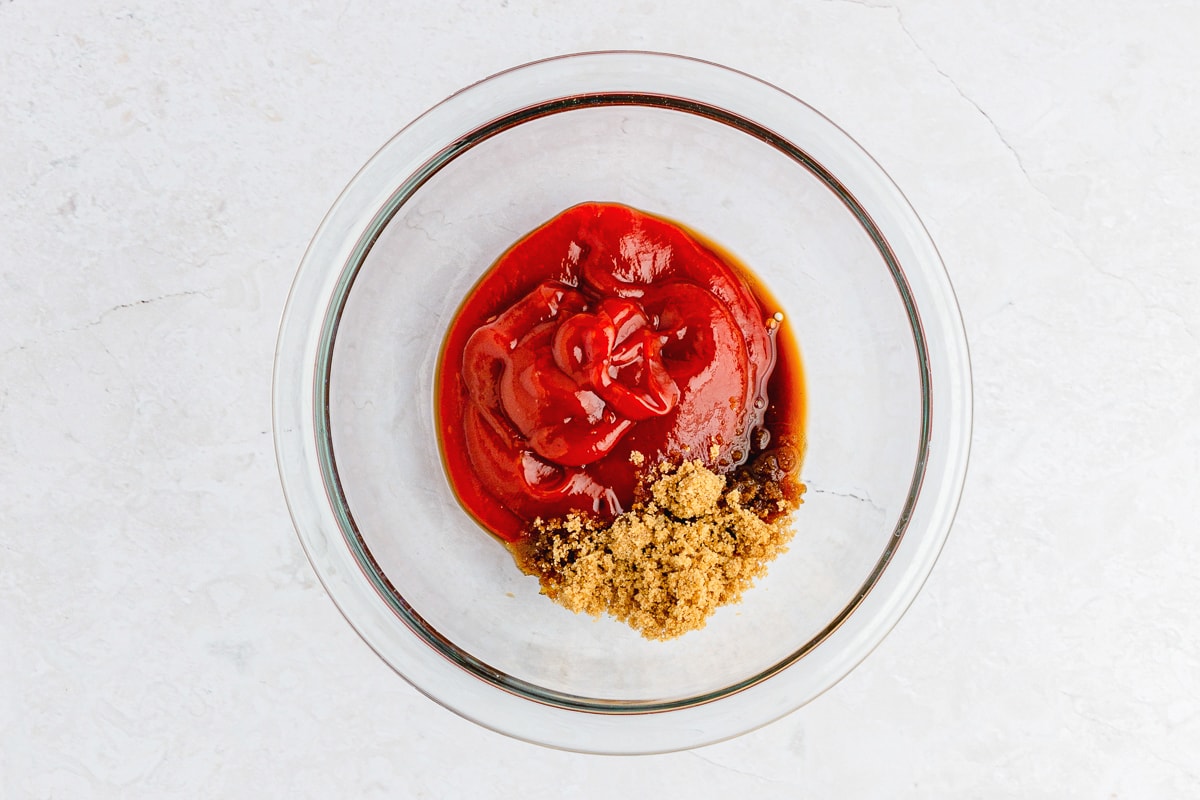 Place the meatloaf mixture into the loaf pan and cover it with the glaze.
Bake for an hour in a preheated oven.
Allow the meatloaf to cool for 10 minutes before slicing.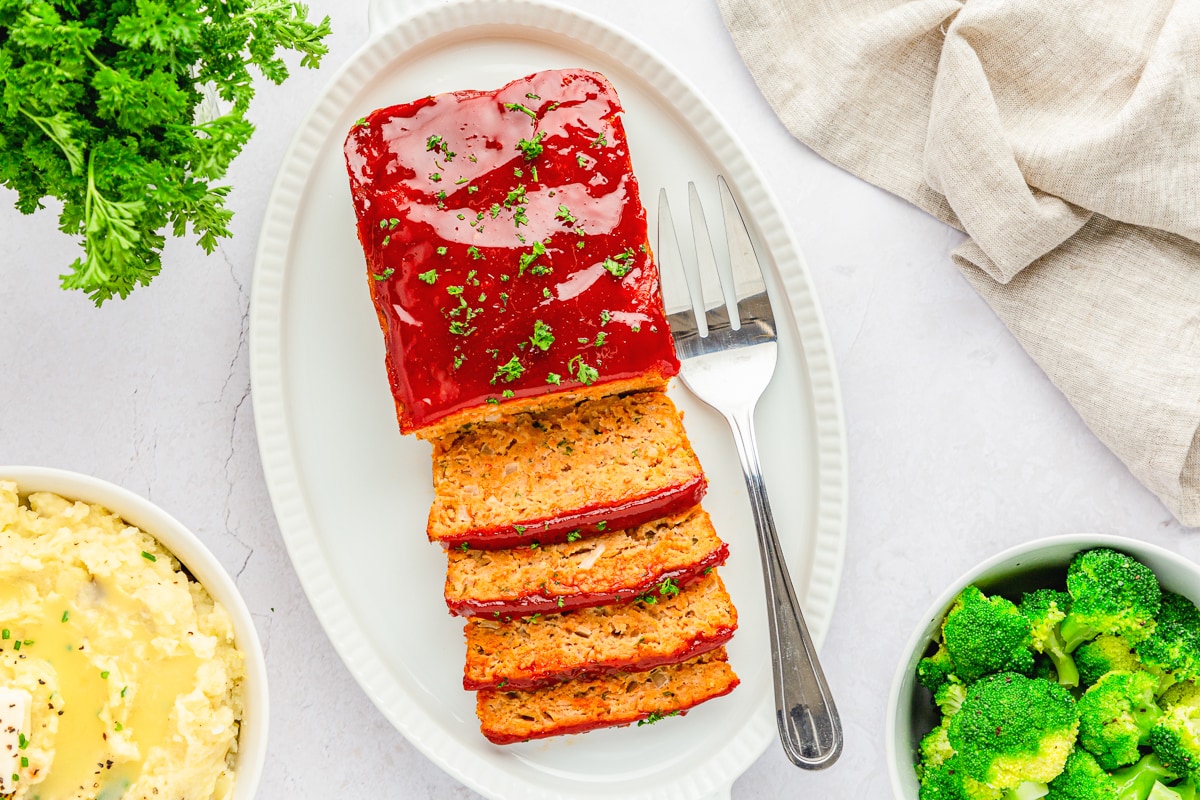 Recipe tips and variations
Don't press down too much when putting the meatloaf mixture into the loaf pan, as it will cause it to become too dense and tough.
No worries if you don't have a loaf pan! Use a lined baking sheet and form the meatloaf mixture into a loaf right on the baking sheet. Bake the meatloaf per the recipe card.
Let the chicken meatloaf rest for 5-10 minutes before slicing. This allows it to cool down a bit and also ensures easier slicing.
For a fun twist, try meatloaf cupcakes!
Storage and reheating tips
Refrigerate: Store any leftover ground chicken meatloaf in an air-tight container in the refrigerator and enjoy within 4 days.
How to freeze cooked meatloaf: To freeze any leftover meatloaf after cooking, we recommend wrapping tightly in some plastic wrap and then placing it into a freezer-safe bag or container. You can freeze for up 3-4 months.
How to reheat meatloaf: Place the desired amount of leftover meatloaf into an oven-safe baking dish with a few tablespoons of water or broth to help moisten the meatloaf and cover with foil. Bake for 20-25 minutes in a 325 degrees F oven.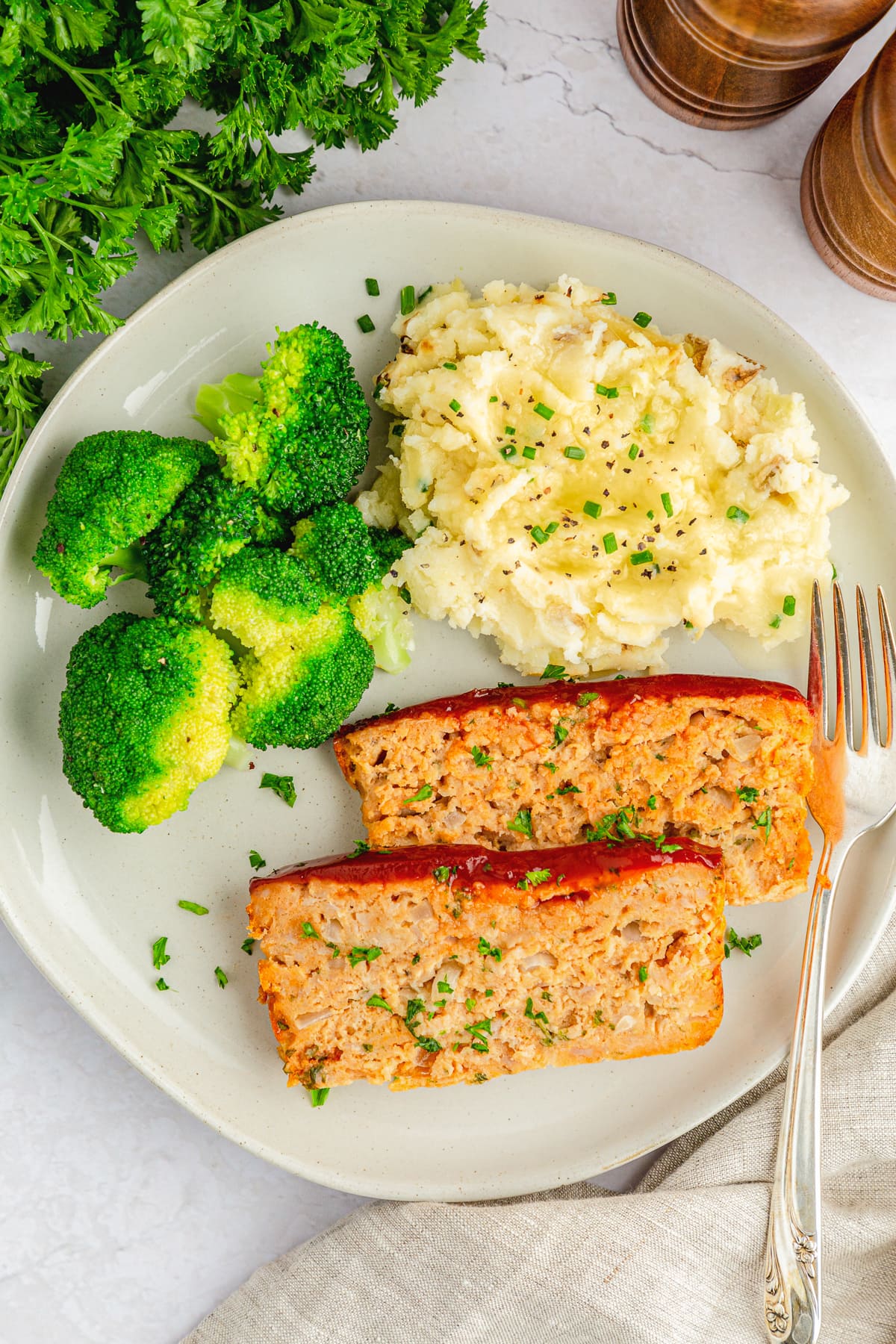 How to serve
Meatloaf is versatile and can be enjoyed as a delicious dinner with your favorite mashed potatoes and vegetables. It can also be enjoyed as a filling lunch by warming up leftover meatloaf and making it into a meatloaf sandwich.
Frequently asked questions
Can I make this using ground turkey?
Yes! This recipe also works well as a turkey meatloaf as well.
Can I make meatloaf without milk or dairy?
Yes, we use oat milk in our meatloaf. Sometimes we also use seltzer and even matzo meal instead of bread crumbs.
How do you reheat leftover meatloaf?
To prevent the meatloaf from drying out when reheating, we suggest cooking it in the oven with a bit of broth or water. Place the meatloaf into an oven-safe dish with about 2-3 tablespoons of broth or water, then cover with foil. Bake for 25-30 minutes in a 250 degrees oven or until the meatloaf is thoroughly warmed.
Chicken Meatloaf
This Chicken Meatloaf is full of flavor and super easy to make. Ground Chicken Meatloaf is a healthier alternative that the whole family will love.
click the stars to rate this recipe
Print
Pin Recipe
Ingredients
Chicken Meatloaf
1

lb

ground chicken

2

eggs

lightly beaten

1/2

cup

onion

diced

1/3

cup

milk

3/4

cup

bread crumbs

1/3

cup

ketchup

1/8

cup

parsley

chopped, or use 1 teaspoon dried

1/2

teaspoon

garlic powder

1/4

teaspoon

pepper

1

teaspoon

salt
Meatloaf Glaze
1/2

cup

ketchup

1/8

cup

brown sugar

1

teaspoon

Worcestershire sauce

optional
Instructions
Preheat the oven to 350 degrees F.

Prep the loaf pan by adding a piece of parchment paper just up to the top on the sides to easily remove the meatloaf.

In a large bowl combine all of the meatloaf ingredients and mix until combined, set aside.

In a small bowl combine the glaze ingredients.

Add ground chicken meatloaf to a standard size loaf pan (8×4) and gently smooth the top a rubber spatula.

Spread the glaze onto the top of the meatloaf.

Bake the meatloaf uncovered for 1 hour or until the internal temperature of the meatloaf reaches 165 degrees F. This is the minimum safe temperature for ground chicken.

Let the meatloaf cool for 10 minutes before slicing and enjoy.
Nutrition
The nutritional information is automatically calculated and can vary based ingredients and products used. If the nutrition numbers are important for you we recommend calculating them yourself.
So nice to have you here! Did you try this recipe? ⭐ ⭐ ⭐ ⭐ ⭐ Be sure to leave a recipe rating! Also, tag us @courtneyssweets #courtneyssweets on Instagram so we can share it!