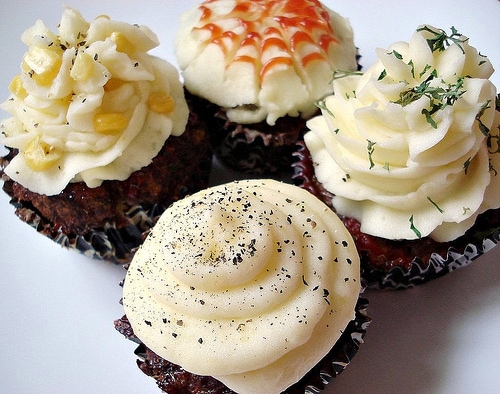 {corn w/lemon pepper, ketchup web, parsley potato, fresh cracked pepper}
I don't care what anyone says about meatloaf!
I love it, and it's one of my favorite comfort foods. 🙂
Wouldn't it be fun to have dinner, but in a way have it like a dessert?
Meatloaf cupcakes are the best of both worlds.
You'll feel like a kid, and get all excited to eat one of these cupcakes!
Trust me, total crowd pleaser. 🙂
1/2 small onion, chopped, sautéedwith a little olive oil.
1/3 cup Italian bread crumbs
Mix all ingredients by hand, do not over mix.
Roll meatloaf into giant meatballs, and try to form into the cupcake liners,
also keep in mind that the meatloaves will shrink a little while baking;
so if it looks too big no worries!
NOTE: Line cupcake pan with foil lined cupcake liners.
Mashed Potato "Buttercream"
Peel and chop the potatoes and bring to a boil.
Once the potatoes are done add them to your stand mixer bowl
along with the butter, and salt.
Mix at medium speed until potatoes are broken up,
then slowly add the milk.
Add more milk if needed for desired consistency.
Once potatoes are semi-cooled add them to a piping bag with tip of your choice,
and top the meatloaf cupcakes.