Homemade Italian Balsamic Vinaigrette! This is a great salad dressing and easy to whip up. I was given a gift card to order spices as compensation for this post, however as always all thoughts and opinions are my own.
Have you ever wondered where you could get quality spices for all of your cooking and baking needs?
Look no further than The Spice House! The Spice House opened its doors back in 1957, and today has both a robust online business as well as 5 locations throughout Chicago & Milwaukee. They carry over 600 products from at least 50 different countries, including pure spices and herbs, spice blends, salts, and extracts and have caught the admiration of many home cooks across the country as well as some heavy hitters in the food world, including Alton Brown & Julia Child!
Alton Brown filmed his famous "Good Eats Fruitcake Episode" at their Evanston shop 15 years ago and recently had Patty and Tom on his Podcast – The AltonBrowncast Episode 23. The Spice House also happens to make 3 special blends for Alton, which you can find here. You know Alton Brown knows a good thing when he finds one! Many of Chicago's top chefs walk through The Spice House doors for inspiration, "secret ingredients" and all around quality spices. Julia Child once proclaimed The Spice House a "national treasure"!
Patty remembers Julia's visit to their Milwaukee shop:
We had cinnamon that came from Vietnam, a long log, real thick, and as hard as a baseball bat! The trade doors had just opened from Vietnam when she visited, and we couldn't wait to show her this bark, and then give her a taste in powder form. Julia took the bark right out of my hand and took a giant bite right out of it! My whole family was there and we all collectively sucked in our breath, and asked, "Do you want to spit that out?" But she kept right on chewing and chewing and chewing, and 10 minutes later she had chewed it enough to swallow it. Julia was just so gracious, and she said something like, "Oh my dear, you're absolutely right, this is a delightful cinnamon, thank you for sharing this with me!" She signed the rest of that bark and today that bark is one of Patty's prized possessions.
Tom & Patty Erd took over Patty's parents business back in 1993 and have built The Spice House into what it is today…A resource for incredible spices and seasonings, as fresh as you can get them at an affordable price. They scour the world for the best ingredients and spices. From large farm collaboratives in exotic countries to boutique farmers who specialize in items not commercially produced, like one special connection they have with a friend's mother who just so happens to own a vanilla plantation in Tahiti, where only a limited amount of beans are produced and they're very…very expensive. "We have a really great connection with that farm, and we'll get maybe 20 pounds of Tahitian vanilla beans month". That wouldn't work for huge spice company's but it works well for us says Patty. There is a reason vanilla is the second most expensive spice in the world…did you know it can take up to 8 years to harvest a vanilla bean start to finish?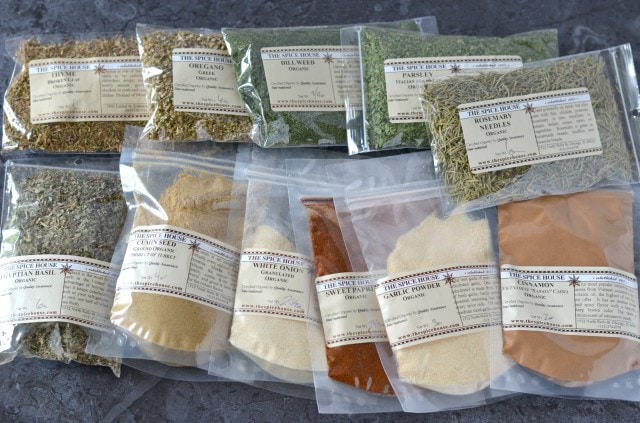 To bring you the freshest ingredients possible The Spice House grinds and blends their spices and seasonings in small batches right in their stores which is why as you approach a store and walk through its doors you are greeted with an intoxicating aroma! Many of their spices come in pretty glass jars, however you can also order many varieties in bags (as well as in salt-free versions), and let me tell you…you will be blown away by their pricing! Their gift boxes are both gorgeous and well thought out. The thought they put into their gift box packaging is something you really don't see these days. They include whole nutmegs, cinnamon sticks and more as packaging you can actually use! Their delivery is always quick as well, which has always impressed me. Take a few minutes and peruse their offerings and prepare to be impressed!
Once you try The Spice House…you just may fall in love with their quality, pricing and friendly service! (say something here about the recipe you created as well as what spice spices/etc you used).
I instantly fell in love with all the spices I purchased. I love making whatever I can from scratch and that includes our salad dressings. I love my grandmother's recipe, but Chris is a huge fan of Italian and Balsamic so I came up with an irresistible recipe that he can't get enough of! It's perfect on salads, tomatoes, and even on grilled portobello or other veggies! When picking spices for my dressings I rather use dried over fresh. Why? Because I want my dressing to last longer and I get nervous about things growing in it 😉 I just recently tried The Spice House – and I truly love their spice collection, especially the organic variety they offer! The care they take and the quality of their product really shows.
Did you know that you should replace your dry spices yearly? don't pay attention to that date if you opened it. Once it's exposed to air it has a year! I only buy enough spices for 6 months usually so I never have that problem 🙂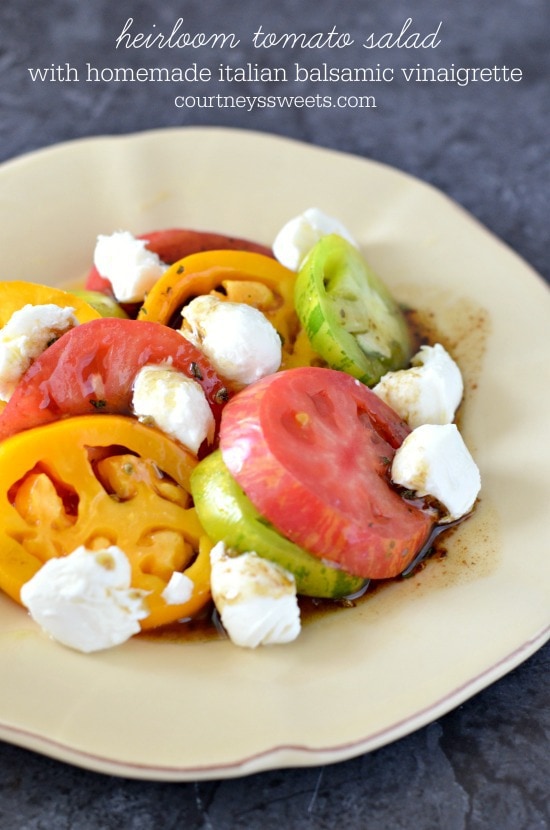 This recipe may just be hubby's favorite. He's far from the healthy salad type, but if you put this vinaigrette on tomatoes he'll gobble up the whole entire plate! I love using an empty maple syrup container for our homemade dressing. Since it's glass I have no problems using and reusing it. So when you run out of syrup, always save it for another use!
Homemade Italian Balsamic Vinaigrette with Heirloom Tomato Salad #SpiceUpYourLife
Homemade Italian Balsamic Vinaigrette! This is a great salad dressing and easy to whip up.
click the stars to rate this recipe
Print
Pin Recipe
Ingredients
1/2

Cup

Olive Oil

1/3

Cup

Balsamic Vinegar

1

Teaspoon

Basil

1

Teaspoon

Parsley

1

Teaspoon

Pepper

1

Teaspoon

Garlic

1 1/2

Teaspoon

Oregano

Salt

to taste
Instructions
Mix ingredients and put in container of your choice.

Use within 1 week (keep refrigerated)
Nutrition
Calories:
104
kcal
|
Carbohydrates:
1
g
|
Fat:
10
g
|
Saturated Fat:
1
g
|
Sodium:
467
mg
|
Potassium:
13
mg
|
Sugar:
1
g
|
Vitamin A:
5
IU
|
Vitamin C:
0.1
mg
|
Calcium:
7
mg
|
Iron:
0.3
mg
The nutritional information is automatically calculated and can vary based ingredients and products used. If the nutrition numbers are important for you we recommend calculating them yourself.
Also be sure to check out all the other blogger's delicious recipes using products from The Spice House!