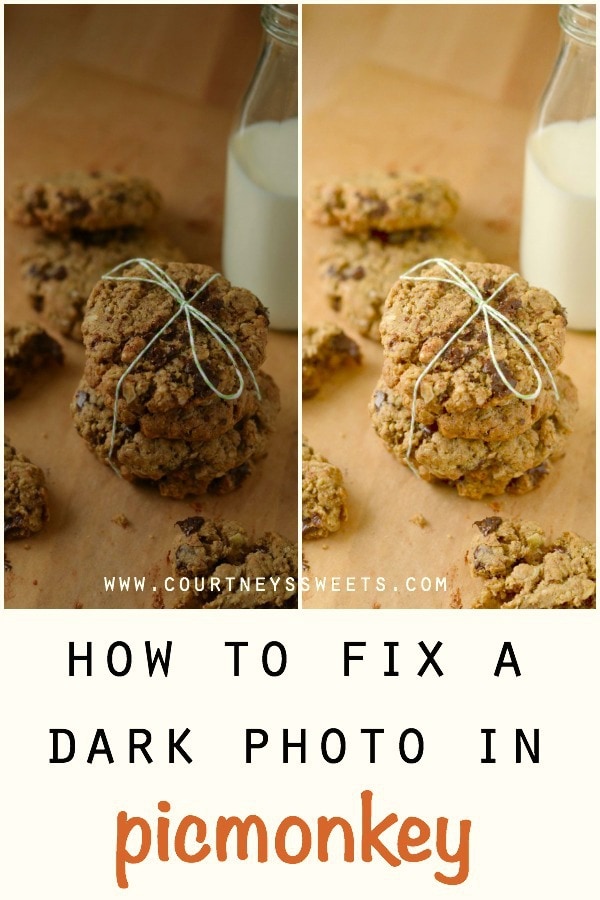 Today I'm sharing How to Fix a Dark Photo in PicMonkey. It's a free editing program with paid options. I own Photoshop Elements and Lightroom, but mainly use PicMonkey for quick editing and blogging. Why write a How to Fix a Dark Photo in PicMonkey ??
This image.. this is why. I took a bunch of pictures of my Lactation Cookie's Recipe and they were so dark. 🙁
How many times do you take a picture for a blog post and it's DARK. You think the lighting is horrible and it's not useable. You think you need a whole lighting setup or that you have to take pictures at the crack of dawn. Well, I'm here to tell you that you don't have to do any of that. Just follow our simple tutorial on How to Fix a Dark Photo in PicMonkey
First you're going to edit the exposure. You want to bring light into the photo. By bringing light in you're taking out the harsh shadows and brightening up the image. You're also ruining the color at the same time.. oh no.. don't worry 😉
Now that we bleached out the colors with the exposure we're going to add them back in. You'll want to play around with the saturation and the temperature until you get the perfect match. I never use neutral color picker, but if you can find an absolute white on the image, try it.
Now if you're image is a little dull DON'T sharpen. Since your image was so dark you're just going to bring out the noise. Instead bump up the clarity a little. Now you're picture is ready to be edited for your blog post.
No more dark image! I fizzled around more to give the picture a little more of a red tone. This was done using curves and is in the paid portion of picmonkey. We hope you enjoyed our How to Fix a Dark Photo in PicMonkey tutorial 🙂