You guys.. it's a official. My baby is learning how to ride a bike! We went to Toys"R"Us to pick up a Schwinn SmartStart Bicycle as a part of this sponsored post with LunchBox for her and it felt so surreal!
I feel like it was just yesterday I was picking out a push car and now she's walking, talking, and learning to ride a bike. Time sure does fly and kiddos grow so quickly right before our eyes. That's why is super important to make the best choice in the bike you buy for your kiddo. Learning how to ride a bike is a big deal and we made sure it was fun and exciting!
What we looked when buying a new bike:
comfort
safety
style
budget
can grow with child
We went with the Girls' 16 inch Schwinn Jamboree Bike from Scwhinn.
We chose Schwinn for many reasons; one is they are a well-known brand that my husband and I have both used and grown up with. They have established in 1895 and Toys"R" Us has the largest selection of 16" bikes for kids. This bike will not only provide all the things we look for in a bike, but it even had a basket. Oh and we also had Toys"R" Us build her bike since they build bikes all the time. I'm not sure I've ever built a bike, nd while I know I could do it, it was definitely worth the $10 extra for us.
Don't all little girls need a basket? Where else would you put all the flowers (okay, weeds) you pick? 🙂 Bonus, we even have streamers!! I remember loving streamers on my bike and I always wanted a basket. I made sure my little girl had all the stuff my little girl self wanted.
For safety there's a coaster brake. I love how the seat is nice and long. I find that the longer seat really makes for a safer feel for my daughter. Also, since we wanted a bike that can really grow with our daughter we love when you raise the seat that the seat actually goes further away from the handle bars, more-so growing with your child more than just raising the seat. There's not much wobble and it's actually light-weight too! I keep it in the trunk of my SUV so that we can just go to the park and stroll together. I know she will get quite a few years out of her Schwinn Jamboree Bike and it was under $100 – with a limited lifetime warranty as long as you own the bike. Boom, right on the budget! 🙂 Recommended height: 38″ – 48″ tall.
I admit I was a little nervous about her getting on the bike for the first time, but then she got on the bike and OWNED it! Daddy was helping at first, but then she eventually told him to let go. Those words, she's such a big girl and we are learning about letting go and letting her grow.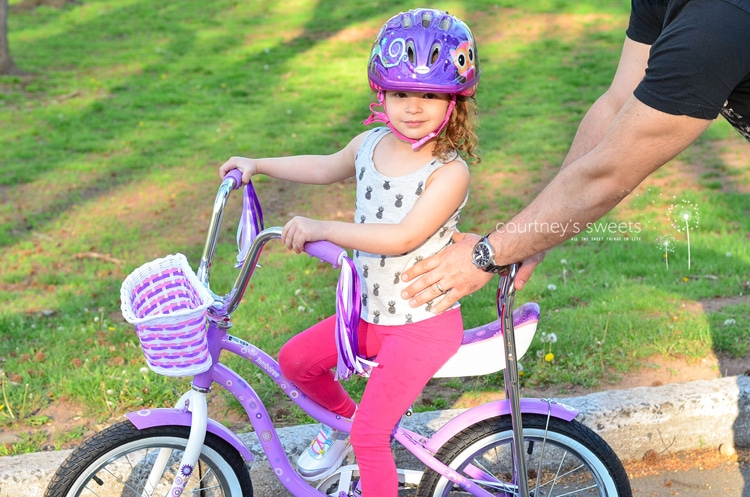 I was instantly thinking, "where's the safety belt!?" Then she just got on and took off.
I was in complete shock how well she adjusted to her new big girl bike. The training wheels help give her confidence and of course keep the bike standing. She also has an adorable and fashionable Schwinn Helmet to go with her new big girl bike. Training wheels are ideal until your child learns how to balance on a bike.