Mandel bread is a delicious twice-baked Jewish cookie, similar to biscotti cookies. Our go-to cookie during the Jewish holidays.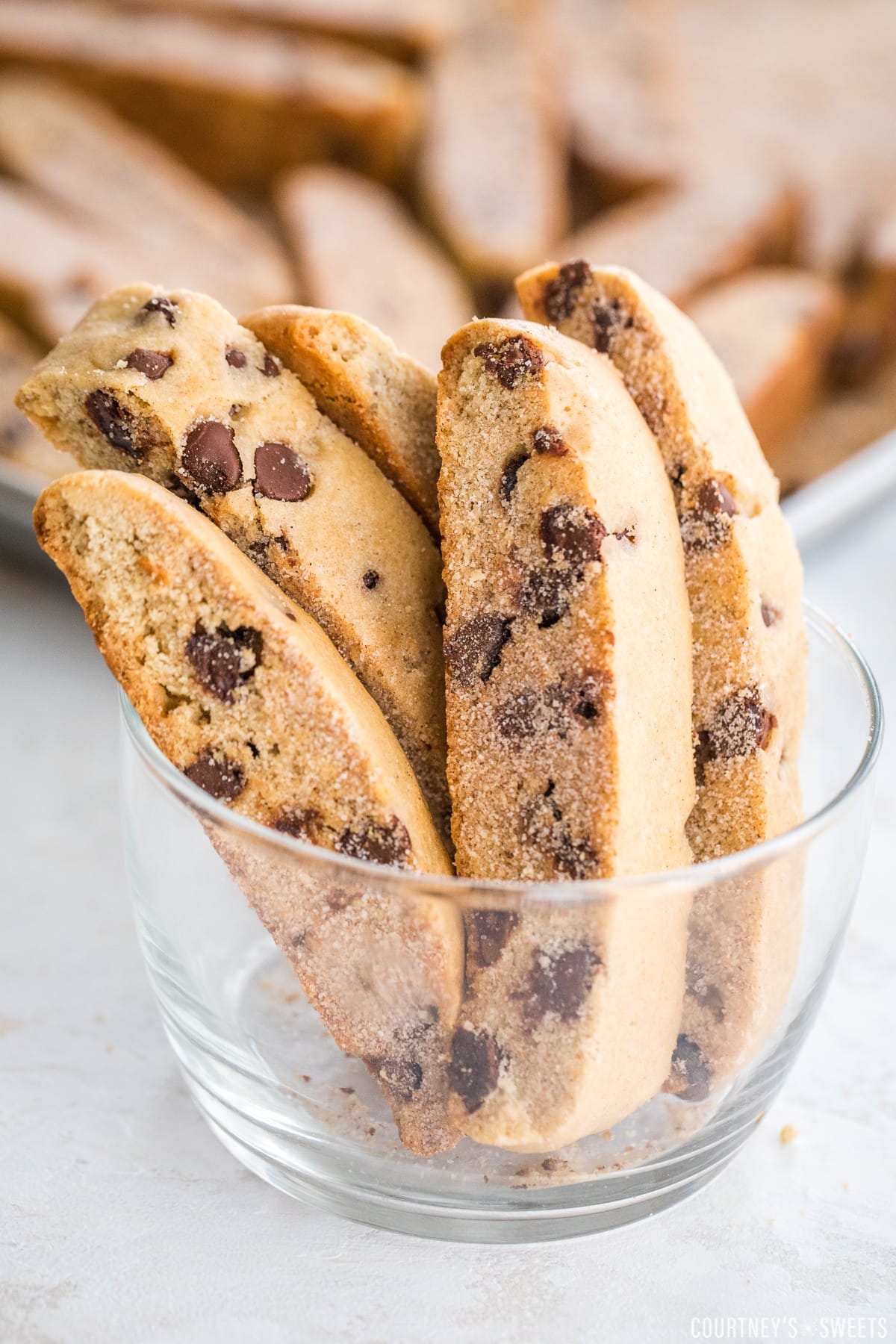 During the Jewish holiday, we enjoy mandel bread, but it can really be enjoyed any time of the year and you don't have to be Jewish to enjoy it.
This mandel bread recipe comes from my grandma although my aunt is known as the mandel bread queen. She makes mandel bread so often I think she could do it with a blindfold. There are so many ways to enjoy mandel bread from how you serve it to what you fill it with, our top pick is chocolate chips with dried fruit but you can also add your favorite chopped nuts or even seeds.
I just love giving edible gifts. Sometimes we find that the best gifts are those made with love and not those that are from the store made in a factory. I like to cherish these little moments and the product that comes from them 🙂
Making and enjoying mandel bread reminds me of my grammy, the cinnamon, the chocolate chips, and even the raisins that I'll still pick out to this day. If I do put them in, I just put them in to have that memory. Weird, I know!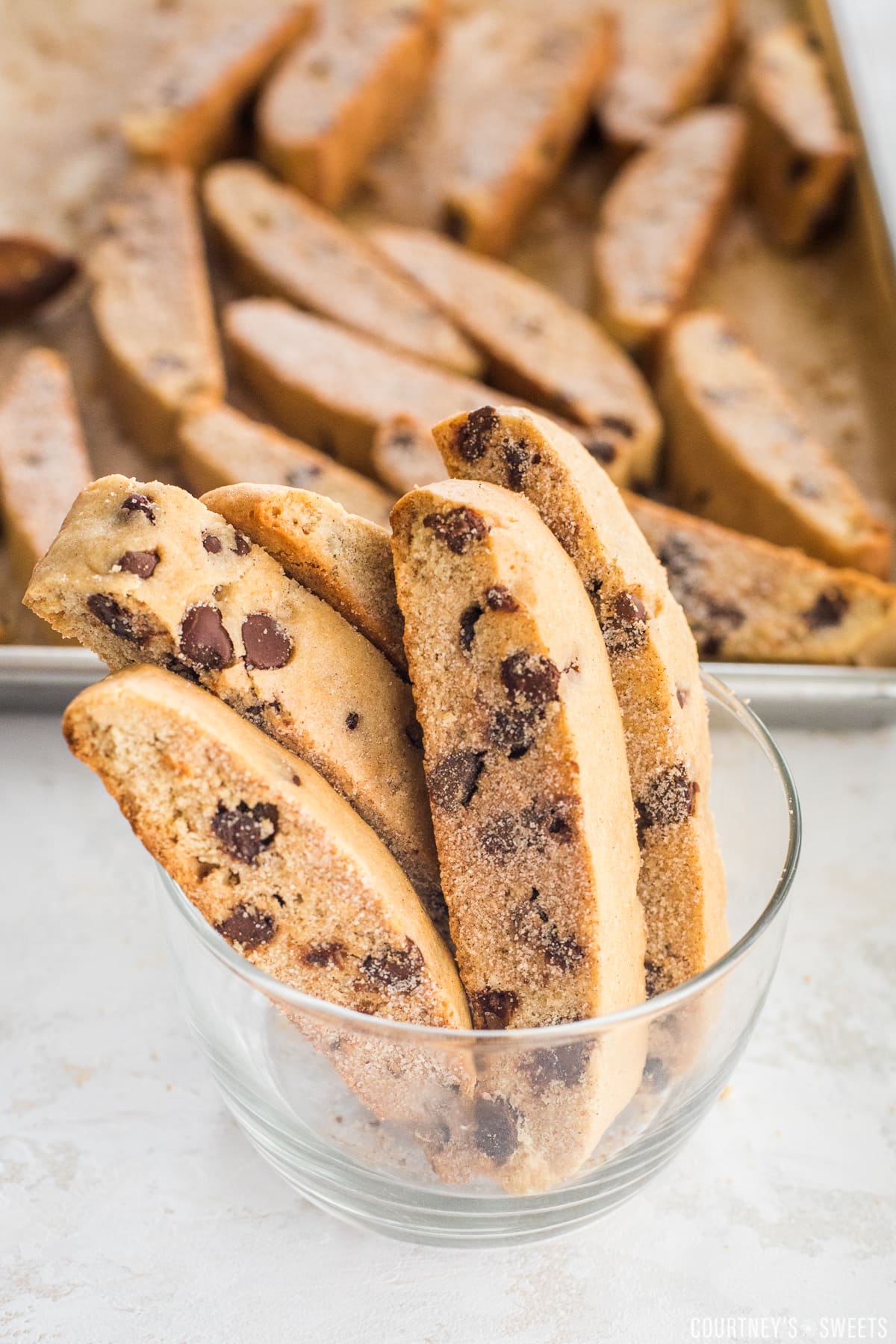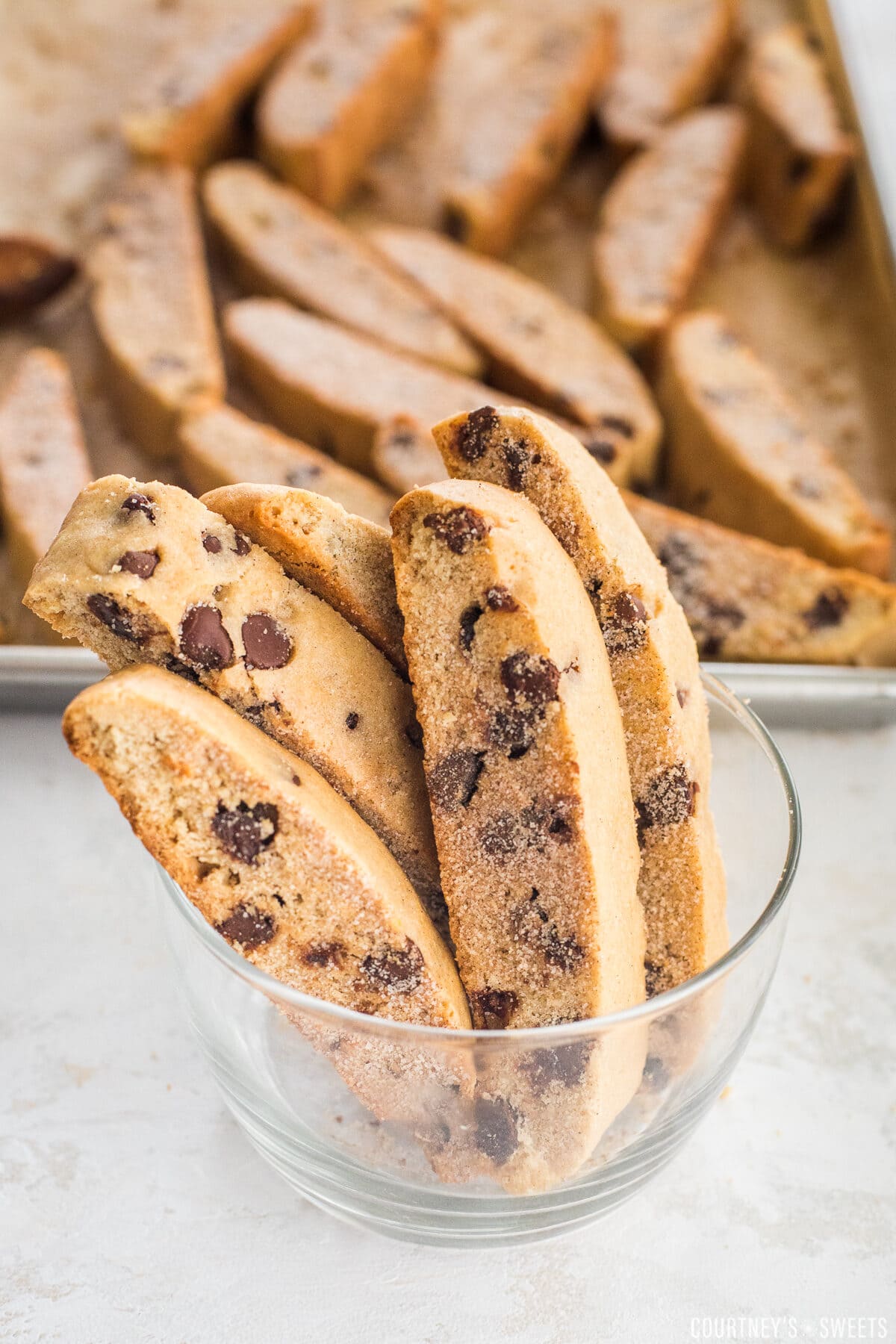 What is mandel bread?
Mandel bread actually comes from the Yiddish name, Mandelbrot. There many ways to spelling other variations on the name like mandelbroit or mandelbrodt, or mandlbroyt which means almond bread in Yiddish. Also worth noting, Mandel bread is sometimes referred to kamish bread in English-speaking countries.
Mandel bread is simply a twice-baked cookie that is very similar to biscotti, but softer. You can see below how it looks after the first bake. It's still soft and ready to be toasted.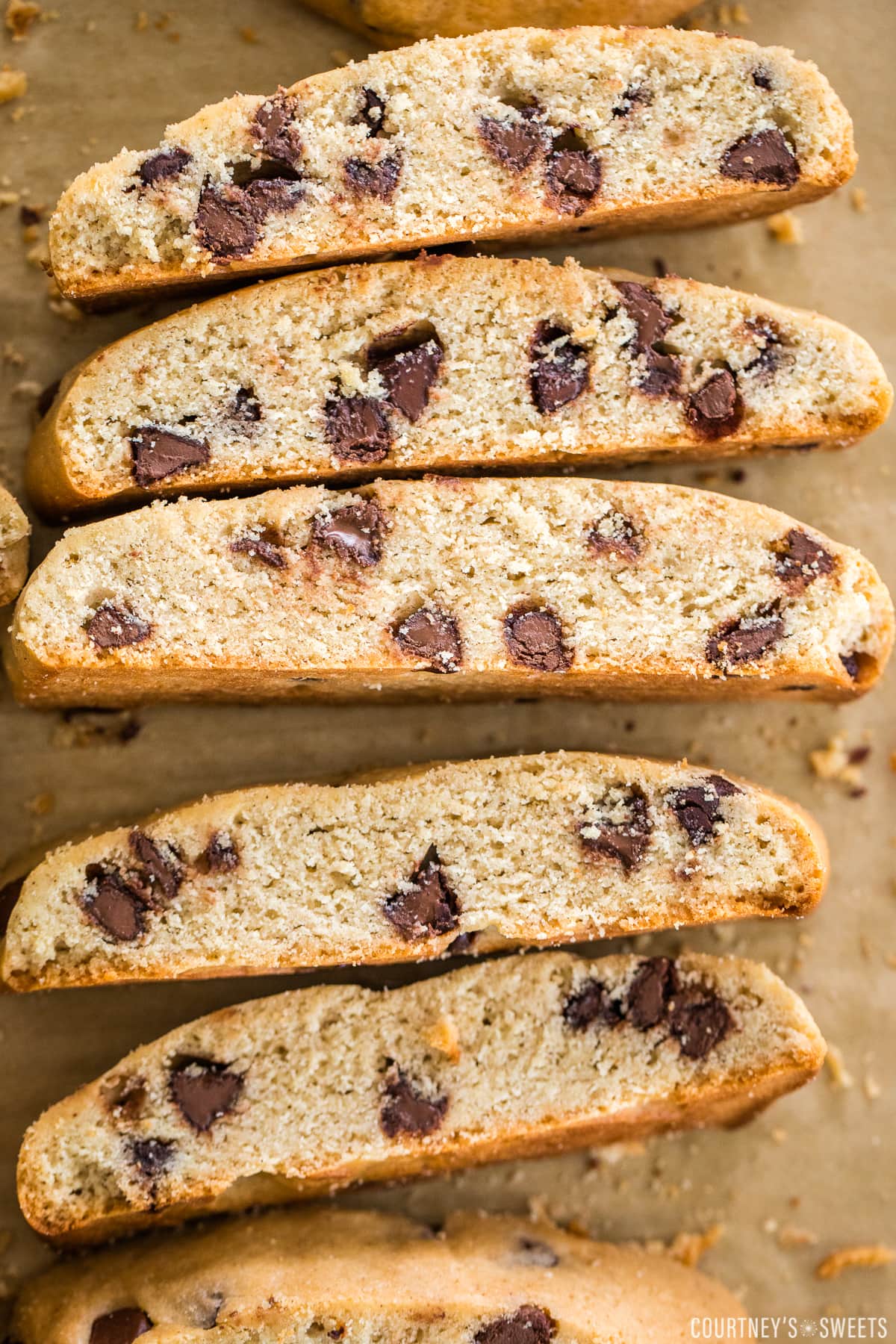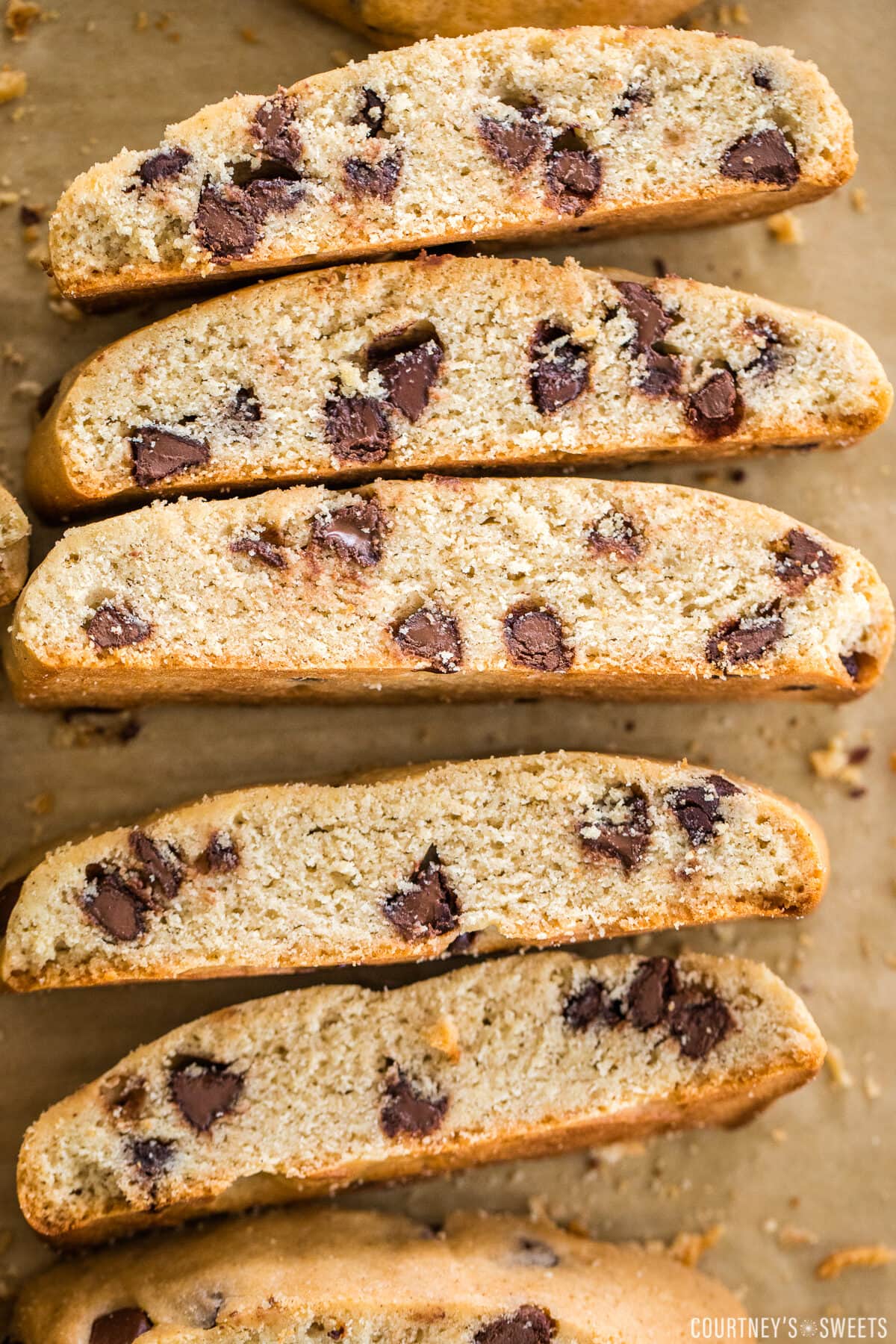 What you'll need to make mandel bread:
All purpose flour – this is our flour of choice.
Vegetable Oil – this is preferred oil for baking.
Sugar – granulated white sugar is best but you can also use cane sugar.
Vanilla – If you don't like vanilla you can also use almond extract.
Baking powder – this helps the cookies rise.
Cinnamon – we only use cinnamon but you can also use a combination of cinnamon and nutmeg.
Eggs – to make it vegan you can use applesauce, but the cookies will be a bit softer.
Add-ins – Chocolate Chips, Nuts, Dried Fruit – the options are endless, use your favorite add ins for these.
Cinnamon Sugar – we sprinkle cinnamon sugar at the end to give a little sweetness and more hints of cinnamon.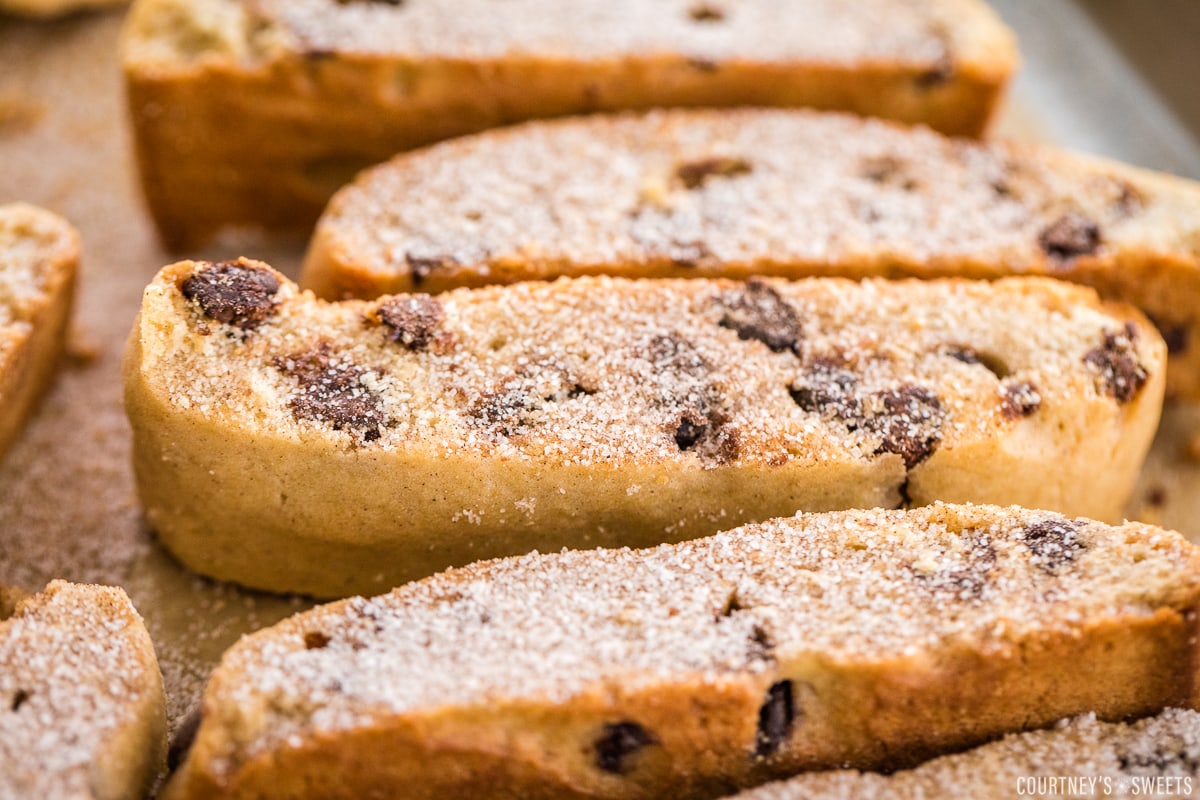 How to make mandel bread
For the full ingredient amount and full instructions on how to make mandel bread scroll down to the recipe card below.
In a medium sized bowl combine the dry ingredients aside from the nuts, chocolate chips, and or dried fruit.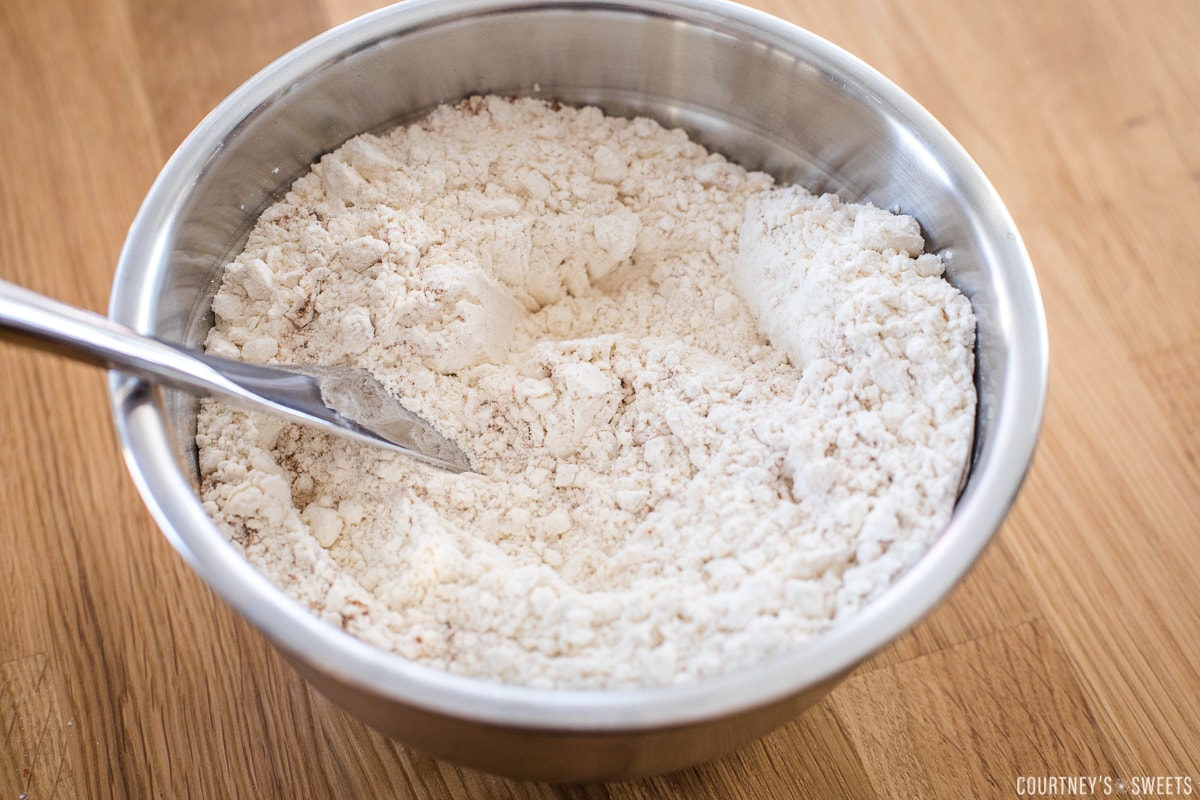 In a large-size bowl combine the wet ingredients.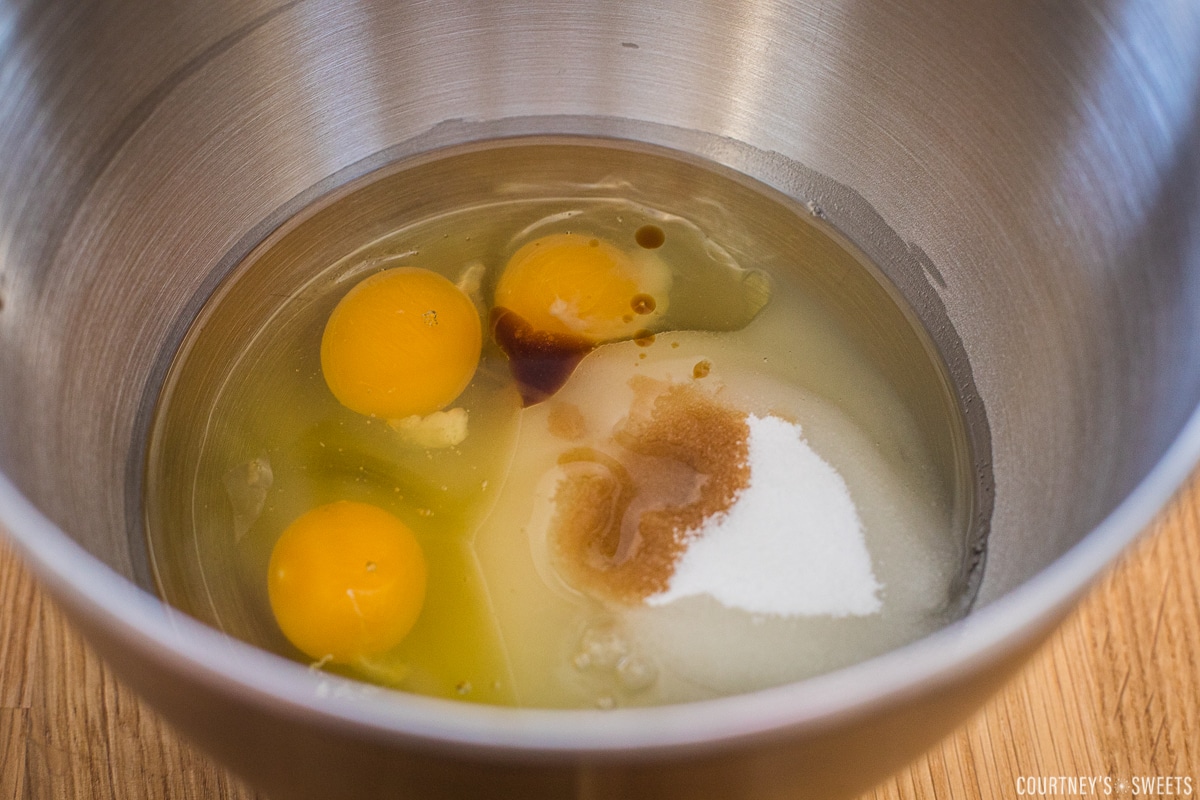 Combine the wet and dry and then fold in the nuts, chocolate chips, or dried fruit.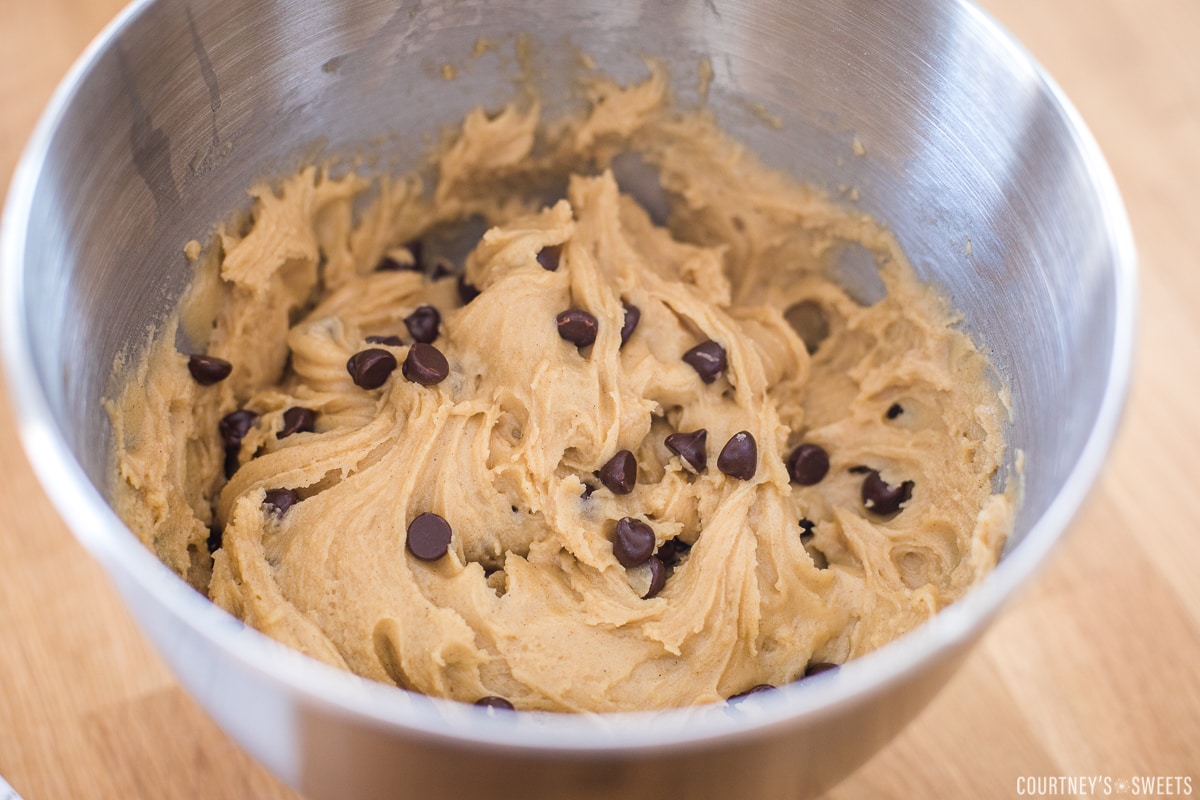 Cover and refrigerate the mandel bread dough for an hour or two.
Preheat your oven and then shape the mandel bread onto a baking sheet, about 4″ wide so that you have 3 loaves.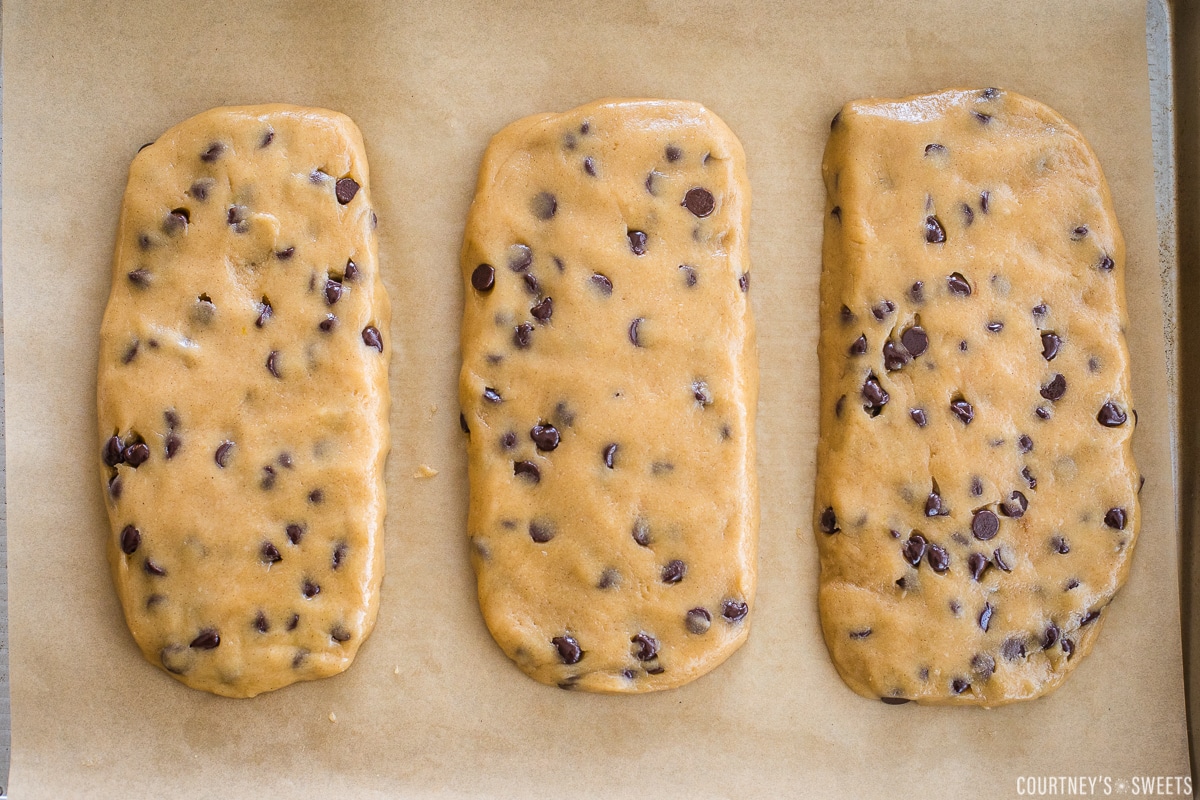 Bake the mandel bread for 25 minutes. After baking allow the mandel bread to cool enough to handle, slice the mandel bread into 3/4 inch thick slices and then return to the baking sheet and bake in a 250 degree F oven for 15-30 minutes.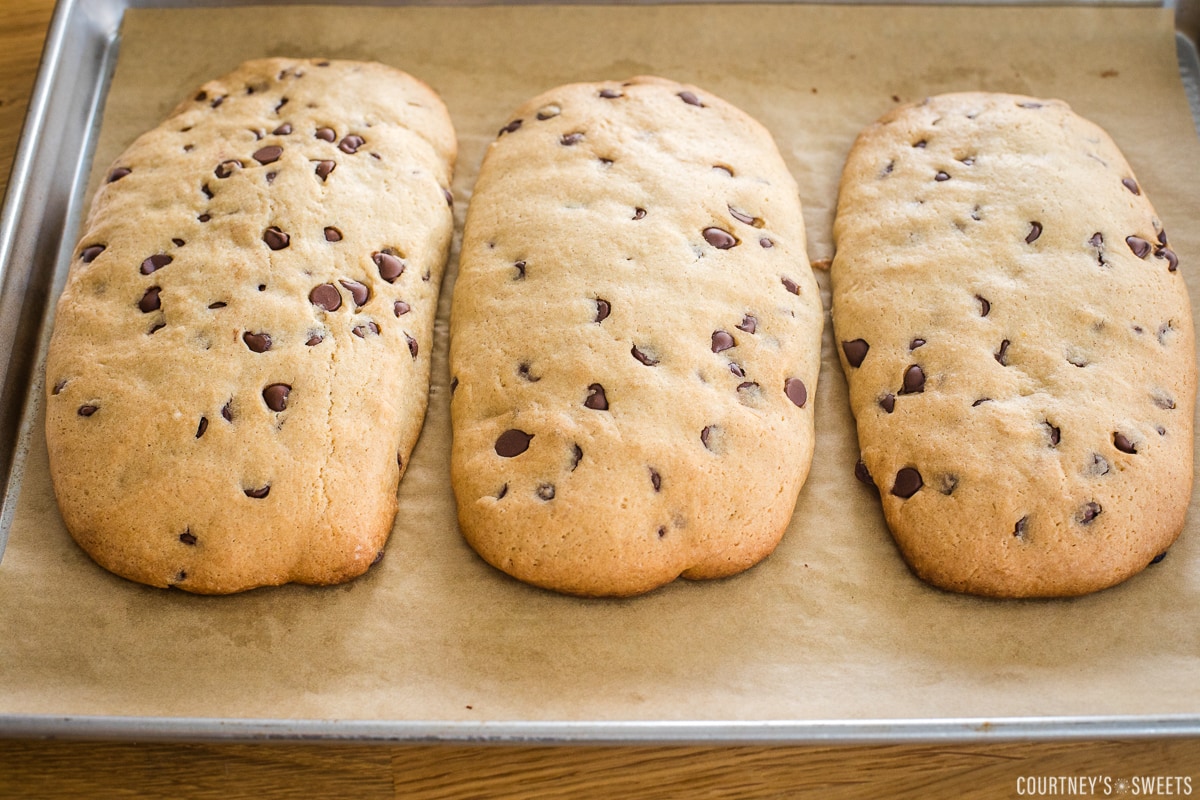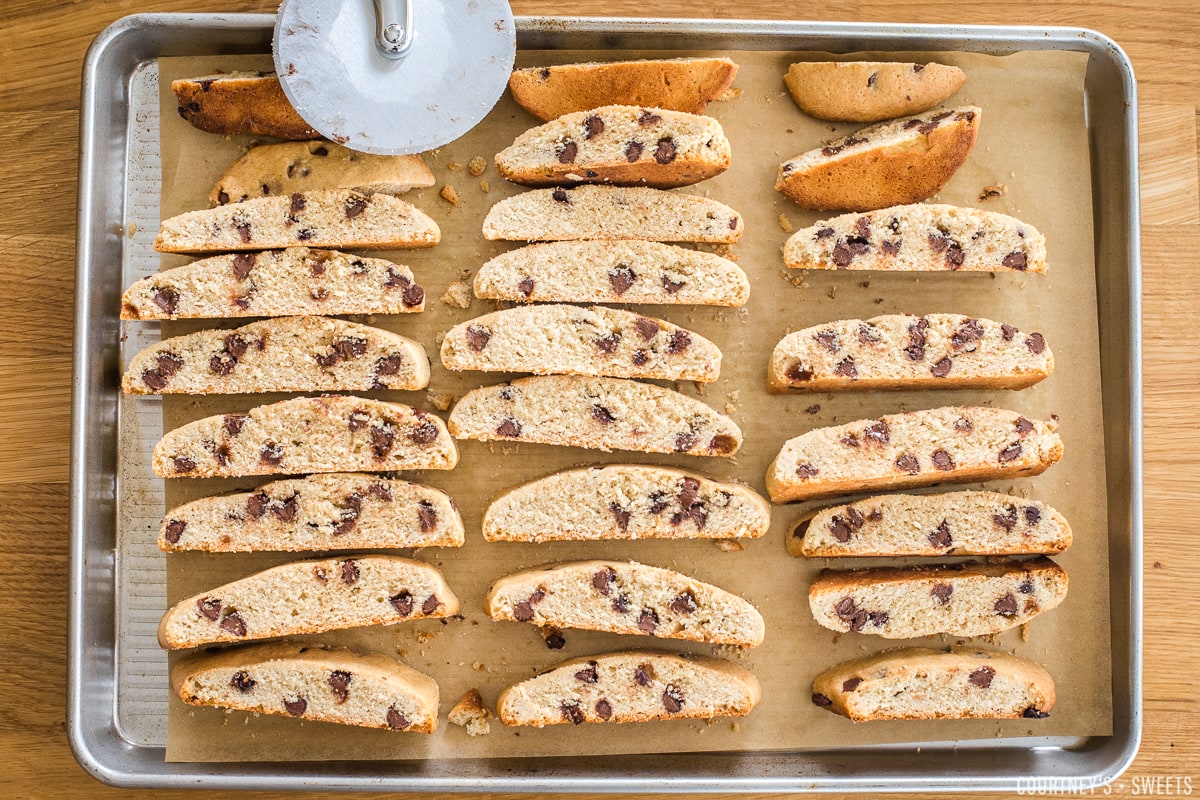 Remove from the oven and sprinkle with a little cinnamon sugar. Allow the mandel bread cookies to cool before enjoying.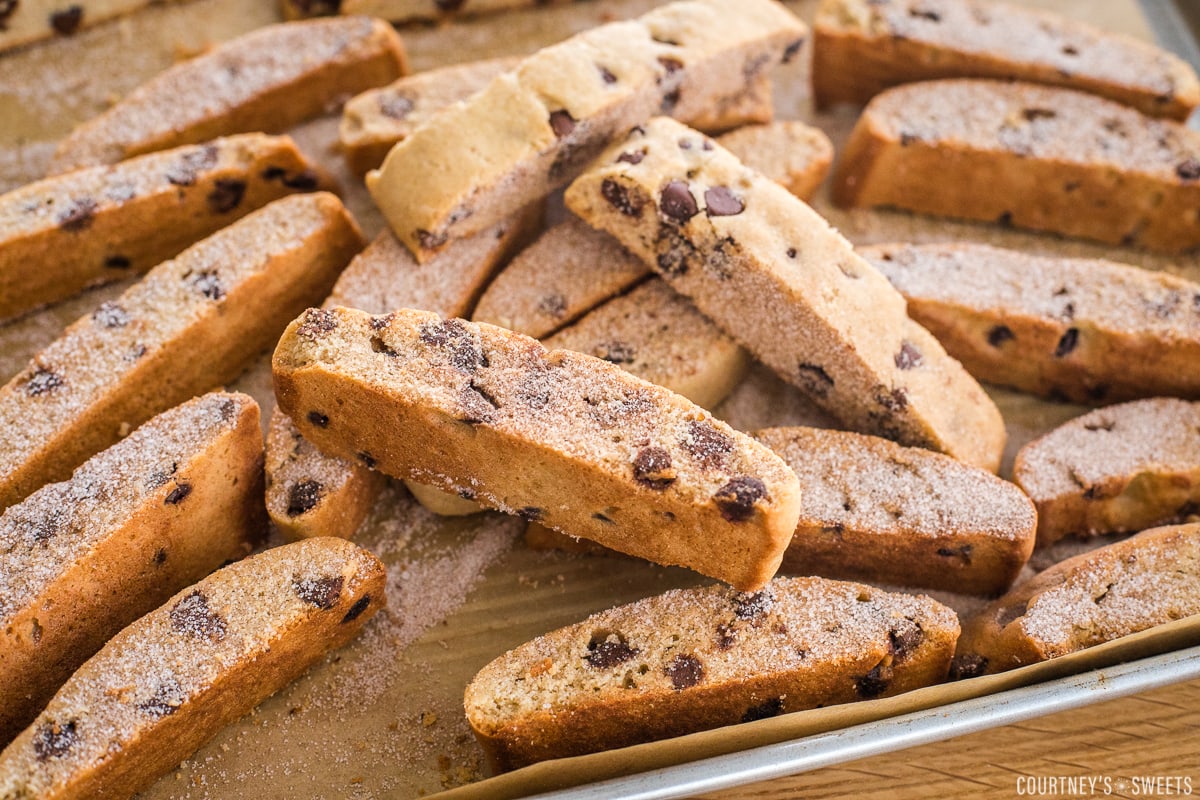 Recipe Tips and Alterations:
Have fun with your mandel bread, we like to dip in extra chocolate during the holiday and even sprinkle with some holiday sprinkles.

Mandel bread is best store in an air tight container on the counter for up to a week

You can freeze mandel bread dough for up to 4 months, wrap in plastic wrap to prevent freezer burn.

Another option to freeze is to freeze the already baked mandel bread.

You just freeze in an air tight container like a stasher bags

or freezer safe bag.

Easily cut the mandel bread using a stainless steel scrapper or our personal favorite, a pizza cutter.
Storage and reheating tips:
Room temperature: Store leftover mandel bread in an air tight container on the counter for up to a week.
Freeze: If you want to freeze mandel bread dough before baking or after make sure you're using a freezer safe container. For the dough we recommend wrapping in a bit of plastic wrap to prevent freezer burn.
Defrost: To defrost frozen mandel bread we recommend placing it in the refrigerator the night before you plan on baking. If you want to defrost cooked mandel bread you can place on the counter and enjoy within a few days.
Frequently asked questions
What is the difference between mandel bread and biscotti?
When it comes to appearance they look exactly the same and well, the taste as well. Both cookies are twice-baked cookies, but Mandel bread is a little bit softer and richer as it has more fat using more oil and eggs.
What else can you add to mandel bread?
The options are endless from nuts, seeds, dried fruits, chocolate or even sprinkles if you're going unconventional.
Can you freeze mandel bread?
Yes, you can freeze mandel bread dough and baked cookies. My family likes to freeze it in pieces after baking and then snack on it straight from the freezer.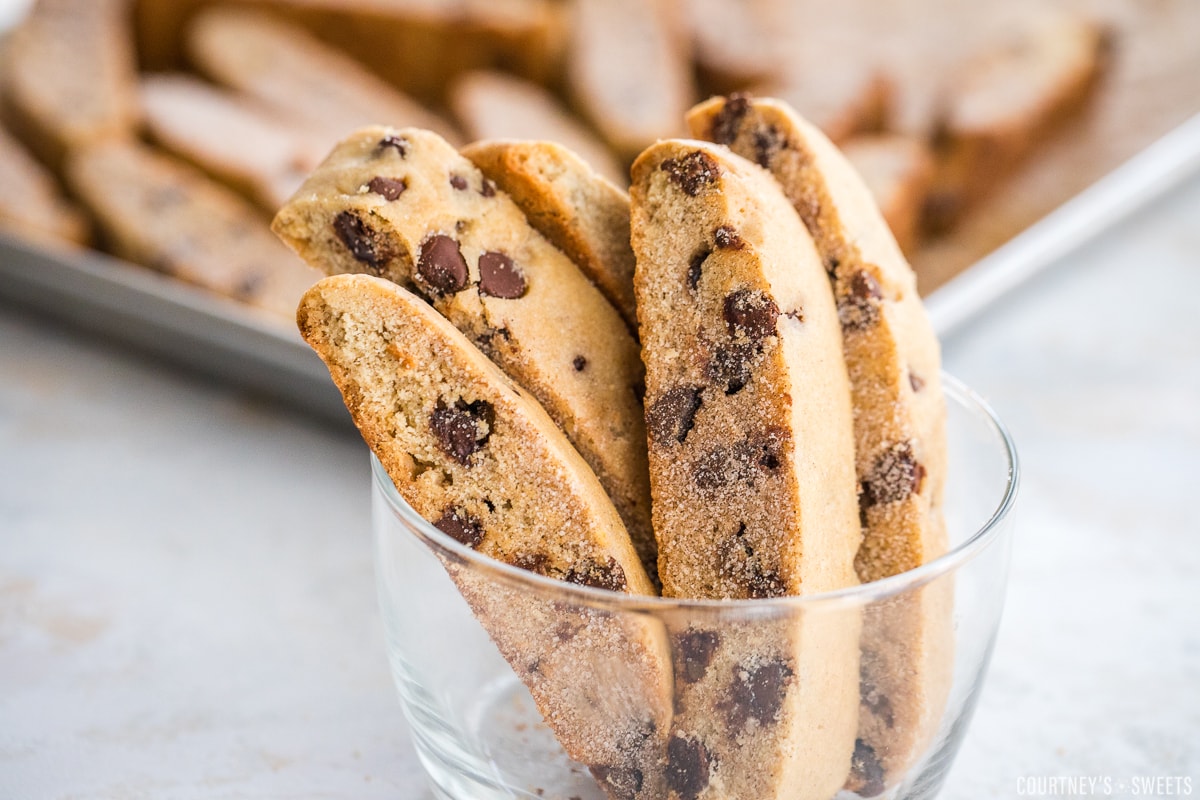 more cookie recipes
⭐ ⭐ ⭐ ⭐ ⭐ So nice to have you here! Did you try this recipe? Be sure to leave a recipe rating! Also, tag us @courtneyssweets on Instagram so we can share it!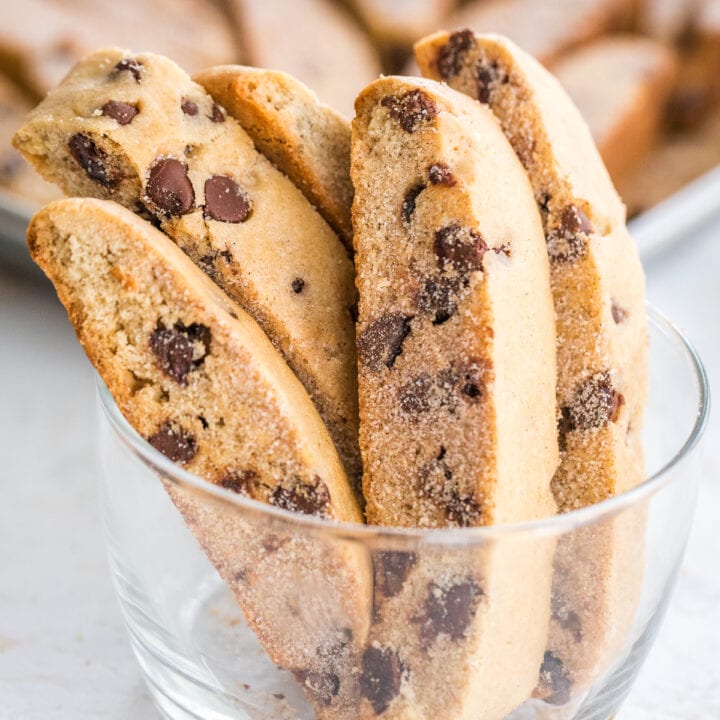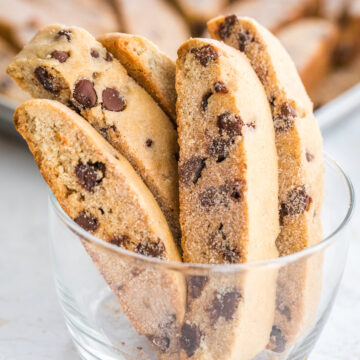 Mandel Bread Recipe
Our mandel bread recipe is perfect for dipping into tea or coffee and also great for gift giving during the Jewish holiday!
click the stars to rate this recipe
Print
Pin Recipe
Ingredients
3

cup

flour

3/4

cup

oil

3/4

cup

sugar

2

teaspoons

vanilla

1

teaspoon

baking powder

1

teaspoon

cinnamon

3

eggs

1

cup

chocolate chips

or a mixture of dried fruit nuts, chocolate

2

teaspoons

cinnamon sugar

if desired
Instructions
In bowl combine the flour, baking powder, salt, and cinnamon.

In another large-sized bowl combine the vegetable oil, sugar, vanilla, and eggs. Mix until mixture becomes thicker and light yellow.

Combine the wet and dry mixture and mix until combined. Fold in the chocolate chips and any dried fruit or nuts.

Place a cover on the bowl with the mandel bread dough and refrigerate for around 1-2 hours.

Preheat your oven to 350 degrees F.

Line a baking sheet with parchment paper or a reusable silicone mat.

Form the dough into 3 4" wide rectangles with the dough about 1/2-3/4" high onto the baking sheets Bake for 20-25 minutes.

Remove the baking sheets from the oven and allow the mandel bread to cool for 15-20 minutes. Lower your oven temperature to 250 degrees F.

Once the mandel bread has cooled cut it width-wise into 3/4 inch thick slices on a cutting board to prevent cutting your baking sheet. Now is the time to sprinkle with cinnamon sugar if you like yours with that extra sweetness and hint of cinnamon. Return the mandel bread back to the oven and bake until it's golden, about 15-30 minutes, more time if you like it crunchy.

Remove the mandel bread from the oven and place on a cooling rack and allow it to cool before enjoying. The cookies will harden as they cool.
Notes
You can store mandel bread cookies in an air-tight container at room temperature for a week or freeze for whenever you have a craving.
The dough can be frozen for around 4 months. We recommend wrapping in a bit of plastic wrap to prevent freezer burn.
Nutrition
Serving:
1
serving
|
Calories:
152
kcal
|
Carbohydrates:
19
g
|
Protein:
2
g
|
Fat:
8
g
|
Saturated Fat:
1
g
|
Polyunsaturated Fat:
2
g
|
Monounsaturated Fat:
4
g
|
Trans Fat:
1
g
|
Cholesterol:
17
mg
|
Sodium:
11
mg
|
Potassium:
34
mg
|
Fiber:
1
g
|
Sugar:
9
g
|
Vitamin A:
37
IU
|
Vitamin C:
1
mg
|
Calcium:
18
mg
|
Iron:
1
mg
The nutritional information is automatically calculated and can vary based ingredients and products used. If the nutrition numbers are important for you we recommend calculating them yourself.