This shop has been compensated by Collective Bias, Inc. and its advertiser. All opinions are mine alone. #LoveAmericanHome #CollectiveBias
We're sharing how to transform your mess of a kitchen table and how to decorate for fall instead of clutter all around.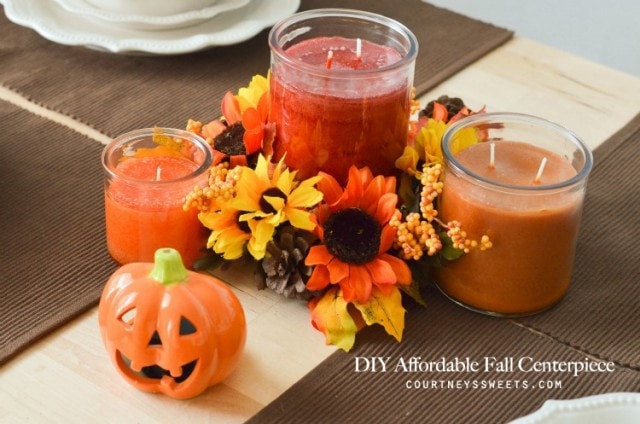 Everyone loves Yankee Candle® Brand! Now Walmart not only has Yankee Candle® Brand fragrances, they have a whole NEW Walmart exclusive collection called American Home™ by Yankee Candle® Brand. You can burn a Yankee Candle hours and hours and it never loses it's scent. They're the perfect scent for my fall decorating! I absolutely love the fall. I remember when I was getting ready for our wedding I was always looking at fall weddings, but we ended up getting married in the summer. I still wish I had that fall wedding and I'll always wish it was fall year round! Now with American Home™ by Yankee Candle® Brand my kitchen table can feel like fall year round!
I went to my local Walmart to pick up a few of the new American Home™ by Yankee Candle® Brand and also picked up some decor for my table. I made the beautiful flowers for an actual tumbler without glass fit my candle – just watch the video below on our instagram so you can see how I did it. Also I easily took of the labels off by dunking the candles into water and letting them sit for a bit. I was hesitant to use any chemicals since we will light them.
I also purchased a few place mats. I have gotten so sick of mail ending up on the table and our whole family is guilty of putting things on the table. I think when the table is decorated you're less likely to junk it up.
HOW TO KEEP YOUR TABLE CLEAN:
Mail is the biggest offender in our home – shred what you don't need, recycle it, file it and whatever you do, don't put it on the table
Have the table set and ready for dinner in the morning. When you have a set table you're less likely to put anything on the table.
Everything has a spot – once you use something put it back where it belongs, not your kitchen table.
Now our table is always pretty, especially with our American Home™ by Yankee Candle® Brand collection. The way I see it – no one wants mail where they're eating. I think the place mats really help too!
This new collection has been in Walmart since it's launch over the summer and people are just loving all the fall fragrances. My husband who normally hates candles even picked out his own favorite scent. What I love even more about my new decor on my kitchen table is how pretty it makes my blog pictures! I love the candles and fall flowers in the background, it really makes everything pop! With food photography it's important to have nice props and these are hitting all the marks.
Look at this lovely party we just had a few days ago!
It's so nice to be able to shop for household essentials and now pickup quality candles right at my local Walmart. American Home™ by Yankee Candle® Brand collection is exclusive to Walmart! The pricing is also affordable with the large tumbler under $15! Since I love fall so much I love each and every single scent and I'm sure you will too! It makes our home smell incredible. You'll find them right where you'll find the candles and usually by the rugs in my stores.
I purchased a few fragrances from the NEW collection American Home™ by Yankee Candle® Brand. Since they're all fall scents it really smells amazing. My favorites are Shades of Fall, Ginger Pumpkin Pie, Pumpkin Apple Harvest and Moonlit Night for the hubby!
Tips:
For best scent make sure that your entire top layer of candle is liquid, allowing the fragrance to fill the room
Always trim wicks to 1/8th of an inch – no huge flames!
Never leave unlit candles unattended
Always leave on a heat resistant surface
Toss when only 1/2″ of wax remains
How would you display these beautiful and fragrant candles in your home?