This DIY Cupcake Kit Cereal Box Project is fun for kids to make and upcycle at the same time! This kid friendly craft is sponsored by Post Foods.
You guys!! How cute is this? If you have a cereal box you can make this super simple cereal box project with supplies that are affordable and easy to find! In fact, I found most at my dollar store.
The reason for making this box is Kay hasn't been feeling to well and she really misses making delicious recipes for Mini Chef Mondays, especially dessert. Right now we're eating super clean and she can't wait to eat cupcakes again. I told her why not make a cupcake kit so that when she's better we can make cupcakes! She was so excited so we got to work. 🙂 You can decorate it however you'd like. Any color, any holiday, the options are endless!
CEREAL BOX PROJECT – DIY CUPCAKE KIT
Supplies needed:
Cereal Box
Xacto Knife
Contact Paper
Letter Stickers
Cupcake Stickers
Hot Glue Gun + Glue
Cupcake Essentials for Filling
Start off by cutting the box. I like to cut it so that it will close with the same tabs you use for closing the cereal box.
Once you have the top cut out measure the contact paper so you can cover the entire box. I used one whole piece and trimmed to fit.
The glue from the box may come undone, just reglue using a glue gun. Also if there are spots where the contact paper doesn't stick go ahead and glue there too.
Once it's all glued and covered allow your child to decorate their DIY Cupcake Kit!
Now you're just about done, all you need to do is stuff your cupcake kit! I let my mini chef pick out all her favorite things at the store and of course, we had to add some Post Fruity Pebbles! They're not only great to use as sprinkles, but they're great IN the cupcake batter as well!
Check out our other fun posts using Post Pebbles Cereal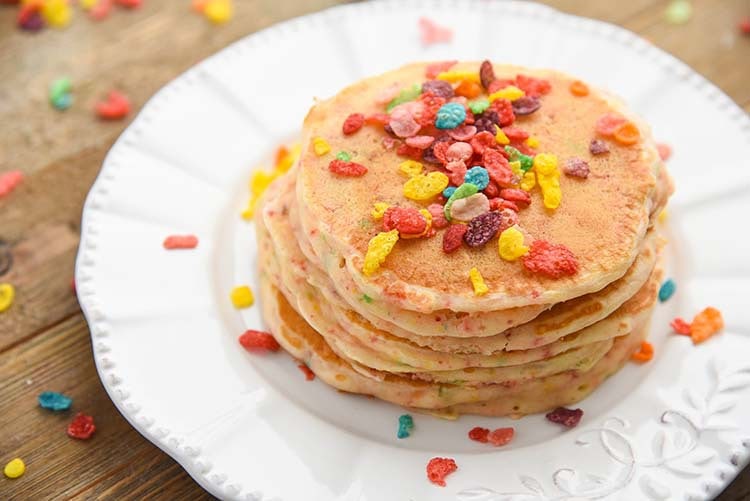 WHITE CHOCOLATE CINNAMON CRUNCH BARS
THE FLINTSTONES and all related characters and elements © & ™ Hanna-Barbera. (s17)