When I first saw the new Ball Mason Jars Heritage Collection in Purple I knew I had to have it! I was so excited when the brand send us some jars to feature. I LOVE to give gifts especially when it's this Quick and Easy DIY Easter Basket! My favorite gifts to give are ones that you can use for years to come. It's Easter Sunday and I wanted to make cute little cups for my daughter's friends. I was lucky while shopping for the " Easter Basket " supplies I came across the purple straws and ball mason jar lids at my local Target store! I even picked up a set in red, I hope they Ball comes out with Red next. Although I'd love a green and yellow, just seeing the lids makes me think they might have red next.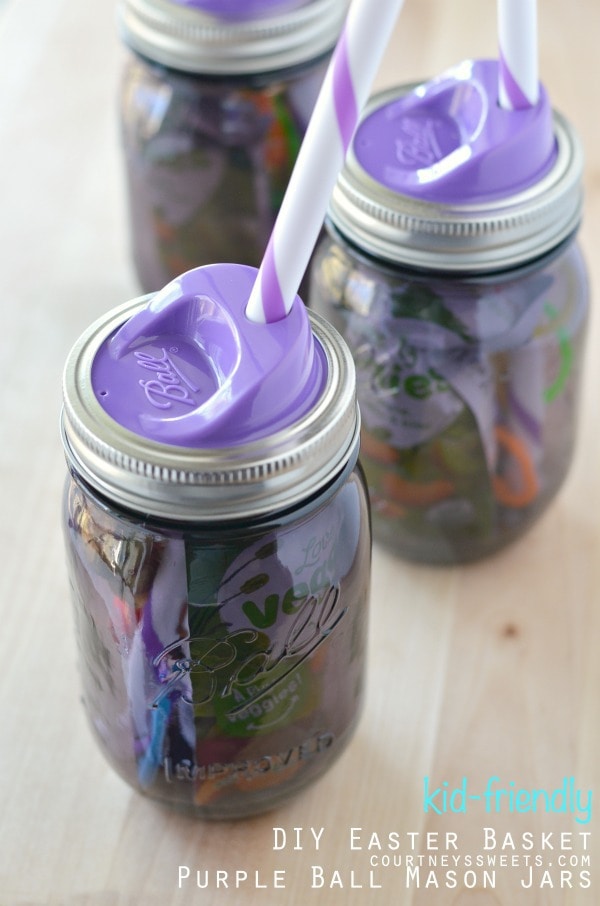 I bought a few squeeze pouches, hair ties and chocolates to put in the Easter Basket Jars. Not only will they enjoy all the stuff in the "Basket" but they can actually enjoy and get great use out of the basket itself. Kay has never used sippy cups and has always used Mason Jars just like this Easter Basket. I just know that her friends are going to love it too! Most likely the mommies and daddies too! In fact I found larger lids at my Target (white only) and plan to use that on my larger Mason Jars to drink infused fruit and vegetable water.
Water is so important. I'm so grateful that my family loves to drink water rather than soda and sugary juices. This Quick and Easy DIY Easter Basket is a great way to make water more fun. Mason Jars are easy to clean and last forever! I love my collection of jars, from green, blue and now purple! I also picked up some smaller mason jars at my Target store and have a few ideas for those too! There's so much you can do with them and this Quick and Easy DIY Easter Basket may just be one of my favorites. We love to give gifts and this is definitely a great gift to receive! 🙂
disclosure: thanks to ball mason for sending us some small and large jars for this feature. this post also contains affiliate links – if you make a purchase from that link we receive a small commission – thanks for your support!