Healthy Sardine Salad recipe for crackers or toasted bagel sardine sandwich! Easy healthy fish recipe packed with fresh lemon, peppers and onions.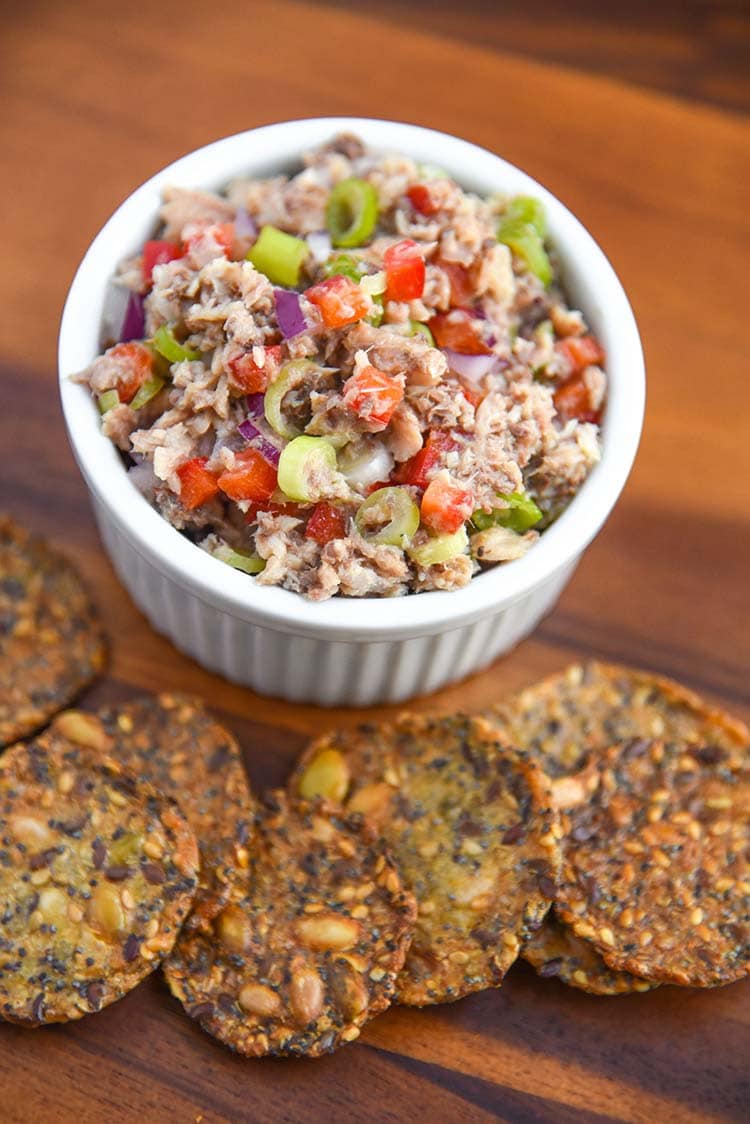 Growing up I loved eating canned sardines with sliced onions. My daughter now loves eating sardines too! My husband, however, won't touch them! That was until I started making this sardine salad recipe! I'm going to show you how to eat sardines and love it! Sardines are lower in heavy metals like mercury, so this is a great alternative if you love tuna, but limit it due to heavy metal concerns. (psst, there are brands that have tuna with less mercury!)
Crown Prince Natural Skinless & Boneless Sardines in Pure Olive Oil, 3.75-Ounce Cans (Pack of 12)

I grew up eating and loving sardines, so it's only natural that I gave it to my daughter. I wasn't sure she would like them, but in our house, we always try it, because "we might like it"! My husband who wouldn't touch a plain sardine was in disbelief. She can eat them plain, without anything. LOVES IT! Gobbles it up with a spoon, ha.
With this sardine salad recipe you won't see any heavy dressing like mayo, instead I prefer to keep this a light and healthy recipe. I simply use the oil from the canned sardines and a little bit of lemon juice. You could absolutely drain out the oil and use mayo instead if you'd like. I even like to serve this recipe in romaine lettuce leaves, almost like a fish salad taco, so good!
Sardines is one of her favorites and she'll literally beg me to buy more once we are down to the last can of sardines. It's always on the shopping list. We ran out once and she wanted it so we ran to the store. Now we have it on auto delivery, no joke!
Since our family eats sardines so often I make sure we buy canned sardines that are in BPA free cans as well!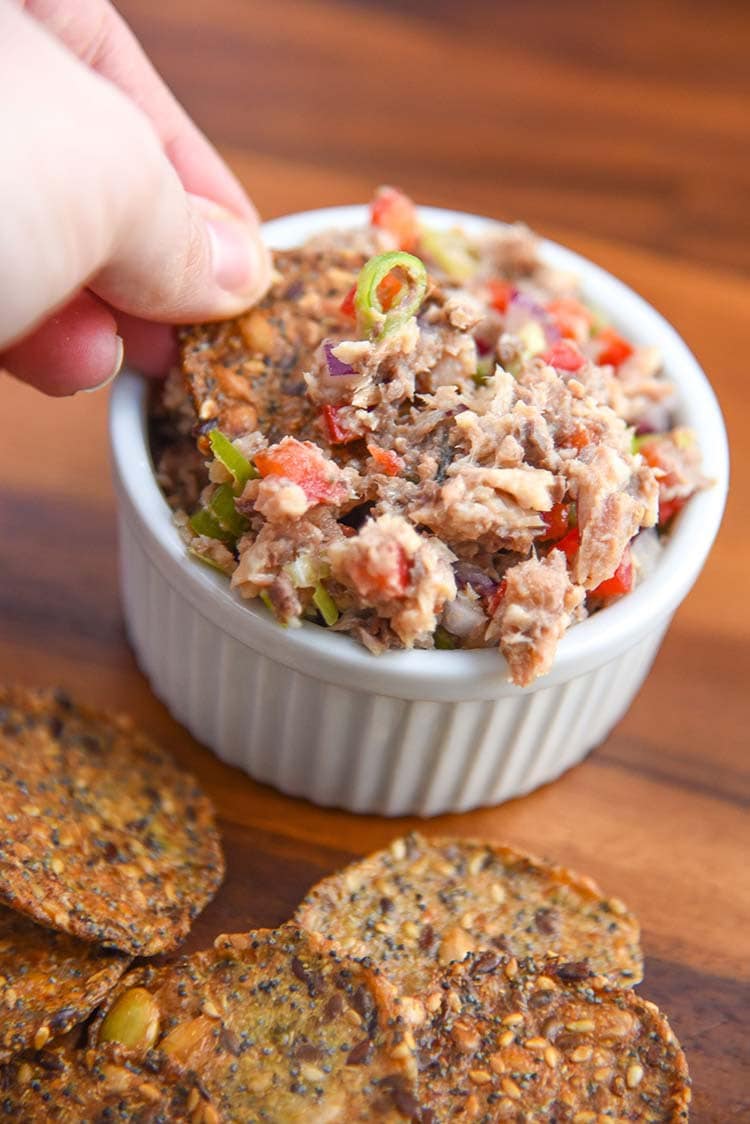 It's great to teach kids to learn all about their food, not just eat it. While my husband doesn't enjoy them plain, doesn't show her that he doesn't like sardines that way. Instead, he joins in and cheers her on trying new food. It's a big deal for our daughter to try new foods. Thankfully she's great about trying stuff now that we've gotten her into a groove and she understands that if she doesn't like it, we won't force her to eat it, but she has to at least try it.
I love to serve this healthy sardine salad recipe with crackers or even on a bagel, oh my yum! It's a great breakfast brunch recipe, and I love serving it when entertaining. People never would guess it's sardines. They LOVE it. I don't tell them what it is until they try it. I feel like it's harder to get an adult to try a new food rather than a child these days. 😉
Try our Healthy Sardine Salad Recipe today!
Sardine Salad Recipe
Healthy Sardine Salad recipe for crackers or toasted bagel sardine sandwich! Easy healthy fish recipe packed with fresh lemon, peppers and onions.
Print
Rate
Ingredients
1

can sardines

, boneless, skinless, in oil

1/4

red pepper

, chopped

1

tablespoon

red onion

, chopped

1/8

cup

scallions

, chopped

1/2

lemon

, juiced
Instructions
Dump the sardines with oil into a bowl,

Add in the remaining ingredients and mix well.

Once combined serve with crackers, on a bagel or even with toast.
Nutrition
Calories:
28
kcal
|
Carbohydrates:
4
g
|
Protein:
2
g
|
Cholesterol:
8
mg
|
Sodium:
32
mg
|
Potassium:
92
mg
|
Fiber:
1
g
|
Sugar:
1
g
|
Vitamin A:
530
IU
|
Vitamin C:
34.5
mg
|
Calcium:
30
mg
|
Iron:
0.4
mg