Try our Taco Seasoning Mix Recipe – Learn how to make homemade taco seasoning for homemade tacos, never buy a taco seasoning packet again!

We came up with our recipe for taco seasoning mix after finding out that many of the tack seasoning packets had MSG. MSG can cause issues for some, I get stomach aches and headaches, my husband gets headaches and dizziness. Why use MSG when there's no need? MSG is What is msg? MSG is a flavor enhancer and is usually not needed, you can use salt in its place. Many restaurants still use MSG. If you have any of these symptoms after eating foods that contain MSG we suggest avoiding that food.
The best taco recipe to us is one without msg, plus many people have gluten sensitivity and celiac disease where they avoid gluten, you can make our taco seasoning mix and enjoy it safely as long as the spices aren't processed by gluten areas, ours is a gluten free taco seasoning.
How to make homemade taco seasoning
We purchase bulk spices so that we can make our own homemade seasonings when we make our homemade taco seasoning we make it in a large batch, but this batch should be good for a few nights of homemade tacos.
You can mix them in a bowl, but we put them on a plate so you can see them all. We use Kosher salt, so if you use sea salt or a finer salt you'll want to use less.
Taco Seasoning Ingredients:
Chili Powder
Oregano
Garlic
Onion
Paprika
Cumin
Pepper
Kosher Salt
You'll notice that we use granulated garlic and granulated onion in our diy taco seasoning. Why is that? Well we noticed that when we used powdered it would give the meat a mealy texture, it was just too gritty for us, the powder acted like a flour and would make it thicker, almost coating the meat. We prefer granulated over powdered for this reason.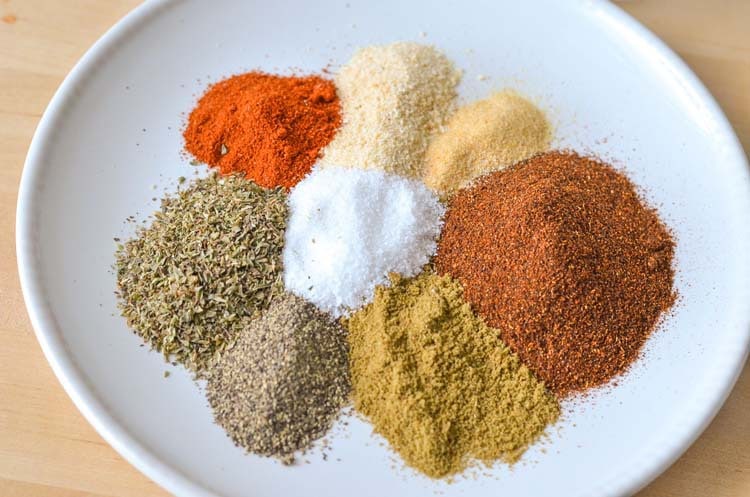 We don't use this for just homemade tacos.We like to use it for chicken, pork, chickpeas, meatless meals and anything that I just want that delicious taco flavor to merry with. I've even been known to sprinkle it on fries, mac and cheese!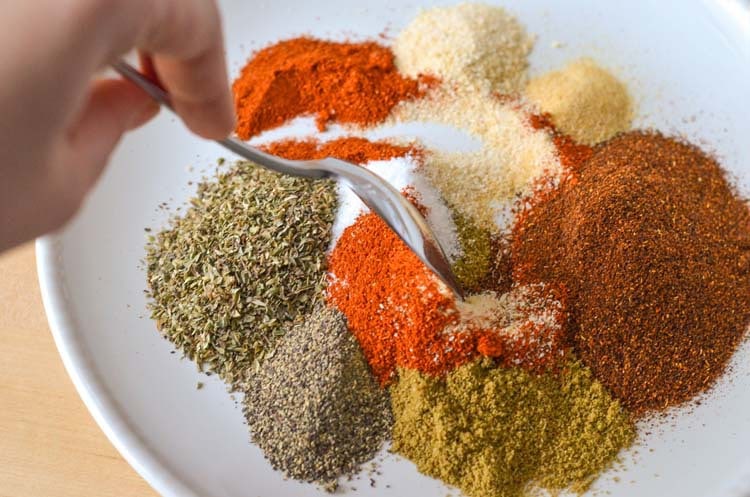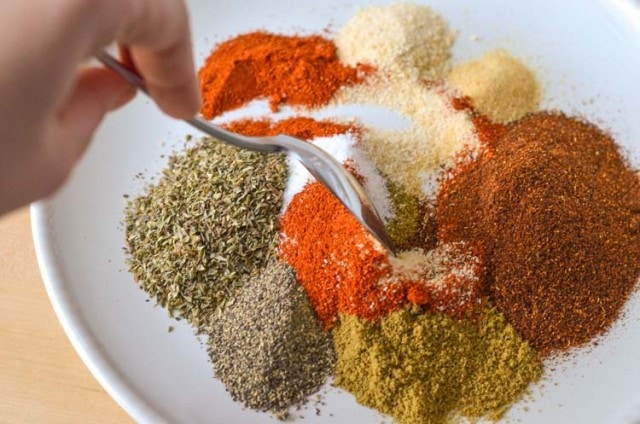 Where we live there are few good Mexican restaurants. Our family loves tacos and Mexican food so we're always trying a new Mexican Restaurant we see. We finally have a goodie, I'm so used to having a hard time finding authentic Mexican food near me. However, I do prefer to make food at home, just going out for a treat. We used to do Taco Tuesdays and now we just have tacos whenever we want, because there's no wrong day for tacos, nachos or anything with cheese and spices, am I right? Chicken tacos happen often here and we use this recipe as a chicken taco seasoning.
How to make taco meat at home? You simply put the desired amount right into the ground meat once it's cooked with a little water, just like you would use the seasoning packet.
There are so many ways to use our Taco Seasoning Mix Recipe and you won't miss opening a packet ever again. I double this recipe and use it pretty quickly. I showed a small jar to show you our recipe, but I make this in a MUCH larger batch. You could definitely multiply this recipe. The salt in this recipe is definitely to taste. I find that salt really enhances the total flavor of everything, but keep in mind when you use salt that other ingredients in the recipe (like a taco shell or tortillas) also have salt.
We hope you enjoy our easy taco seasoning recipe!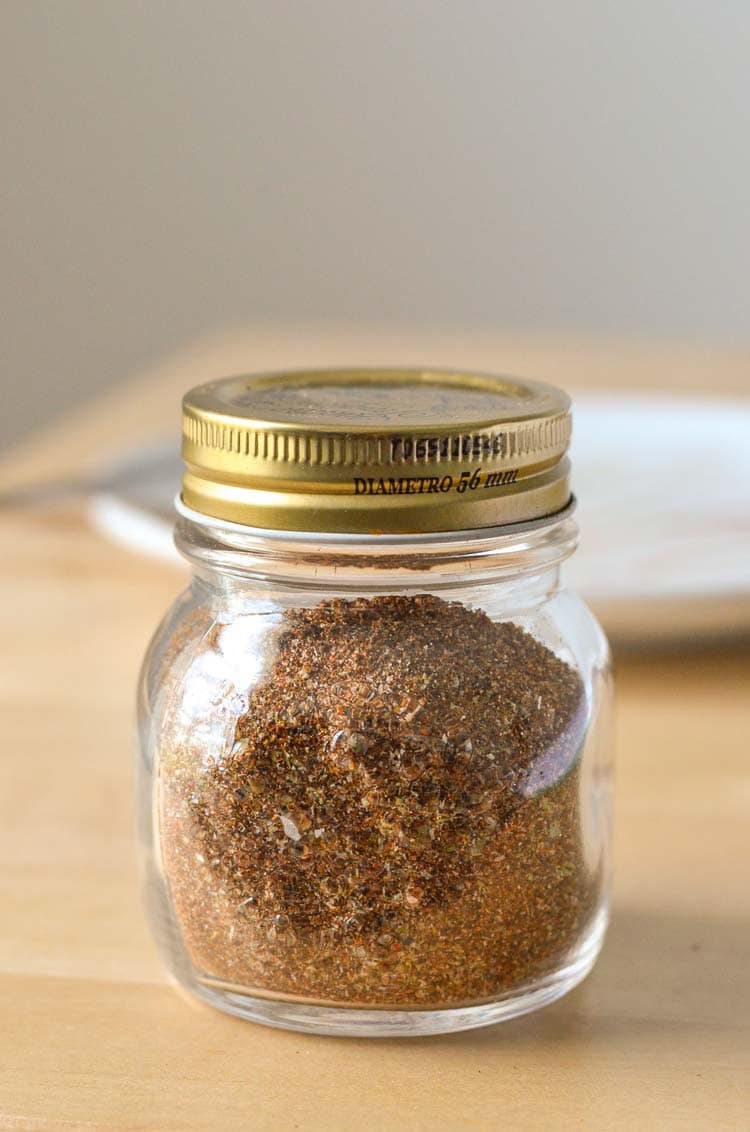 Taco Seasoning Mix Recipe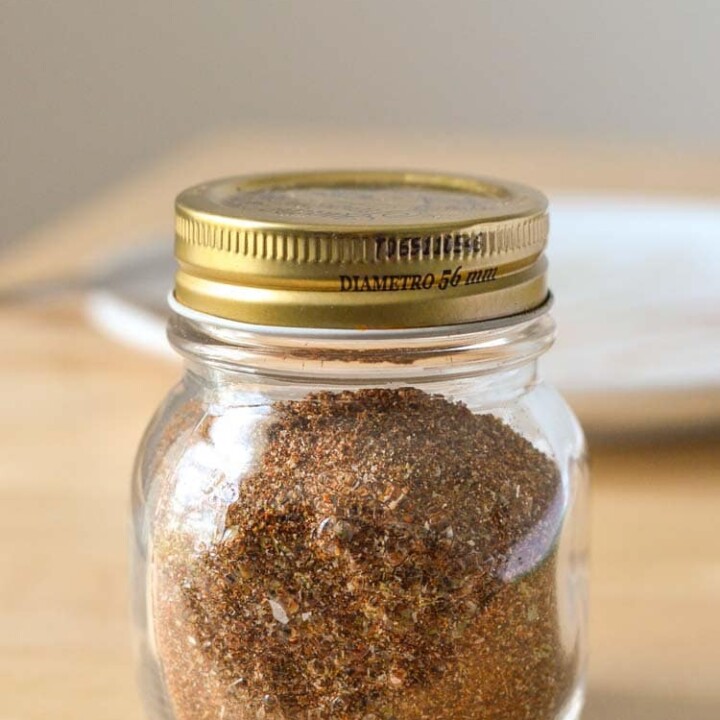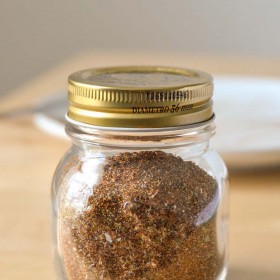 Taco Seasoning Mix Recipe
Try our Taco Seasoning Mix Recipe - Learn how to make homemade taco seasoning for homemade tacos, never buy a taco seasoning packet again!
click the stars to rate this recipe
Print
Pin Recipe
Ingredients
4

tablespoons

chili powder

2

tablespoons

oregano

2

teaspoons

garlic granules

1

tablespoon

onion granules

2

teaspoons

paprika

2

tablespoons

cumin

1 1/2

tablespoons

pepper

2

tablespoons

kosher salt
Instructions
Mix all together.

Use as much as needed to achieve desired flavor.
Nutrition
Calories:
19
kcal
|
Carbohydrates:
3
g
|
Sodium:
1450
mg
|
Potassium:
117
mg
|
Fiber:
2
g
|
Vitamin A:
1180
IU
|
Vitamin C:
0.1
mg
|
Calcium:
42
mg
|
Iron:
1.9
mg
The nutritional information is automatically calculated and can vary based ingredients and products used. If the nutrition numbers are important for you we recommend calculating them yourself.
If you enjoyed this recipe, be sure to check out all of our other delicious recipes and blog posts on Pinterest!