Easy and healthy turkey cucumber sandwich for kids back to school lunches!
My mini chef loves cucumber sandwiches and turkey sandwiches, so we put the two together in this sponsored post with Del Monte Fresh produce. Her typical cucumber sandwich is just cucumber, tomato, and avocado. By adding turkey, she gets more protein too. As the founder of Mini Chef Mondays, I try to push how important it is for children to get to know their food. My mini chef and I went shopping, and she picked out all the groceries with me. Let me let you in on a little info too. I don't believe that children are picky eaters — gasp! I do believe that children know what they like, and they don't like — double gasp! Okay, let's put it this way, if you involve your child in the cooking and selection process, not only will you broaden their desire of food, but you'll also get them to try new things.
My daughter loves fresh fruits and vegetables. When we're at the supermarket getting Del Monte Fresh produce, I let her pick out what she want to eat. This time she picked out pineapple, so we can make pineapple so we can make our pineapple lemonade ice pops, grapes, avocado, cucumber, red pepper, and tomatoes. She also picked out turkey and cheese in the deli section. We tend to avoid the inner section of the store when we're shopping together so she can focus on wholesome foods. We like to shop deli, produce, and dairy together.
Here's a picture of her produce she picked out, red pepper not shown because she was munching on it like an apple, and that makes me one happy mama! Since we're homeschooling people may think we're not going to pack lunches, but why would we take that fun part away just because we're homeschooling? I make it a point to do as much as I can while we homeschool. We're starting pre-k right after labor day, and we're both so excited. We'll obviously always have cooking related learning on Mondays. I can honestly say my daughter knows almost all her fruits and veggies, and I'm very proud!
Now for packing her lunch! I allow her to choose what she wants in her lunchbox and no I'm not crazy. Don't forget we just went shopping to pick out all the stuff for our lunchbox. Del Monte Fresh produce has so many fresh produce offerings, she had a generous selection, and even made ice pops for later! This ensures that she will have a wholesome, balanced meal for lunch.
We have snacks at home like mini dark chocolate chips, popcorn, and gluten free seed crackers that I allow her to choose from. Right away she insisted that the grapes must go in her lunchbox. I think it's safe to say that she can eat her weight in grapes every month. I get started on her sandwich and instead of using mayonnaise (she hates mayo..I know, I'm in shock) I use the avocado to make a spread. I thinly slice the cucumber and tomato and then pile the turkey high on cheese with a little bit of oregano. She is just like me and loves oregano on her sandwich. One time my husband forget to put the oregano on, and she noticed right away! I sliced what was left of her red pepper for lunch and then packed it away for later. She is thrilled running to the refrigerator for her lunch, just as a kid would be thrilled to open this lunch at school. 🙂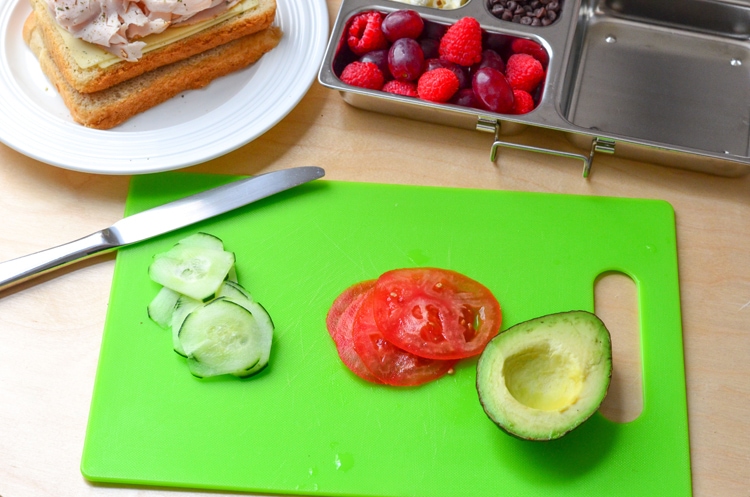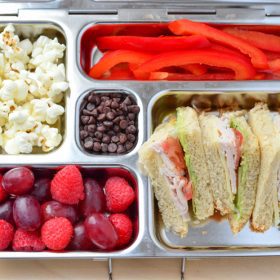 Turkey Cucumber Sandwich
Easy and healthy turkey cucumber sandwich for kids back to school lunches!
Print
Rate
Ingredients
2

Pieces

of white bread

1/4

avocado

6

cucumber slices

, (thin!)

2

tomato slices

, (thin!)

1

slice

of organic cheese

3

pieces

of organic turkey breast

(deli meat)

1/8

teaspoon

oregano
Instructions
Spread the avocado onto the white bread.

Place the cucumber slices over the avocado and then top with the tomato. (this ensures the tomato doesn't get the bread soggy)

On the other side of the bread place down the cheese and turkey.

Sprinkle with oregano and slice as desired.
Nutrition
Calories:
427
kcal
|
Carbohydrates:
46
g
|
Protein:
19
g
|
Fat:
19
g
|
Saturated Fat:
7
g
|
Cholesterol:
30
mg
|
Sodium:
261
mg
|
Potassium:
2819
mg
|
Fiber:
16
g
|
Sugar:
26
g
|
Vitamin A:
2100
IU
|
Vitamin C:
70
mg
|
Calcium:
454
mg
|
Iron:
4.4
mg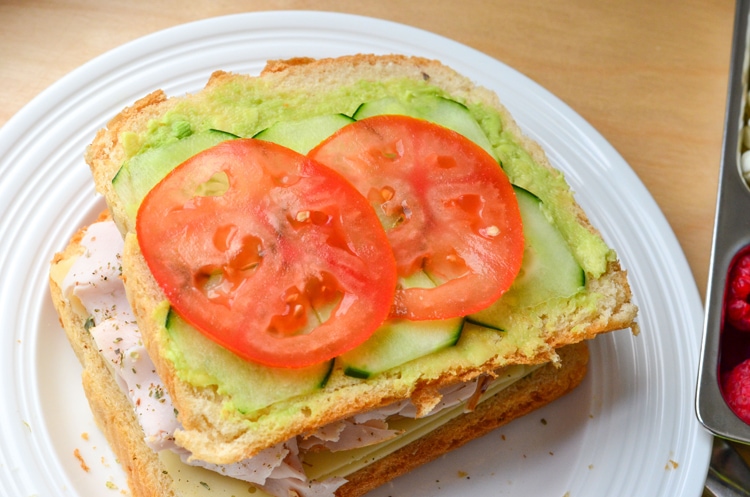 The next time you're shopping, see what your child will pick out. Will they go for the bananas? Will they run to the apples? I know all of my daughter's favorite foods, but I allow her to be completely involved in the shopping process. The more I involve her, the more she learns. The next time you're in the produce section, see what your child chooses. 🙂
I am hosting Mini Chef Mondays along with 8 fabulous bloggers!
Be sure to check out each of their Mini Chef posts as well!