This sweet baked boneless chicken thighs recipe cooks up in less than 30 minutes! A chicken recipe that is loaded with flavor like sweetness, salty, and garlic!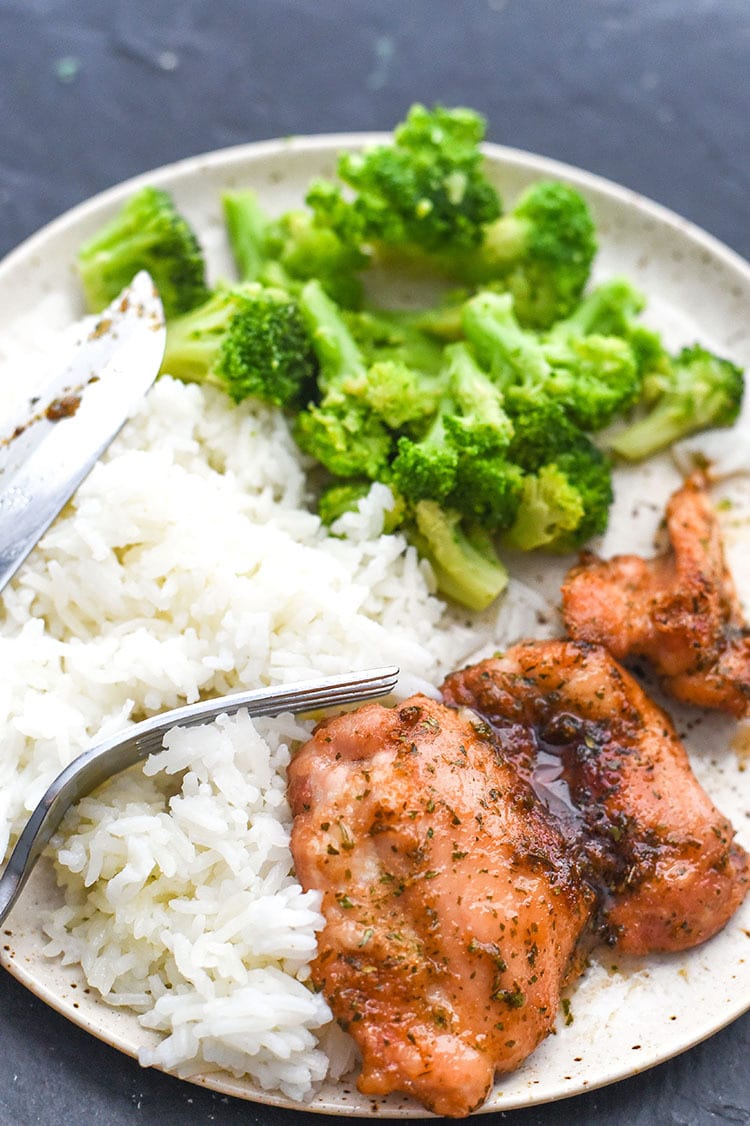 My family loves this chicken recipe, so I make it often! I love how easy and budget friendly it is. If we're entertaining it still looks like a beautiful dish and the taste is incredible, but it's a fraction of the price compared to chicken breast.
Baked Boneless Chicken Thighs are always a hit if they're made right. Thighs are dark meat, and they're so juicy. If you overcook it a little, you'll be okay, whereas if you overcooked a chicken breast you'd be reaching for the water.
Whenever I make this my entire family gobbles it up. If you make these Baked Boneless Chicken Thighs, there will be no leftovers unless you make a big batch! Even when I make a large batch, we rarely have leftovers. The sticky sauce on top is so delicious, and it's perfect with white rice!
This chicken has almost an Asian flavor my husband said, but it doesn't have all the salt, just sugar. 😉
Here are a few products that we used in this post (affiliate links below)
KitchenAid KBNSS95SH Professional-Grade Nonstick Quarter Sheet and Half Sheet Pans Set of 2 Bakeware
Beyond Gourmet Unbleached Parchment Paper, 71-Square Foot Roll
Simply Organic Parsley Flakes Cut & Sifted Certified Organic, 0.26 Ounce Container
Simply Organic Garlic Powder Certified Organic, 3.64-Ounce Container
Wholesome Sweeteners Organic Light Brown Sugar — 1.5 lbs – 2 pc
&
Baked Boneless Chicken Thighs (sweet)
Ingredients
8 boneless skinless chicken thighs
⅓ cup brown sugar
1 teaspoon garlic powder
1 teaspoon salt
½-1 teaspoon parsley
Instructions
Preheat oven to 425 degrees.
Line a cookie sheet with parchment paper.
In a small bowl mix the brown sugar, garlic, salt, and parsley.
Place the chicken onto the lined cookie sheet and sprinkle with the sugar mixture.
Put the chicken into the oven and cook for 20-25 minutes, or until done.