Special thanks to Baskin Robin's for sponsoring our birthday party for Grandma and to help us celebrate Baskin-Robbins' 70th Birthday!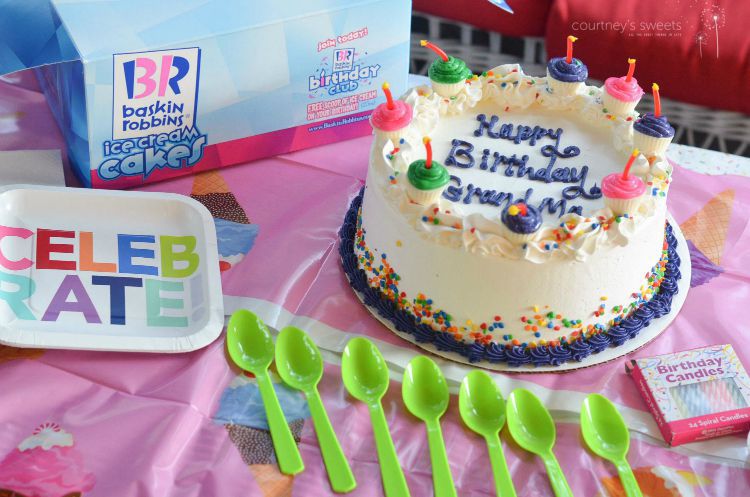 This was our first time purchasing a customized ice cream cake from Baskin-Robbins. Whenever you go to their locations they have beautiful already made cakes, but we wanted this customization to include all colors our daughter picked. In honor of Baskin-Robbins' 70th birthday they have a new birthday cake with mini white chocolate cupcakes on top! September's Global Flavor of the Month is Banana Split (banana-flavored ice cream topped with chocolatey cherry pieces and almonds, swirled with pineapple and strawberry pieces topped with hot fudge ribbons), and while we wanted to get this flavor, cookies and cream won!
This new Baskin-Robbins' Miniature Cupcake Birthday Cake was an absolute hit at the party. All of the kids wanted to have the cupcakes with their cake! You can even see my nephew sneaking mine while I was taking a picture, haha! 🙂
My daughter was quick to take some cupcakes too! She loves birthday parties and it's so nice that she can finally enjoy everything after passing all of her FPIES trigger foods.
When we went shopping she couldn't wait to go to grandma's for CAKE. She loves the presents part, but for her it's all about the cake! She has 3 years of cake missing to make up for!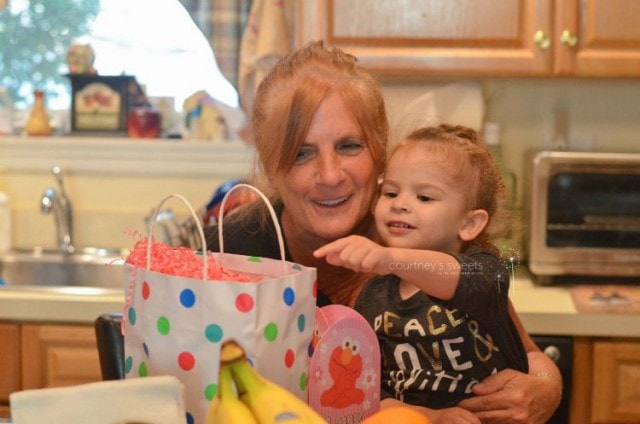 The weather was kind of iffy on the day we went to grandma's for her surprise birthday party. Thankfully everyone helped us get all the food in the house as the rain started to come down and we put the cake under a canopy outside in case the rain came again.
Baby girl put all the candles on the cake, all the candles she could! As soon as we lit the candles the littlest grandchildren started to help grandma blow out the candles and make a wish!
We enjoyed the cake first and then ate!! When you have a 3 year old who tells grandma about a cake, of course grandma is going to say cake before dinner. This is one of those "only at grandma's house" moments. 🙂 Right after cake we had steak and hotdogs. I was thrilled with the customer service from our local Baskin-Robbins' ! I bought extra ice cream to serve and asked if we could have a few cups for kiddos! They gave us cups, spoons and even lids!
psst! sign up for Baskin-Robbins' Birthday Club to get FREE ice cream on your birthday! (plus a special discount on a cake!)
When we went online to order our cake we weren't able to change the color customization and we wanted to pick the colors for our Miniature Cupcake Birthday Cake. I simply called our local location and they took our order over the phone and had it ready the next day for pickup! I can't even express how kind and helpful they were.
We've always loved Baskin-Robbins' ice cream and ice cream cakes! Baskin-Robbins was founded in 1945 by two ice cream enthusiasts with a passion for ice cream! They created more than 1,200 ice cream flavors and delicious treats! They're the world's largest chain supply of ice cream shops with over 7,400 retails shops in nearly 50 countries!
To celebrate the brand's 70th birthday, Baskin-Robbins will be randomly surprising 70 Birthday Club members throughout September with a $31 Baskin-Robbins gift card to enjoy their favorite Baskin-Robbins frozen treats! So make sure you're registered!