Post Sponsored by Lunchbox. All opinions are 100% my own.
Our Chicken Parmesan Recipe with Zucchini and Mushrooms recipe is a delicious dinner you can have ready in less than 30 minutes for your family!
I love to cook and I especailly love to cook for those I love! Recently Bertolli and Ahold stores gave me the opportunity to create a feast for those I love! I was asked to throw a party. I wanted to surprise my in-laws and hubby's siblings with a huge meal! Everyone works so hard all day and I just wanted everyone to come to the house for a home cooked meal, without them standing over a hot stove right after coming home. My mother in law comes home around 3pm so my husband and I (with Kay!) got to my in-laws house at 12:30 and I started to cook at 12:45 after we brought all the bags in and organized what we needed.
I was so excited to surprise her. Typically we visit each Tuesday since it's my husband's day off and while we'd usually go out to eat. I wanted to make a delicious Italian meal. A meal just like my grandma and mother used to make. My father's side is Italian and my mother's side is Polish/Russian. Between both sides we love to cook and eat too!
My mother was well known for her eggplant parmesan. I love eggplant parm, however some of the kiddos aren't a huge fan. I wanted to create something like my mother would make for them, so I made Chicken Parmesan Recipe with Zucchini and Mushrooms ! I used Bertolli Pasta Sauce as well as their Olive oil for most of the recipes!
Now until November 5th, you can save on Bertolli pasta sauces at Ahold stores including Stop & Shop, Giant and Martin's. Find Bertolli in the pasta sauce aisle and on display in the meat department.
Chris quickly went into sous chef mode and I am so thankful for this day we had in the kitchen. It's so special to cook for those you love, especially with the one you love. As I was prepping the chicken, he was chopping all the zucchini, mushrooms and veggies for the salad.
My father in law stopped in while we were cooking as he usually comes home for a quick lunch. He snacked a bit on the veggies and kept our secret until everyone arrived. 🙂
The house smelled delicious and as soon as my mother in law pulled up my husband rushed out the door – she could smell the food from outside! I had finished about 10 minutes prior to her arriving and everything was in the oven keeping warm/cooking. She was in total shock when I showed her what was cooking – she couldn't believe it. I made sure to clean up everything as I went. Here kitchen smelled like a kitchen right out of Tuscany and I couldn't wait to share my Italian recipes with them!
The kids had a blast eating all the yummy food too! 🙂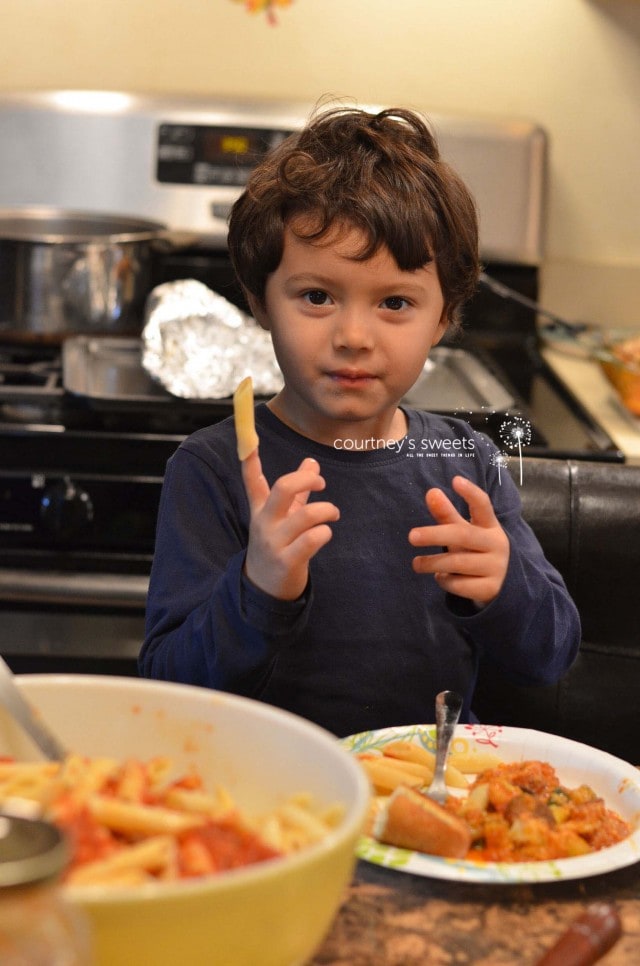 We purchased all the ingredients from my in laws local Stop and Shop Supermarket. You can find great deals on Bertolli products there! 🙂
So without further jibber jabber.. here's our recipes and pictures we just took from our video shoot too.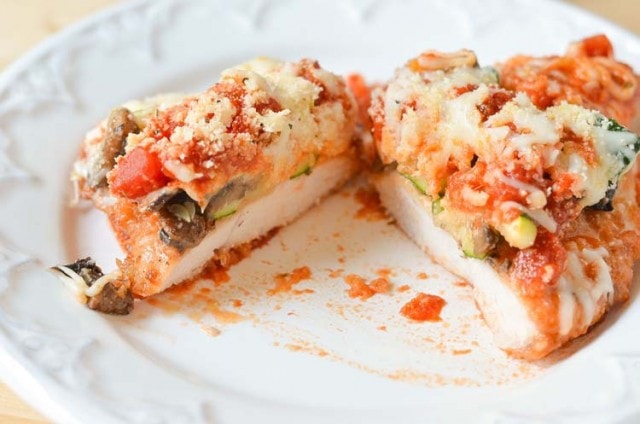 Chicken Parmesan with Zucchini and Mushrooms
Make our delicious Chicken Parmesan with Zucchini and Mushrooms for an ultimate food feast.
Print
Rate
Ingredients
Bertolli Olive Oil

5

chicken breasts

, sliced thin

1 1/2

cup

Italian seasoned bread crumbs

1/2

cup

all purpose flour

1

cup

grated parmesan cheese

2

large zucchini

, chopped

2

packages baby bella mushrooms

(My Italian Seasoning Salt)

1

teaspoon

salt

1

teaspoon

garlic

, granulated

1

teaspoon

basil

1

teaspoon

parsley

1

teaspoon

oregano

2

Jars Bertolli Vineyard Pasta Sauce with Burgundy Wine

16

oz

mozzarella

, shredded
Instructions
Preheat oven to 400 degrees

Combine 1 cup of the bread crumbs, flour and 1/4 cup of the grated parmesan.

Cover the chicken with the breading mixture and cook in a hot pan with Bertolli Olive Oil.

Cook chicken for about 5-10 minutes per side and remove from pan once fully cooked.

While chicken is cooking arrange the mushrooms and zucchini on a cookie sheet.

Sprinkle the zucchini and mushrooms with a little of my Italian seasoning and grated parmesan, you could also use a bit of bread crumbs.

Bake veggies for 10 minutes or until tender.

Reduce oven temperature to 350

In a large casserole pan pour in some Bertolli pasta sauce, follow up with chicken breast, zucchini, parmesan, breadcrumbs and mozzarella, repeat until you have layered like a lasagna and top with the bread crumbs, mozzarella and parmesan.

Bake your chicken parmesan for 20 minutes and serve.

Bake
Nutrition
Calories:
343
kcal
|
Carbohydrates:
20
g
|
Protein:
29
g
|
Fat:
15
g
|
Saturated Fat:
8
g
|
Cholesterol:
80
mg
|
Sodium:
980
mg
|
Potassium:
424
mg
|
Fiber:
1
g
|
Sugar:
2
g
|
Vitamin A:
525
IU
|
Vitamin C:
8.3
mg
|
Calcium:
385
mg
|
Iron:
1.9
mg
We hope you enjoy our Chicken Parmesan Recipe with Zucchini and Mushrooms and Homemade Garlic Bread from our #BertolliDinnerParty!