Serve our garlic bread recipe at your next dinner party! We love serving our loaded garlic bread with our Italian dinners like Sunday Sauce.
This is a super simple recipe that my mother used to make all the time. She would use regular garlic salt instead of real chunks of garlic.
It was still delicious, but there's no way I couldn't use real garlic. I use an entire bulb of garlic when I make our garlic bread too. It gets roasted and delicious!
Wilton 409-7716 Angled Icing Spatula, 13-Inch, Black

I like using an offset spatula to spread the butter mixture.
Not only does it make it easier to spread, it really gets all of the bread. BONUS, it's easy for my mini chef to help!
You could use a butterknife instead, but it's not as easy to spread like this spatula. It's my absolute favorite.
We use this offset spatula for buttering things, putting cream cheese on bagels, and of course frosting cakes and cupcakes.
These icing spatulas are my favorite by far. I have 2 of them, one for me and one for my mini chef.
The result is a loaded garlic bread and it goes fast! Whenever I make it while entertaining and parties I make at least two full loaves of garlic bread.
My mom would make it every Sunday and especially when we had company over. It was a family favorite and still is!
It's a simple recipe and you could easily make it in advance by prepping the bread and storing in the fridge in morning.
We love to enjoy it on it's own, dipped in sauce, and of course with meatballs and pasta!
If you would like you could even do slices of bread and then smear on the garlic butter mixture evenly on each slice and then broil them that way.
This way you could have nice slices. This is just a rustic way we like to make and serve it.
Serve this with a simple pasta dinner. Our favorite pasta dinners are always homemade and delicious and you must have a homemade garlic bread to go along with it!
A few of our favorite pasta recipes:
Spicy Garlic Tomato Marinara – this is my go to recipe, the whole family devours it, hot or cold!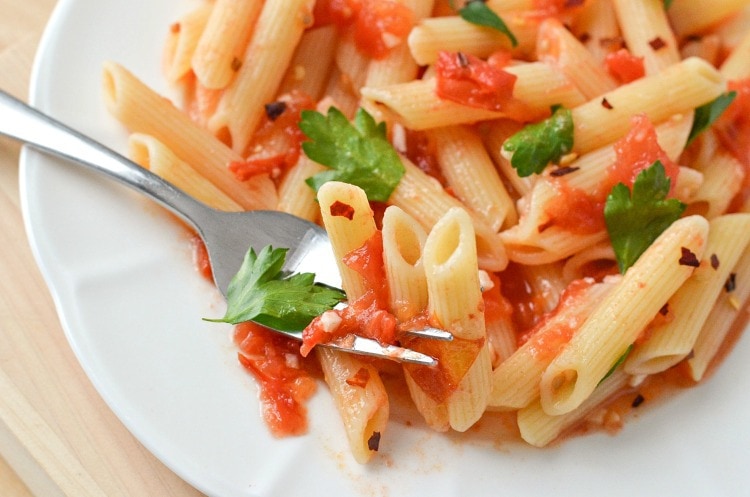 Classic Lasagna Bolognese – this garlic bread was made for dipping into this.. SERIOUSLY! SHORT RIBS!
Easy Vegetarian Penne Pasta – a tasty vegetarian recipe, plus this garlic bread is vegetarian too! 
Caprese Mac and Cheese – OH MY WORD! This pasta dish is bursting with flavor. 
Bowties with parsley garlic butter sauce – I mean… is there such thing as too much garlic?! nope!!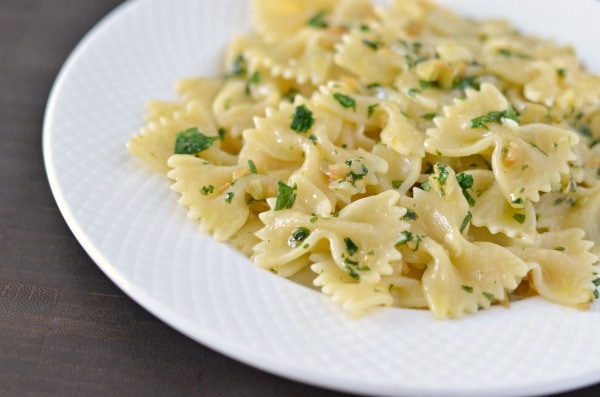 Garlic Bread Recipe
Ingredients
1

loaf of fresh bread

1

bulb garlic cloves

, chopped

3

tablespoons

butter

, softened

2-3

tablespoons

olive oil

½

teaspoon

salt

½

teaspoon

parsley

½

teaspoon

oregano

½

teaspoon

basil
Instructions
Preheat oven to 400

Cut your loaf of bread in half.

Mix together all the remaining ingredients and spoon over the bread.

Bake bread wrapped in tinfoil for 10 minutes.

Place bread under the broiler until garlic is slightly browned and bread is crisp.