Fresh homemade dinner rolls made from scratch, light and fluffy, freezer friendly, and perfect with any meal, especially a holiday dinner. These can be made into dairy-free and vegan dinner rolls with simple swaps!
Dinner rolls are one of the must-haves at our holiday table. I love making a big batch with our main course, but I also love making them throughout the year. I often make a double batch and then freeze one batch for later.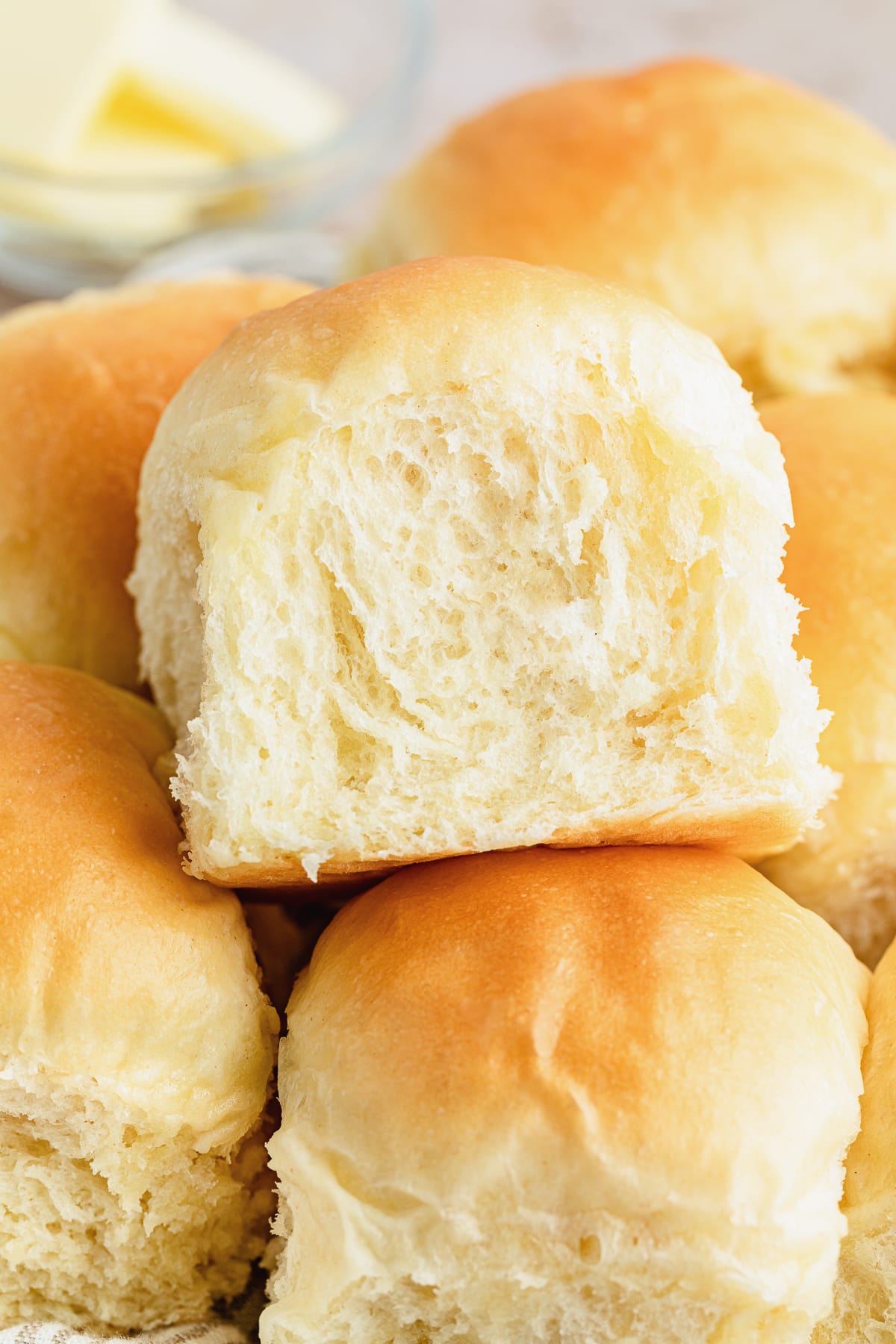 You can make this recipe with or without a stand mixer. We love using a Danish whisk to make this recipe without a mixer.
Recipe ingredients
Ingredient notes
Milk – You can make this with regular milk, or we use Oatly full-fat milk to make these into dairy free dinner rolls.
Granulated Sugar – This adds a bit of sweetness to the rolls, but it's not overly sweet.
Active Dry Yeast – Yeast is a must to make our rolls rise. Make sure you're using yeast that is fresh.
Butter – We use butter in the rolls and brush on after baking. To make dinner rolls dairy free, we use Country Crock Plant Butter.
Eggs – If you're egg-free or vegan, you can omit the eggs, but the egg does help add structure to the bread. We only use one in this recipe, so if you omit it, it will be fine.
Salt – We use salted butter since we're using dairy free. Make sure to use less or more depending on if you're using salted or unsalted butter.
All-Purpose Flour – We use all-purpose flour, but you could also use bread flour for dinner rolls.
How to make dinner rolls
We're sharing step by step photos to make the best dinner rolls. For the full ingredient amounts and full instructions, see the recipe card below.
Make the dough by combing the yeast, sugar, and warm water.
Let that bloom, and then add one cup of flour
Next, add the remaining flour with the salt, an egg, and butter.
Once it's all mixed, let the dough rise in a greased bowl for an hour covered with a damp cloth.
After letting it rise, punch the dough down to release the air.
Then pinch a bit of dough for each roll. For accuracy, you can use a kitchen scale to ensure they're all the same size.
Place the raw dinner roll balls into a greased baking dish and cover them with a damp cloth. Let it rise for another hour.
Once the rolls have risen, you can bake them for 20-25 minutes.
Brush with melted butter if desired.
Allow them to cool before handling.
Which is better for dinner rolls, all-purpose flour or bread flour?
This is going to be a personal preference, but for us, we prefer bread flour. It had a bit more rise, and we liked the texture more on the bread flour dinner rolls. It was a very marginal difference.
The left is bread flour. The right is all-purpose flour.
Recipe tips and variations
We use a scale to get uniform-sized dinner rolls. You can weigh the entire batch and divide it by 15 to see how many grams each roll should be.
You do not need a stand mixer to make dinner rolls. We also do this by hand with a danish whisk which works very well.
Want to go bold? Make delicious garlic butter with fresh herbs to drizzle over the top of the rolls when they come out of the oven.
You can easily freeze these to enjoy at another time.
How to make sweet cinnamon rolls
First, you'll use less salt, only use 1/2 teaspoon.
In addition to the granulated sugar, you'll add 1/2 cup of brown sugar and 1 1/2 tablespoons of cinnamon to the dough. Once you form the dough balls, dip them into melted butter and then toss in cinnamon sugar before placing them into the baking pan.
Alternatively, once the rolls are done baking, you'll brush them with melted butter and then sprinkle them with some cinnamon sugar. Another option is to dip them into melted butter and toss in cinnamon sugar to coat the exterior fully.
Storage and reheating tips
Refrigerate: Store any leftover rolls in an air-tight container on the counter for 2-3 days or 5 days in the refrigerator.
Reheat: We like to toast for a minute or two, or you could warm them up in the microwave for 10-30 seconds, depending on how powerful your microwave is.
How to freeze dinner rolls
Do not let the dough rise in a bowl. Instead, portion the rolls and then place them onto a parchment-lined baking sheet and flash freeze. Once the rolls are fully frozen, you can place them into a freezer-safe container for up to 2 months.
To bake frozen dinner rolls, you'll take the desired amount of rolls out of the freezer. Place the rolls into a prepared baking pan, then let them defrost and rise in a warm area. This should take an hour or two.
You can also freeze dinner rolls after baking by wrapping them tightly in plastic wrap and then placing them in a freezer-safe container for up to 2-3 months.
How to serve
We love serving dinner rolls with holiday meals like our Roast Turkey Breast on Thanksgiving or with some soup or chili. They're also great with breakfast!
Frequently asked questions
Can I add herbs?
Yes! You can add fresh herbs or even some bloomed herbs. We do not recommend adding anything with moisture to the dough. If you wanted to do a garlic butter, we suggest doing that once the rolls are fully baked by brushing it over the dinner rolls.
My dough is sticky. Should I add more flour?
Add a bit more flour if the dough is sticky, about 1 tablespoon at a time. We typically use about 4 1/3 to 4 1/2 cups of all-purpose flour or 3 3/4 to 4 cups of bread flour. We highly recommend using a food scale.
What kind of flour is best for rolls?
Bread flour is preferred for us. We like the rise and texture of the bread flour dinner rolls better than all-purpose flour. All-purpose flour still makes delicious rolls, but when compared, bread flour wins.
How can I make these into vegan dinner rolls?
Omit the egg and use the dairy-free swaps suggested, like vegan butter and plant-based milk.
Homemade Dinner Rolls
Our homemade dinner rolls are made from scratch, light and fluffy, freezer friendly and perfect with any meal, especially a holiday dinner.
click the stars to rate this recipe
Print
Pin Recipe
Servings:
15
dinner rolls
Ingredients
1 1/2

cups

milk

warmed, about 110 degrees F, we use oatly full fat for dairy free

1/4

cup

granulated sugar

2 1/4

teaspoons

active dry yeast

1 packet

6

tablespoons

butter

softened – we use salted country crock plant butter

1

egg

room temperature

4 – 4 1/2

cups

all purpose flour

or bread flour

1-2

teaspoons

salt

use 2 teaspoons if using unsalted butter

2

tablespoons

butter

melted
Instructions
In a bowl, combine the warm milk, sugar, and yeast. Allow the mixture to sit for 5-10 minutes to allow the yeast to activate. It should be foamy once the yeast has bloomed.

Add the egg, butter, and 1 cup of flour mixed with the salt to the bowl and knead in a mixer on low speed (or use a Danish whisk) until the mixture starts to come together. Slowly add the remaining flour and knead (or use your Danish whisk) on medium speed until the dough starts to form a ball. It should come away from the sides of the bowl. If your dough is too sticky, you can add more flour, 1 tablespoon at a time. The dough should be soft.

Grease a large bowl with some avocado oil or olive oil and add the dough to the bowl, turning to coat the dough in the oil. Cover the bowl with a damp cloth and set it in a warm area for an hour to allow the dough to rise. It should be doubled in size.

Once the dough is ready, you can grease a 9×13 baking pan or two 9-inch round pans and set it aside. Don't want your rolls touching? Use a baking sheet.

Once the dough has rested and doubled, you can push the dough down with your fist to deflate the dough and release the excess air.

Lightly flour your hands and pinch off 15 equally sized dough balls to make the dinner rolls. Make uniform-sized rolls. You can do this by eye or use a food scale.

Roll the balls until they're smooth on the top, and then place them into your prepared baking dish in 5 rows with 3 rolls.

Cover the dinner rolls with a damp cloth and allow the dough to rise for another hour. The dough should be doubled in size.

Preheat your oven to 350 degrees F when 45 minutes have elapsed, and then bake the rolls for 20-25 minutes or until the rolls are nicely golden brown on top.

Remove the rolls from the oven once done, and brush them with some melted butter. If you made cinnamon sugar rolls, brush them with butter and sprinkle them with more cinnamon sugar.

Serve as desired.
Notes
The first few times making dinner rolls, it can be helpful to use a food scale to get uniform-sized dinner rolls. You can weigh the entire batch and divide it by 15 to see how many grams each roll should be. Eventually, you'll know the size in your hand and can go by eye as well.
Nutrition
Serving:
1
roll
|
Calories:
349
kcal
|
Carbohydrates:
59
g
|
Protein:
9
g
|
Fat:
8
g
|
Saturated Fat:
5
g
|
Polyunsaturated Fat:
1
g
|
Monounsaturated Fat:
2
g
|
Trans Fat:
0.2
g
|
Cholesterol:
30
mg
|
Sodium:
219
mg
|
Potassium:
136
mg
|
Fiber:
2
g
|
Sugar:
5
g
|
Vitamin A:
242
IU
|
Vitamin C:
0.01
mg
|
Calcium:
45
mg
|
Iron:
3
mg
The nutritional information is automatically calculated and can vary based ingredients and products used. If the nutrition numbers are important for you we recommend calculating them yourself.
So nice to have you here! Did you try this recipe? ⭐ ⭐ ⭐ ⭐ ⭐ Be sure to leave a recipe rating! Also, tag us @courtneyssweets #courtneyssweets on Instagram so we can share it!