Who doesn't love Churros? Well now, thanks to General Mills NEW Cinnamon Toast Crunch Churros cereal, you can have CHURROS FOR BREAKFAST! What better way to celebrate than throwing a Churro Cereal Breakfast Party?! This post has been sponsored by General Mills. All thoughts and opinions are my own.
Whenever we throw a party, we like to keep our friends in mind. We always offer a dairy-free option like almond milk or oat milk.
For our Churro Cereal Breakfast Party, we made homemade oat milk, homemade chocolate milk, and homemade strawberry milk. I like to use glass jars this way our guests can see right inside. For those with allergies, like the oat or almond milk, we actually put it in a different type of glass container so there's no confusion.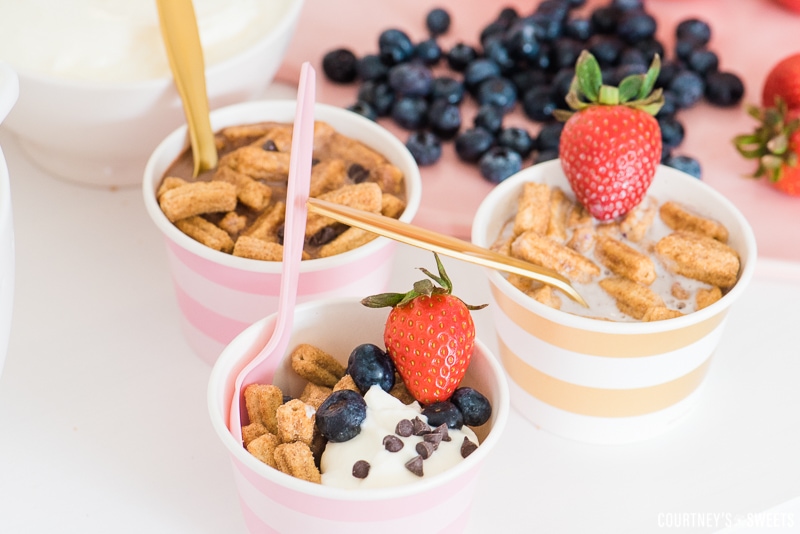 We went to our local Walmart and hit the produce section to buy some apples, blueberries, and strawberries. I also picked up some chocolate chips—HELLO, churros and chocolate? Yes, please! We kept them mini so they're not too much. It was so fun picking out decorations, too. We like to go with simple colors, not too vibrant but still fun! Soft tones, so we chose tiny pops of color. It was so fun seeing how people made their Churro Breakfast Bowls. My favorite was making it with the oat milk and then chopping some strawberries to add in. You could also offer bananas, raspberries, blackberries, chopped kiwi—whatever fruit you like!
Then we hit the cereal section and bought the family size of the Cinnamon Toast Crunch Churros cereal. Enough for everyone to enjoy a bowl! Also, couldn't leave without getting some milk and yogurt!
My daughter was super excited to buy the Cinnamon Toast Crunch Churros at Walmart, so I naturally bought two boxes—one for us to enjoy now and then one for the party. She was thrilled, and she also picked out the Chocolate Cinnamon Toast Crunch—delicious as well!
We put the cereal in a big bowl with a ladle, it was fun to scoop into the cute little bowls and then top with fruit, chocolate, or yogurt, and then of course milk of choice.
You can find new Cinnamon Toast Crunch Churros at your local Walmart!