Have fun creating this DIY Pinata Easter Egg for a kid friendly Easter craft with your kids! This is a great DIY home tutorial or even a fun classroom activity.
My daughter loves busting open a pinata. She manages to tell me at least once a week that she didn't get to bust her pinata at her birthday and it's so sad hearing her tell it each time. I feel bad because she wanted to bust it open so badly, but didn't tell me until after one of her cousins got it, for the record it was a tough one to get open!
(FULL VIDEO WITH INSTRUCTIONS ON BOTTOM!)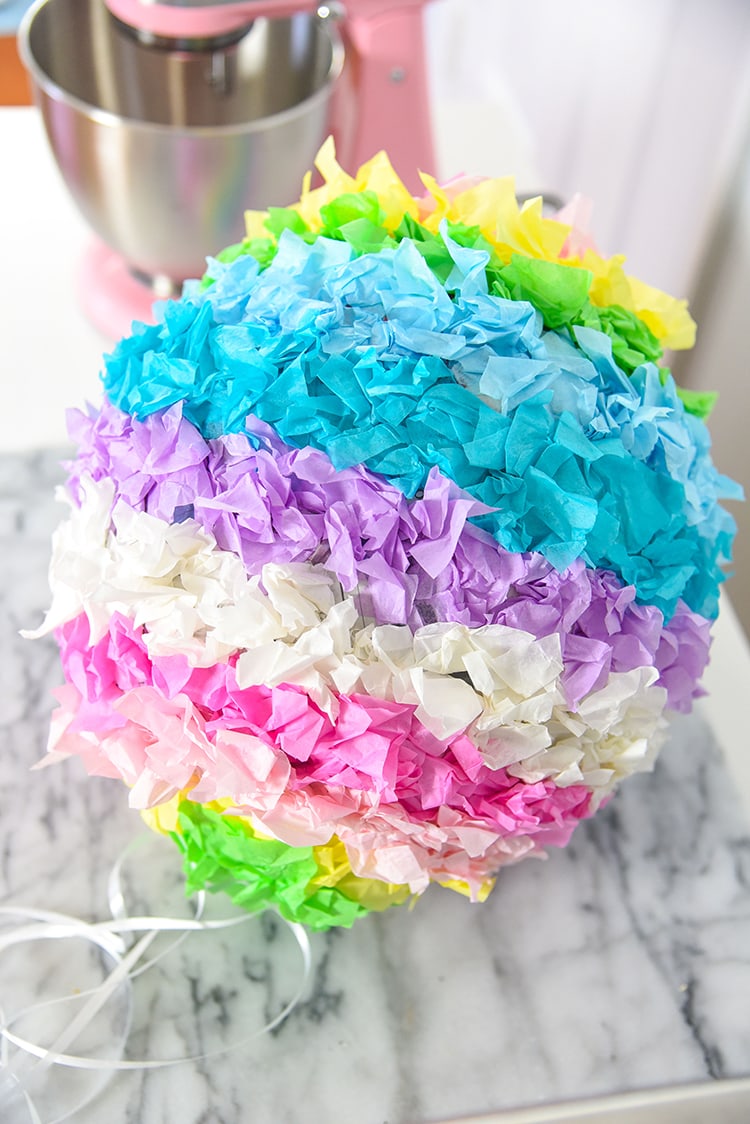 I figured why not make her a DIY Pinata Easter Egg for just her so we can make this fun tutorial! I made a giant egg pinata with her and then she got to pull all the strings. We made it an Easter Pull String Pinata since pull strings are much easier and no one is getting hit with a stick, ha!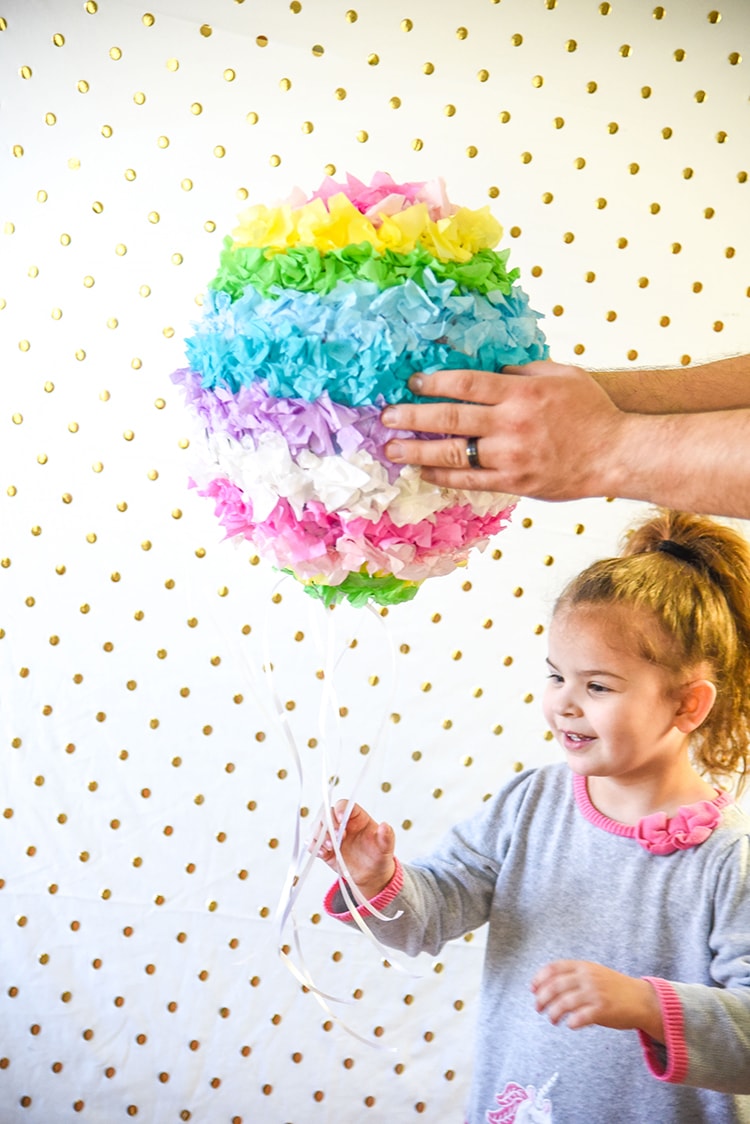 I want to make another one for Easter so all the kids can have fun. I look at Easter Pinatas and thought, wow I can do that myself. So I'm ready to show you how to make a pinata easy and fast with just a few ingredients!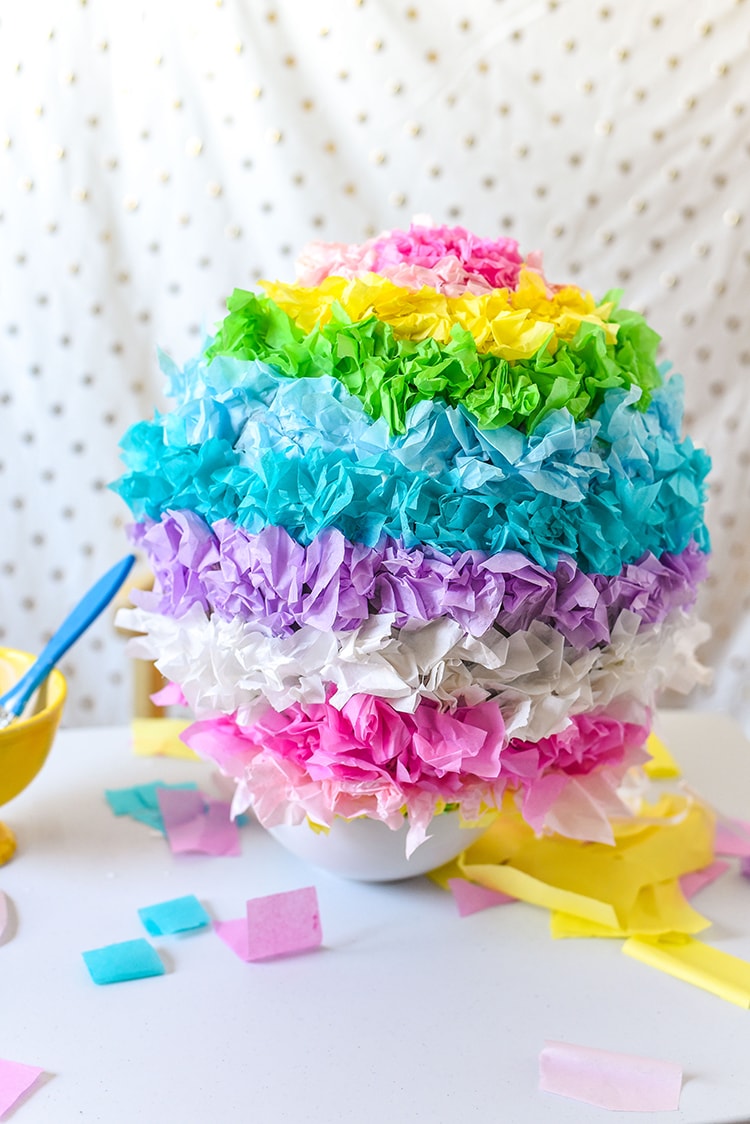 I have created a full video you can watch every single thing that we did to make our DIY Pinata Easter Egg. You can see me make it from start to finish. From the diy pinata paper mache to a beautifully decorated Easter egg pinata!
We hope you enjoy our DIY Pinata Easter Egg and that you have a blast making it!
What you need:
Elmer's Liquid School Glue, Washable, 1 Gallon, 1 Count

GLUE: For the glue we recommend and use Elmer's. Glue can be very hard to find with the slime craze so we highly suggest getting a big gallon if you're going to need to use glue more than once.
It's a great price and should be in stock when you try to purchase. 🙂
If you're homeschooling or just love doing crafts at home with your kids this gallon of clue will go pretty quickly. We just bought a second one in 3 months.

(72) Clear Transparent Latex 12 Inch Balloons and White Curling Ribbon Bundle

BALLOONS: Now for the balloon, I like using one that is durable and this clear latex balloon is just that. We used these same balloons for our DIY Slime Stress balls.
PASTEL TISSUE PAPER: We found ours at Walmart
NEWSPAPER: We got the paper at our local supermarket
— ARE YOU READY TO MAKE YOUR DIY PINATA? 🙂 Watch our video tutorial.
As far as making the pinata, you just blow up to the size you want and then it's getting popped after you do the paper mache. 🙂

NOTE:
If you don't want to make it a DIY pull string pinata, you can just finish the bottom and leave off the paper with strings, BUT instead getting a hook or a single strong string in so you can hang. We have it so that an adult can hold the pinata for the little ones and they can just pull strings. 🙂
REPURPOSE:
Please don't throw away all your hard work!! Instead, repurpose and reuse your DIY Easter Egg Pinata and turn it into a fun candy bowl. I say fun candy bowl instead of an Easter basket since it's not 100% durable to tote around unless you do a ton of costs of the newspaper. I like to make the bowl look like an Easter basket for fun. You can paint the inside if you want, but we prefer to keep it as is.
FULL VIDEO WITH INSTRUCTIONS: