Throw a fun graduation party quickly and easily. We set up our preschool graduation party in less than 30 minutes! Thank you I Love Ice Cream Cakes for sponsoring this post. Make I Love Ice Cream Cakes the centerpiece at your gathering and find an ice cream cake in a grocery store near you!
My daughter is a huge fan of parties! We throw parties all the time, we love to entertain and be with family and friends. Whenever we throw parties we love to have ice cream cake! I love baking, but for my birthday cake, I always have to have a Carvel® Ice Cream Cake aka I Love Ice Cream Cakes. My daughter is the same now and it's only natural that it would be one of the main graduation party desserts at the party.
We like saving money where we can when it comes to parties, there's no need to spend a ton of money! I went to the dollar store first and then hit the party store. Believe it or not, some of the party decor we had purchased at the dollar store was at the party store for more money. The more money we saved the more money we had for graduation gifts for our daughter, which is mostly money in her bank account and a small stuffed bear and flowers, nothing crazy. Instead of doing a graduation cap she wanted a graduation headband, because, PINK!
Talking about pink, you can easily decorate your grad party in your school colors, since we are doing homeschool we went with Kay's favorite colors, pink and gold! I tossed in silver and black for that graduation party look.
Once we had all the graduation decorations we were off ShopRite to buy the Carvel Ice Cream Cake! (Don't have a ShopRite? Check the store locator) We like to add sprinkles to the cake for the occasion.
My daughter loves to help with this part too. She is a huge fan of the vanilla ice cream and chocolate ice cream loaded with crunchies!
I also picked up some mini chocolate chip muffins, quinoa chips, and pretzels for the kids to snack.
Once we got home I put the ice cream cake right into the freezer and made a batch of our fruit punch recipe.
We don't take the cake out until the guests come so it's not melting. We take the cake out of the freezer about 15-20 minutes before we'll cut into it.
Graduation Party Tips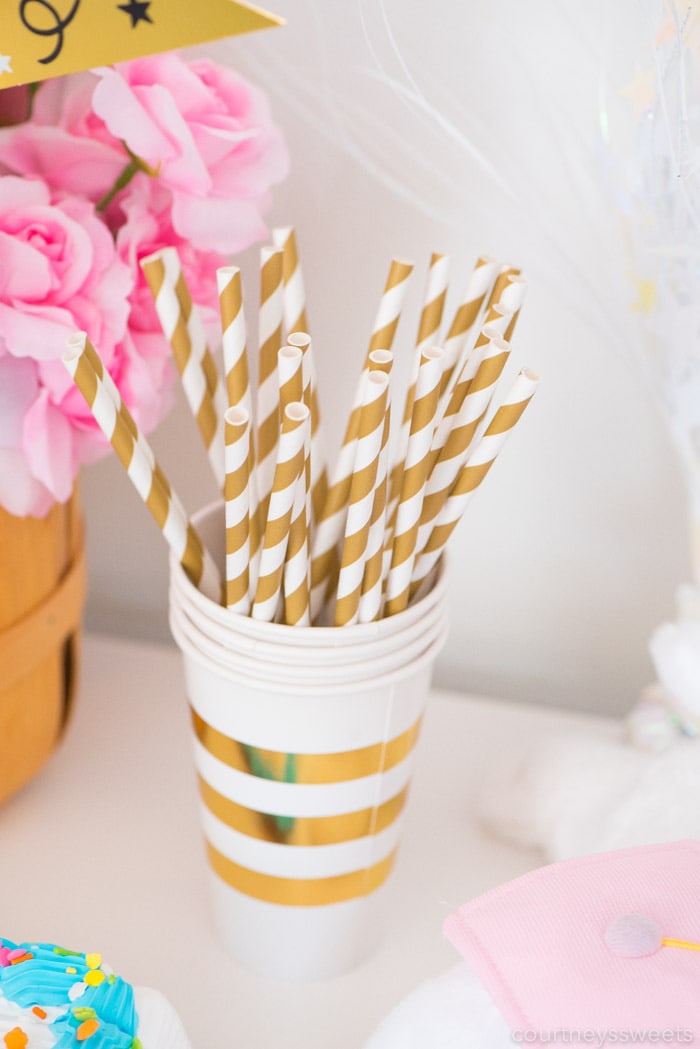 Go for ice cream cake! everyone loves it and you don't have to worry about it not being ready in time
Check the dollar store for decorations – balloons are cheaper too
Reuse decorations – have leftover decorations? use those too where they fit
Indoor Party vs Outdoor Party
I love throwing outdoor parties, but sometimes it's not ideal. I actually threw a party for family up north and then friends by us in our home, I loved the look of our indoor party so much more! You can control much more elements indoors. Wind can be a huge nuisance when you're throwing a party outdoors and even rain.
The balloons were constantly hitting people in the face outdoors, oh no!
Wind can make it chilly too!
When you're doing a big setup I prefer to do those setups inside going forward, it was fun outdoors, but much easier indoors. We did the cake right away at the outdoor party because everything was just blowing all over, it was a wild day, ha!
My daughter enjoyed her graduation parties and wish you the best of luck with your preschool graduation party too!
There's always a reason to celebrate with ice cream cakes, from celebrations to gifts, or even just a delicious dessert! I Love Ice Cream Cakes can be found easily in grocery stores for all sorts of occasions, we always get the limited time ones too! You can find them in the bakery or freezer section in stores nationwide. Don't want the originalCarvel? There's also Jon Donaire® and OREO®.
PIN our Graduation Party to save for later