Easy Peanut Butter Balls are a simple recipe to make and packed with protein!  Special thanks to Mirum for sponsoring this great quick and healthy snack for back to school. My family loves making and eating healthy peanut butter balls! Sometimes when we want to make them more of a dessert, I'll even dip them in some dark chocolate.

You can get fancy with them and even drizzle on some more peanut butter by just quickly warming up your Peter Pan Peanut Butter. Since these are for snacking, we make a batch and then store them in the refrigerator for about 3-4 days. They rarely last 2 days in this house, yum!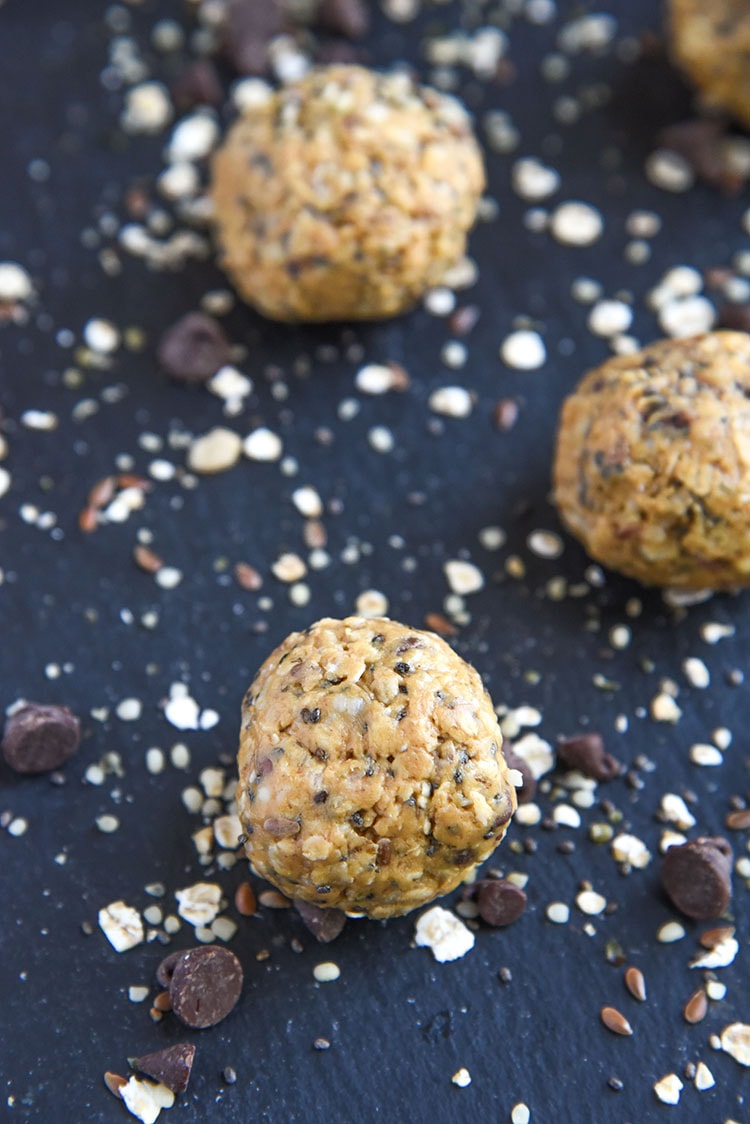 Now that school is back in session (homeschool too!) we're looking for easy, healthy snacks to enjoy during the day. This easy peanut butter balls recipe is perfect to hold us over until lunch or dinner time.
Since my daughter is a mini chef, she likes not just to eat them, but also help make them. When she makes them they, have much more chocolate chips. 😉
Whether you're heading to Kroger for Chef Boyardee, Snack Pack, Peter Pan Peanut Butter or Sparkling Ice Water, you'll surely have an A+ recipe! 🙂
Wash your healthy peanut butter balls down with Sparkling Ice Grape Raspberry, NEW FLAVOR!
Easy Peanut Butter Balls
Ingredients
1

cup

oats

1/3

cup

chocolate chips

3/4

cup

peanut butter

2

tablespoons

honey

1

tablespoon

flaxseed

1

tablespoon

chia seed

2

tablespoon

hemp hearts
Instructions
Combine all ingredients in a large bowl.

Once combined rolled into balls.

Serve and enjoy.
Peter Pan peanut butter comes in original, and simply ground — Non-GMO Project verified!
Chef Boyardee is a family favorite for most! No, No, No Messaging – No Artificial Flavors, No Preservatives, No Artificial Colors – Real quality ingredients
Snack Pack packs are a great little dessert to add into your kiddos lunchbox. Snack Pack Naturals 6-Packs Only-Creamy pudding made with All Natural Ingredients like real milk, cocoa, and sugar & nothing artificial. Find it in chocolate, chocolate & vanilla swirl, and vanilla.
$0.80 off 4 or $2.50 off 10 cans of Chef Boyardee
$0.60 off 3 Snack Pack
$1.00 off 1 Snack Pack Naturals
$1.50 off 1 Peter Pan Original
$1.50 off 1 Peter Pan Natural
Check out Kroger's Banner Stores which also carry the same products: City Market, Baker's, Dillions, Food 4 Less, Food Co, Fredy Meyer, Fry's, Gerbe's, Jay C, King Soopers, Owen's, QFC, Ralph's, Smith's and Pay Less.
BONUS! Enter to win an A+ Eats and Drinks Return to School prize pack including an on-the-go bento box, a case of Sparkling Ice and Kroger gift card.
A+ Eats, Return to School Sweepstakes