Enjoy our Lemon Pepper Salmon and Rice Salad for a quick and easy lunch! Portion control and meal planning just got easier, and it's filled with wholesome ingredients. 
We make salmon in our house regularly. I like to make it at least once a week. I'm pretty simple with my salmon and only use lemon pepper, and I love when we have leftover salmon, very rare for us! I love tossing it with some broccoli and white rice and just enjoying a bowl; it's so good!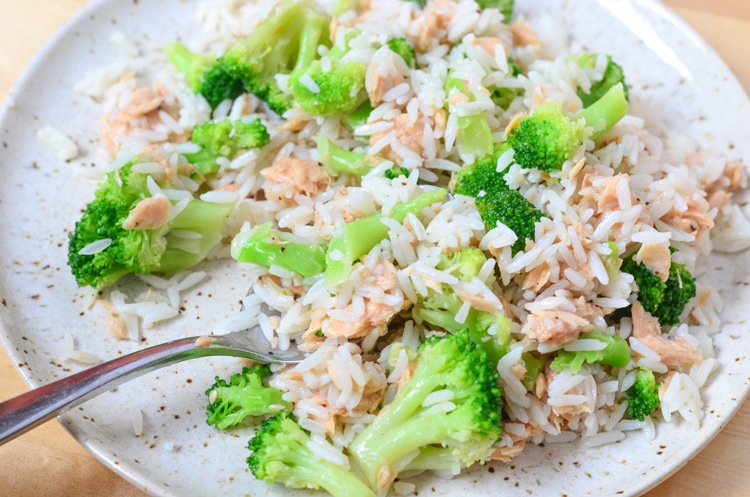 Lately, I've been so busy with work that I need something quick and easy for lunch. I now have an easier way to enjoy my favorite lunch, thanks to Chicken of the Sea Salmon Pouches and Minute® Ready to Serve Rice! We picked up the Chicken of the Sea Salmon Pouches in Lemon Pepper, but you can also find Barbecue, Sweet & Spicy, and Sriracha.
Enter the Salmon Loves Rice Sweepstakes (Sept 25-Oct 8) Full details at end of post
It's all the flavors that I love already, but so much more convenient and I can enjoy it whenever I want with just a few minutes of prep. I have used and love the Minute® Ready to Serve Rice. My daughter loves white rice, and sometimes I'll make a side dish she's not happy with, and these are the perfect portion for a single serving. It only takes 60 seconds to fully cook in the microwave. When my daughter wants rice for dinner, those 60 seconds sound so much better than 15-20 minutes.
If you need portion control options, these two products offer great portion control! The Chicken of the Sea Salmon pouches is available in single serving 2.5-ounce pouches, perfect for my lunch serving.
The rice comes in a variety of options, but we love Jasmine, so that's what we purchase. You can find all new varieties such as Brown & Quinoa and Basmati Rice, as well as Whole Grain options of Brown Rice, Brown & Wild Rice and Multi-Grain Medley. The cups are BPA free so no worries about that!
We're picky about our salmon; it must be wild caught! We love that Chicken of the Sea offers wild caught salmon not only flavored but in pouches, not the can. It's so much easier to open a pouch when you're at work. Plus, they're no bones. Salmon is rich in protein and omega-3s!
My daughter even loves this simple Lemon Pepper Salmon and Rice Salad! She's a huge fan of rice and salmon. She had a rare food allergy and salmon was one of her first safe proteins!
Ingredients
1

cup

Minute® Ready to Serve Rice

, microwaved

1

Pouch Chicken of the Sea Salmon

1/2

cup

Steam Broccoli
Instructions
Combine all ingredients and enjoy!

Optional, add a little more lemon pepper seasoning if desired.
Stop by and party with us on Twitter!
WHEN: September 27 at 11 a.m. ET
WHERE: Twitter
How: #SalmonLovesRice
In the top of the post, we mentioned the Salmon Loves Rice Sweepstakes! You can use the hashtag #NationalSalmonDay to answer salmon trivia for a chance to win a 7-10-day Alaskan cruise and Chicken of the Sea Flavored Salmon Pouches and Minute® Ready to Serve Rice products!
This is a sponsored post written by me on behalf of Minute® Ready to Serve Rice.