Tender and juicy, Pan Fried Pork Chops with a delicious seasoning. Serve with your favorite sides for a delicious meal.
Pan fried pork chops are a quick and easy dinner recipe that takes less than 30 minutes to prepare and cook. You can use bone-in, boneless, thick-cut, or thin-cut pork chops. The only difference will be the cooking time as thicker pork chops and those with bones in need more time, thinner needs less.
Ingredient notes
Boneless Pork Chops – This recipe is for boneless pork chops, you'll need to adjust the timing for different cuts.
Spices – We use salt, pepper, garlic, onion, parsley, and celery seed. It's our favorite seasoning for pork chops.
Sugar – You can leave this out if you're sugar free, it's a minimal amount but does add a bit of sweetness.
Avocado oil – We use oil to pan fry our pork chops and avocado oil is our go to high smoke point oil when cooking.
Step-by-step instructions
For the full ingredient amount and full instructions on how to make pan fried pork chops see the recipe card below.
Prep the pan, heat the avocado oil in a cast-iron skillet.
Season the pork chops, mix up the spices with sugar and then season both sides of the pork chops.
Pan fry the pork chops, cook for about 4-5 minutes per side for a medium-rare to medium pork chop.
Enjoy!
Recipe tips and variations
Let the pork chops rest for 5 minutes before slicing.
The pork chops temperature when fully cooked should be 145 degrees inserted into the center and thickest portion.
Pork Chops should read Cast iron sears beautifully, it conducts heater better than most pans and will give your pork chops and other cuts of meat a beautiful golden color.
Don't move the pork chops before they are seared on each side. Resist the urge to pull them up and check before 5 minutes. If it's not ready the meat will stick to the pain if not fully seared.
The full cooking time for pork chops will vary depending on the cut and thickness of your pork chops.
Storage and reheating tips
Refrigerate: Store any leftovers in an air-tight container in the refrigerator and enjoy within 3-4 days.
Freeze: To freeze leftover pork chops you'll want to wrap them in plastic wrap or foil and then place in a freezer safe container. Freeze for up to 2-3 months.
Reheat:

To reheat pork chops you can use your oven or air fryer at 350 degrees F for 25 minutes, oven at 350 degrees F for 30 minutes or microwave for 3-4 minutes.
How to serve
We serve as a main course with a starch and vegetable. Our go-to is some mixed vegetables and pasta, rice, or potatoes.
Frequently asked questions
What temperature should pork chops be cooked to?
The pork chops are done when they reach 145° F measured in the center, this is the lowest safe point for pork chops. We go to about 155-160 for well-done pork chops.
How do you prevent pork chops from curling up?
There's a fat layer on the outer rim of the pork chops, just scoring into that fat layer should prevent the pork chops from curling up.
What happens if you overcrowd a pan?
When you have a nice hot pan and then add any food to the pan it automatically cools the pan down a bit. Adding too much food and overcrowding a pan can cause the food to steam and then it will not sear properly.
side dishes to serve with pork chops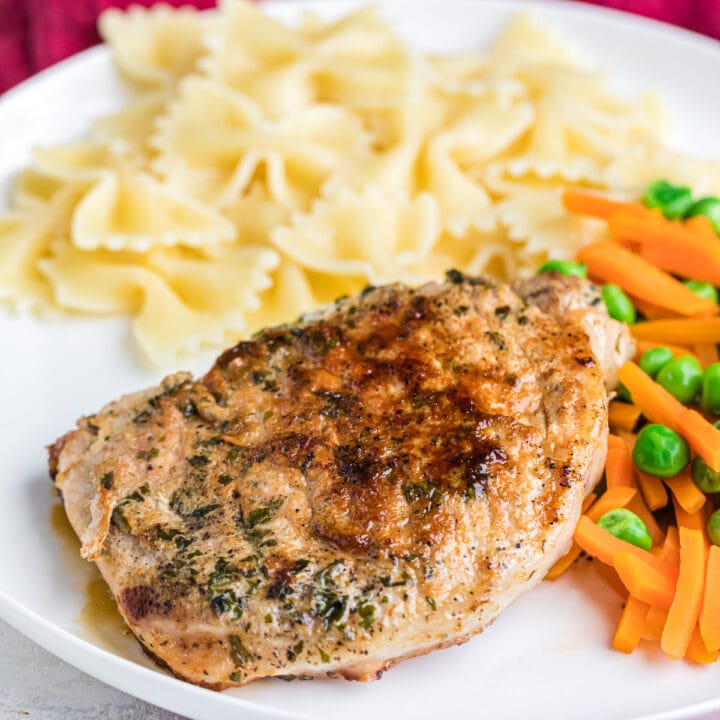 Pan Fried Pork Chops
Tender and juicy, Pan Fried Pork Chops with a delicious seasoning. Serve with your favorite sides for a delicious meal.
click the stars to rate this recipe
Print
Pin Recipe
Ingredients
1/2

teaspoon

salt

1/4

teaspoon

pepper

1/4

teaspoon

sugar

1/2

teaspoon

granulated garlic

1/2

teaspoon

granulated onion

1/2

teaspoon

parsley

1/2

teaspoon

celery seed

2

teaspoons

avocado oil

4

boneless pork chops

about 1 inch thick
Instructions
In a small bowl combine the spices and sugar and set it aside.

Pour avocado oil into a cast iron pan over medium-high heat.

Sprinkle the seasoning mix over the pork chops on both sides.

Add the pork chops to the cast iron pan without overcrowding and reduce heat to medium.

Cook 1 inch thick pork chops for about 4-5 minutes on each side.

Pork Chops are finished when an internal temperature reaches a minimum of 145 degrees F for medium-rare and a maximum temperature of 160 degrees F for well done.
Nutrition
Serving:
1
pork chop
|
Calories:
232
kcal
|
Carbohydrates:
1
g
|
Protein:
29
g
|
Fat:
12
g
|
Saturated Fat:
4
g
|
Polyunsaturated Fat:
1
g
|
Monounsaturated Fat:
6
g
|
Trans Fat:
1
g
|
Cholesterol:
90
mg
|
Sodium:
356
mg
|
Potassium:
510
mg
|
Fiber:
1
g
|
Sugar:
1
g
|
Vitamin A:
7
IU
|
Vitamin C:
1
mg
|
Calcium:
15
mg
|
Iron:
1
mg
The nutritional information is automatically calculated and can vary based ingredients and products used. If the nutrition numbers are important for you we recommend calculating them yourself.
So nice to have you here! Did you try this recipe? ⭐ ⭐ ⭐ ⭐ ⭐ Be sure to leave a recipe rating! Also, tag us @courtneyssweets #courtneyssweets on Instagram so we can share it!