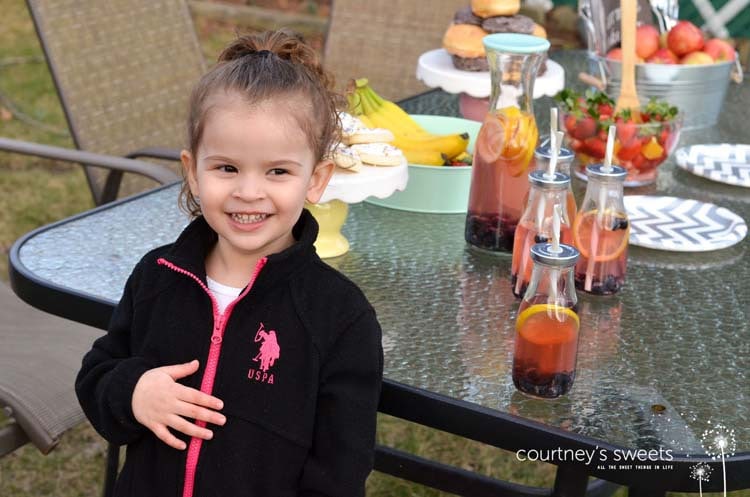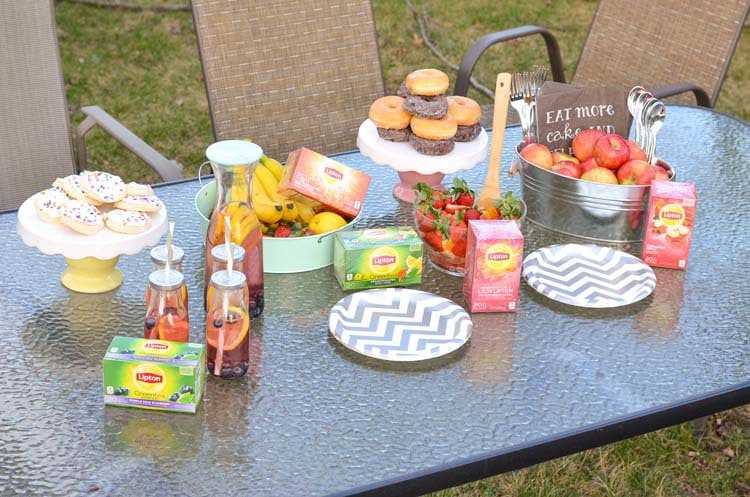 I've created a little monster. My daughter LOVES parties. The weather is getting a little nicer some days, so we threw a fun Ready for Spring Tea Party with some yummy Lipton Tea flavors we were sent. I simply told her that we were going visit grandma's, but she didn't know everyone was coming for a fun tea party! I went shopping quickly while my husband took her to the park first. It's so much fun surprising her and our friends and family. This is so easy to do since we know when everyone gets out of work. By the time everyone comes over I have the backyard and table all set up. I love how flavorful and bold all the teas are, so we tried to do some of the party features around the tea.
The Purple Acai Blueberry inspired our Purple Acai Blueberry Lemon Tea! We simply added in some sliced lemons, fresh blueberries and 1/4 cup of honey.
We even had a "win me area" with the Cinnamon Apple tea where whoever guessed the number of apples in the basket would win the basket of apples and the tea box.
For me, tea is relaxing no matter the flavor. Every new flavor is unique and exciting. Check out the full line-up of Lipton Green, Black and Herbal tea flavors here.
As a regular tea drinker, I appreciate all of the options. Lipton's updated green teas have a light and refreshing flavor and taste. Brighter with a clearer color as well and available nationwide. Their new black bold aroma teas are putting a twist on the traditional black tea too! We love their new herbal teas as well, which combine real ingredients with herbs to awaken our senses.
We served cookies, doughnuts, fresh fruit, and a delicious berry apple citrus salad!
Spring Tea Party Tips
Have your party outdoors, it's so lovely out – enjoy it!
COLOR, have lots of colorful serving ware as well as the food.
Leave things as they occur naturally, rustic look. We love having whole fruit to take and go.
Bold flavorful and fun drinks, like our Purple Acai Blueberry Lemon Tea
Guest gift, having a basket or flower centerpiece for one (or more) guests to win is always fun and exciting for all!
There's a ton of varieties of tea from Lipton. We received Purple Acai Blueberry, Irresistible Lady Lipton, Green Tea with Lemon (decaf), Enticing Chai and Cinnamon Apple.
Improved Lipton Green Teas:
Pure Green Tea
Orange Passionfruit Jasmine
Cranberry Pomegranate
Lemon Ginseng
Purple Acai Blueberry
New Lipton Black Teas:
Daring English Breakfast
Enticing Chai
Amazingly Grey
Stirring Ceylon
Irresistible Lady Lipton
New Lipton Herbal Teas:
Lemon Ginger
Peach Mango
Berry Hibiscus
Apple Cinnamon
I was selected for this opportunity as a member of Clever Girls and the content and opinions expressed here are all my own.