Sweet Baby turned one way too quickly! When I think of Mikaylee I think HOT pink not baby pink. We wanted to throw her a Minnie Mouse Birthday party but we didn't want the baby Minnie – we felt the big girl Minnie was much more her style 🙂
We had Minnie ears for everyone! Baby didn't quite fit in any of the pairs since they were made for older children but we kept a special pair for her in her 1st year birthday memory box! I bought a few things on my own which I totally stunk at taking pictures – seriously this day went way too fast! We bought lots of hanging Minnie Spirals and pom poms too!
The one thing that wasn't supplied to us for our party was a candy bar! I know our family loves candy and since most of Sweet Baby's safe foods are full of sugar we decided to have a candy bar 🙂
I made some simple signs using a Disney print and everyone thought it was super cute!
I was shocked at the amount of candy Party City sold – I was there for an hour picking out pink stuff 🙂 Even the containers are from Party City! My father in law loved all the trays and plates too. He thought they were real glass at first 🙂
We used the Minnie Mouse Scene Setters for the background and it was perfect! I loved the Minnie Cupcake Stand too! Super simple to put together and all the kids loved it! At first I wasn't going to make cupcakes but I just had too..
The Pinata was a REAL hit! All the kids loved pulling the strings and then rushed when the candy came flying out! As if they didn't have enough from the candy bar 😉 Daddy helped baby girl and at first she was a little curious what we were going to do to Minnie!
Sweet Baby had strawberry and banana cake because that's really the only thing she loves and it made her little FPIES tummy happy 🙂
Baby slept so well after her party – she loved all the Minnie stuff and I can't wait until her next party – hopefully she can eat cake by then! 🙂 She did enjoy her cake but I can't wait for that first taste of chocolate cake – heck this mommy will even be thrilled with vanilla!
Each little kiddo got to pick out gifts and goodies before they left too! Everyone said they wished this was their party – too cute!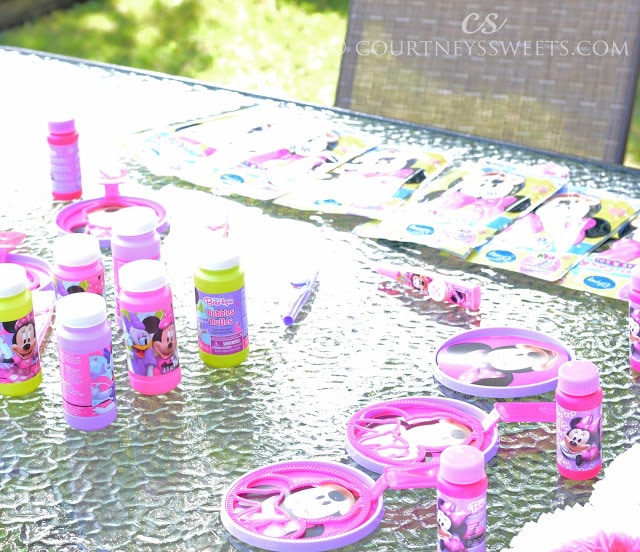 We had a blast – baby is one and we're having so much fun as our little girl grows and grows. I still can't believe she's almost walking and talking. Before you know it I'll be planning a wedding.. oh boy. At least Party City will have my back then too! 🙂