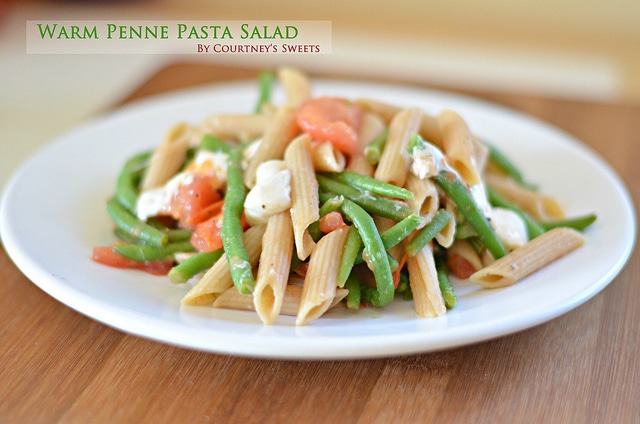 I'm not sure what is going on, but I loveeee me some wheat pasta! I love my carbs, however since I'm nursing I really want to make sure I'm eating foods that are healthier, right? Just last week I made my Cream Cheese Macaroni, but used whole wheat elbows instead of the traditional. I also like pairing my pasta with BUTTER. Who doesn't? Now I try to add more veggies in too!

I'm not a picky eater at all, and I love my produce! I just have a hard time eating a huge bowl of string beans on it's own. Not that it isn't delicious.. it could just be better! Pasta dishes are also perfect when in a pinch and short on time. I can seriously eat pasta, every.single.day! I won't, but could. My favorite way is with tons of garlic. I have a serious garlic obsession I go through about a dozen bulbs a month! This pasta salad I made the other day is a perfect pair with grilled chicken, or even on it's own! I ate it all by it's lonesome for lunch and enjoyed every single bite! My favorite thing to do is get a bite of each ingredient on a fork – party time!




Warm Penne Pasta Salad

Ingredients:
2 Cups Penne Pasta
3 Cloves Garlic, minced
1 Teaspoon Butter
1 Teaspoon Olive Oil
2 Handfuls of Frozen String Beans
2 Roma Tomatoes, diced
1/2 Cup Fresh Mozzarella, chopped
Pinch of Dried Basil
Salt to Taste

Directions:
In a sauce pan bring water to a boil and add in the pasta once boiling. In a small fry pan heat together the butter and oil. Add in the garlic and cook on medium-low until softened. When the pasta is almost done add in the string beans. Drain pasta and add in the garlic butter/oil with tomatoes and cook until tomatoes are slightly softer. Toss in the mozzarella, basil, salt to taste, and enjoy!