Our baked chicken fajita recipe is a sheet pan meal and we even use homemade chicken fajitas seasoning! You're in the right place if you're looking for a recipe for chicken fajitas that is delicious and easy to make.
This post is written by me on behalf of Tyson Foods, Inc. All opinions are entirely my own. This shop has been compensated by Acorn Influence, Inc. and its advertiser. All opinions are mine alone.
BAKED CHICKEN FAJITA RECIPE – AN EASY RECIPE FOR CHICKEN FAJITAS

Our Baked Chicken Fajita Recipe uses only one pan for all the ingredients to cook up and you'll be having restaurant quality dinner in no time! It's our favorite recipe for chicken fajitas and we make it often.
My husband loves going out to our local Mexican restaurant where they have the best chicken fajitas. The problem? We have to wait forever and a day to get seated and another week to get the food, ha! Okay, I'm exaggerating, it's about 3 hours total and we could easily be there for 3-4 hours just to get some tasty chicken fajitas.
I rather make our meals at home. I can use fresh ingredients and make sure we're getting the best quality too. I love using fresh uncooked tortillas too! I can make them how I want, and they're as fresh as ever. I use TortillaLand uncooked flour or corn tortillas and even organic. You can find them right at your local Costco right in the refrigerated section.
When you buy your tortillas, you will find it's a 50 count package. This is perfect for making tacos, fajitas, burritos, and even chips! You can use it from breakfast to dessert. Tortillas are so versatile, and the whole family loves them. They make fun meals for kids too. Kids LOVE handheld or dipping. 🙂 If you can't use all the tortillas, not to worry, you can freeze them and save for later too!
HOW TO SEASON CHICKEN FOR FAJITAS
This is a great job to be hands-on, you can wear gloves if you're more comfortable. Just season the chicken our fajita seasoning recipe and some olive oil and rub it all around over the chicken, peppers, and onions.
For the fajita seasoning, we like to use our homemade fajitas seasoning instead of a packet. We always have a big jar of it on hand, and I love making it in big batches. 🙂
We love this recipe, and it's one of our go-to quick and easy dinners.
I love making one sheet pan meals, so I don't have too much to clean up. Not to mention, fajitas are one of my husband's favorite meals! I actually prep this regularly for his meal planning lunches. He could eat this every day for lunch and dinner and be extremely happy!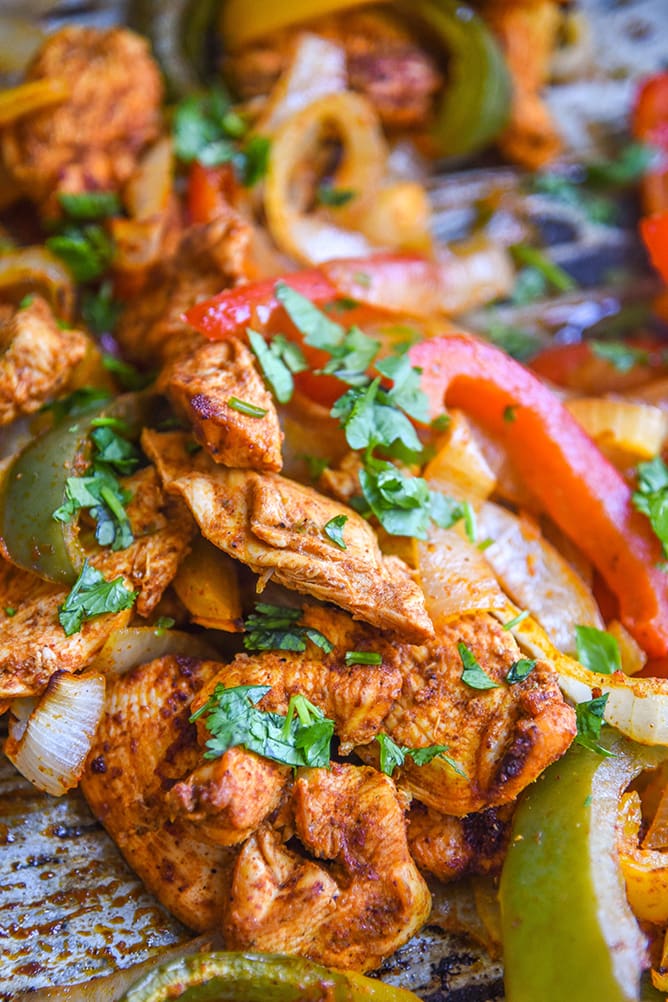 With Cinco de Mayo around the corner, you'll love this Baked Chicken Fajita Recipe for dinner. I simply cook the chicken, peppers, and onions right on the same pan. Everything tastes so delicious and is full of flavor.  I don't use packets for our seasoning, instead, I make our own homemade Fajita Seasoning Recipe, and I can use as much or as little as I want for taste. Now you can make this chicken fajitas recipe as often as you like!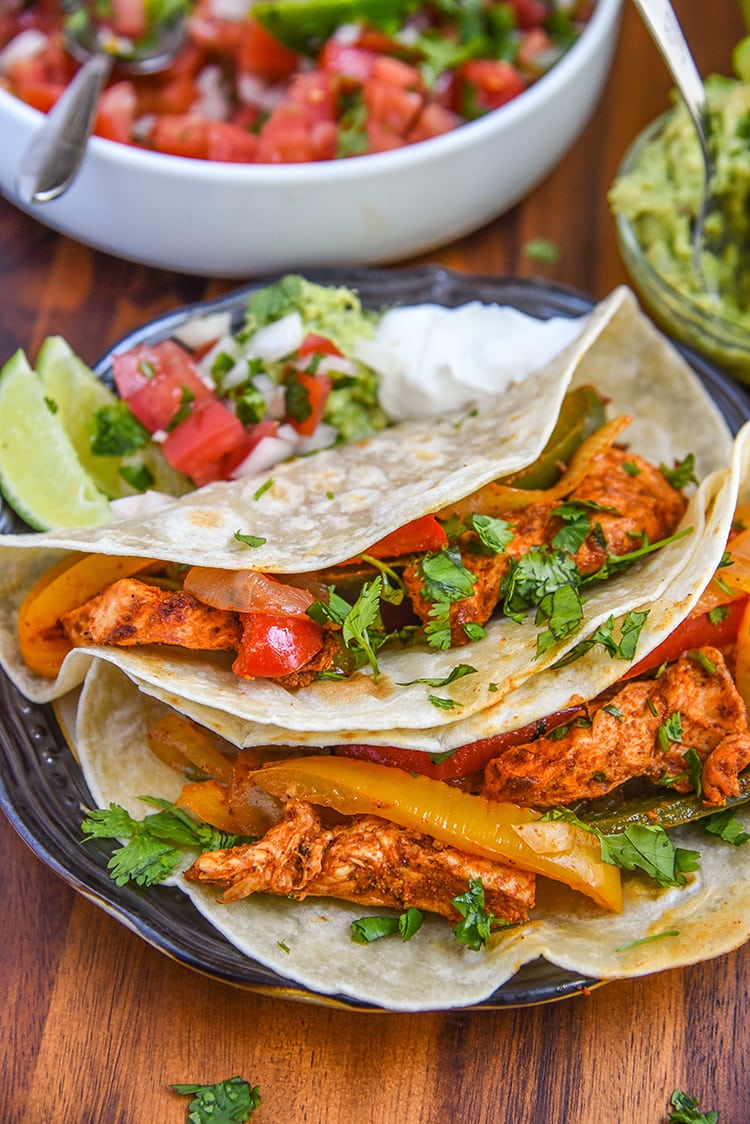 We like to serve with yogurt instead of sour cream, our Authentic Pico de Gallo Recipe, Fresh Guacamole, and lime wedges. You can also use cheese, rice, and lettuce if you like!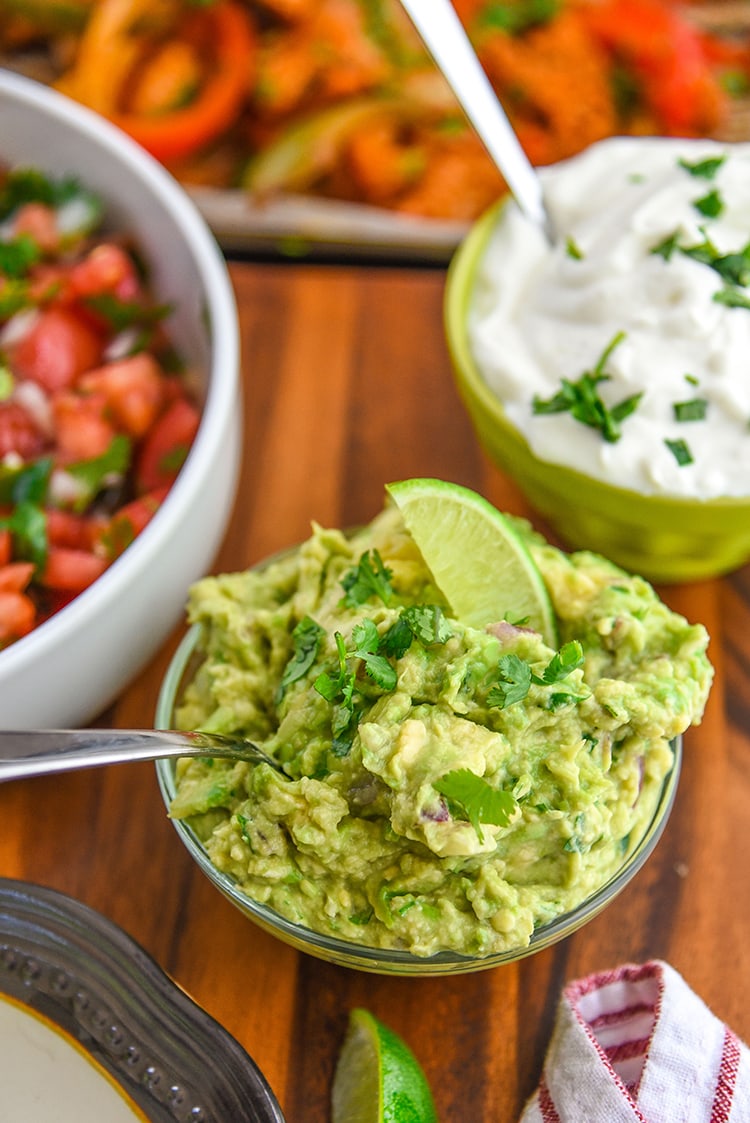 If you do not like chicken, you can easily swap out the protein in this recipe. I've also done this with steak, shrimp, and even chickpeas. I love chickpeas, and they take on the flavor too! It's a great way to serve a vegetarian and vegan option for guests.

WATCH OUR VIDEO ON HOW TO MAKE EASY CHICKEN FAJITAS
We hope you enjoy our recipe for chicken fajitas
Baked Chicken Fajita Recipe
Our baked chicken fajita recipe is a sheet pan meal and we even use homemade chicken fajitas seasoning! You're in the right place if you're looking for a recipe for chicken fajitas that is delicious and easy to make.
Ingredients
3

Chicken Breasts

, sliced into strips

1

tablespoon

olive oil

1

lime

1 ½

tablespoons

fajita seasoning

1

red pepper

, sliced

1

yellow pepper

, sliced

1

green pepper

, sliced

1

large onion

, sliced
Instructions
Preheat oven to 400 degrees.

Place chicken into a large bowl and place in olive oil, juice of lime, and seasoning. Marinate for 30 minutes to 2 hours.

Place chicken onto a sheet pan with onions and peppers, mixing thoroughly.

Cook for about 10 minutes and then mix/toss peppers and chicken.

Cook for another 10-15 minutes or until chicken is fully cooked (165 degrees F).

While chicken is cooking cook your TortillaLand Tortillas using a nonstick skillet.

When the skillet is hot, put the tortilla into the pan.

Cook tortillas 30 seconds on each side.

Place tortillas on a kitchen cloth and wrap to keep warm

Fill tortillas with fajita mixture.

Serve with sour cream, fresh salsa, guacamole, cheese, lettuce, and rice.
Nutrition Facts
Baked Chicken Fajita Recipe
Amount Per Serving
Calories 117
Calories from Fat 36
% Daily Value*
Total Fat 4g 6%
Cholesterol 36mg 12%
Sodium 68mg 3%
Potassium 396mg 11%
Total Carbohydrates 7g 2%
Protein 13g 26%
* Percent Daily Values are based on a 2000 calorie diet.
and our Chicken Fajita Seasoning Mix – no need for fajita seasoning packets to make our recipe for chicken fajitas!