Pico de Gallo is a delicious fresh salsa recipe. Learn how to make this Authentic Pico de Gallo Recipe at home.
This is by far the best pico de gallo recipe we've made. Learn how to make pico de gallo for tacos, chicken and steak fajitas, or just to enjoy with fresh corn tortilla chips. There's no reason to buy store bought when you can make homemade salsa at home!

What is Pico de Gallo
Pico de Gallo translation, Pico de Gallo means — It's a staple in Mexican Cuisine. Pico de Gallo is the same as a Salsa Fresca Recipe. Pico means Beak and Gallo means Rooster, so if you put Pico de Gallo translation to English it will give those results, Beak of the Rooster. Not exactly what you think of eating a spoonful of pico, or is it beak!
Pico de Gallo Ingredients
These are the ingredients you need to make our Pico de Gallo Recipe.
Roma Tomatoes

White onion

Cilantro

Jalapeno

Lime Juice

Garlic Cloves

Salt
You can use a blender, but I prefer roughly chopping the herbs and then dicing the veggies by hand.
Difference between Salsa and Pico De Gallo
Pico (also called salsa fresco) is actually a type of salsa, but it's fresh and never cooked. Salsa is usually small bits of vegetables and more pureed, where pico is always chunky and fresh.
The most important in making this or any pico de gallo recipes is using all fresh ingredients. You do not want to use canned tomatoes to make a homemade pico de gallo, but you can use canned tomatoes in a salsa recipe. If you have 10 minutes you can make an easy pico de gallo recipe fresh at home. We always have a batch in the fridge!
Kitchen Gizmo 2 Sided TPU Anti-Bacterial Cutting Board, Thick Yet Flexible, Knife Friendly, Scratch Resistant, Juice Groove, Dishwasher Safe, Antimicrobial, and FDA Approved (Green/Brown)

When making a fresh pico de gallo recipe we prefer not to use a blender or food processor. It's best to chop the ingredients by hand or use a vegetable dicer.
Invest in a good sturdy cutting board. I use one that is flexible and easy to clean. My husband is famous for shredding up my cutting boards and marking them up since we have really sharp knives. I have invested in this affordable cutting board and so far so good! It's even big enough for when he's chopping watermelon.
So back to cutting by hand. By cutting the ingredients with a knife you can control the chop. I prefer a chunky salsa and chop both the tomatoes and onions chunky, but you can chop as small or as large as you like. The main thing is to ensure you're using fresh ingredients.
This is really where freshness matters, especially with the tomatoes, onions, and cilantro. When making this we also suggest using a lime instead of lime juice concentrates. You can really tell the difference in flavor.
If you're going to serve your Pico de Gallo recipe at dinner you should make it a least 3-4 hours before in a large mixing bowl. We actually like to make it the night before if possible. By making it earlier you ensure that the flavors will really meld together. You want each bite of your pico to taste like each flavor. We love Mexican food and the flavor really develops after sitting a little.
Recipes using Pico de Gallo:
Here are a few recipes that you can use our fresh Pico de Gallo in:
Pico is a great topping for many dishes, here are a few suggestions!
Over scrambled eggs or omelets
Mixed with a mashed avocado for a fresh quick and easy chunky guacamole
On grilled chicken
Shrimp Tacos
Topping for fish
With tacos or fajitas
Dip for tortilla chips
How long does Pico de Gallo last?:
We usually make a large batch and use within 5 days. You'll find that the tomatoes really get broken down from the citrus, so you'll want to enjoy this recipe for Pico de Gallo before it breaks down too much. It's the best pico de gallo recipe when you use up before the 5 days. It's perfect for Cinco De Mayo!
I just went to my in-law's house and made homemade tacos along with a huge batch of pico. I know they love pico so I always make a large batch so they'll have it for a few days. I also made my homemade taco seasoning so they wouldn't need to buy the taco seasoning packets. She made taco chicken breasts and white rice and poured the pico overtop, it looked so good!
Video: How to Make Pico de Gallo
Pico de Gallo Recipe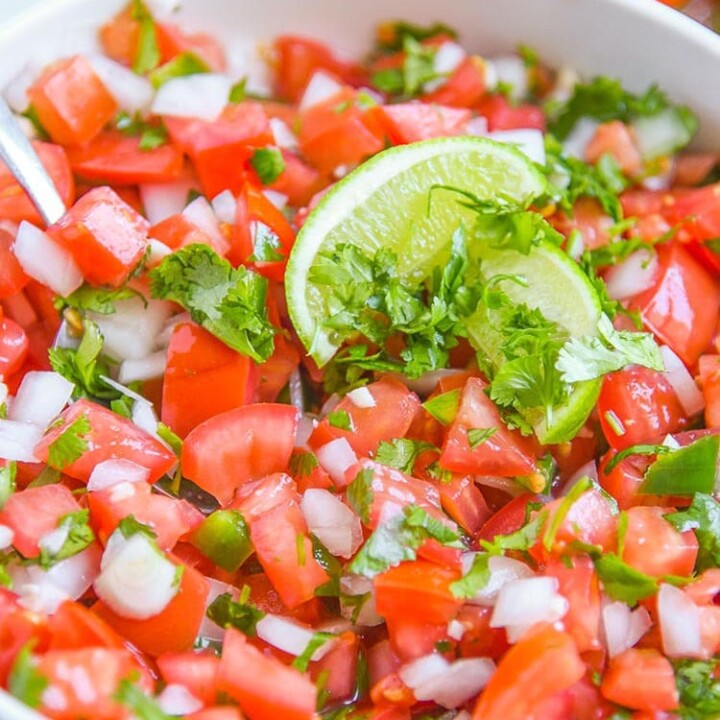 Pico de Gallo Recipe
Pico de Gallo is a delicious fresh salsa recipe. Learn how to make this Authentic Pico de Gallo Recipe at home.
click the stars to rate this recipe
Print
Pin Recipe
Ingredients
6

Roma tomatoes

1/2

cup

white onion

, chopped

1/2

cup

cilantro

, chopped

1

jalapeno

, chopped

2

tablespoons

lime juice

1

garlic clove minced

1/2

teaspoon

salt
Instructions
Chop up the Roma tomatoes and add in the remaining ingredients.

Mix all of the ingredients together until combined.

Refrigerate until ready to serve.
Nutrition
Calories:
23
kcal
|
Carbohydrates:
5
g
|
Sodium:
237
mg
|
Potassium:
208
mg
|
Fiber:
1
g
|
Sugar:
2
g
|
Vitamin A:
760
IU
|
Vitamin C:
17.1
mg
|
Calcium:
11
mg
|
Iron:
0.2
mg
The nutritional information is automatically calculated and can vary based ingredients and products used. If the nutrition numbers are important for you we recommend calculating them yourself.
Craving more Mexican Recipes? We have you covered!
Learn how to make how to make guacamole.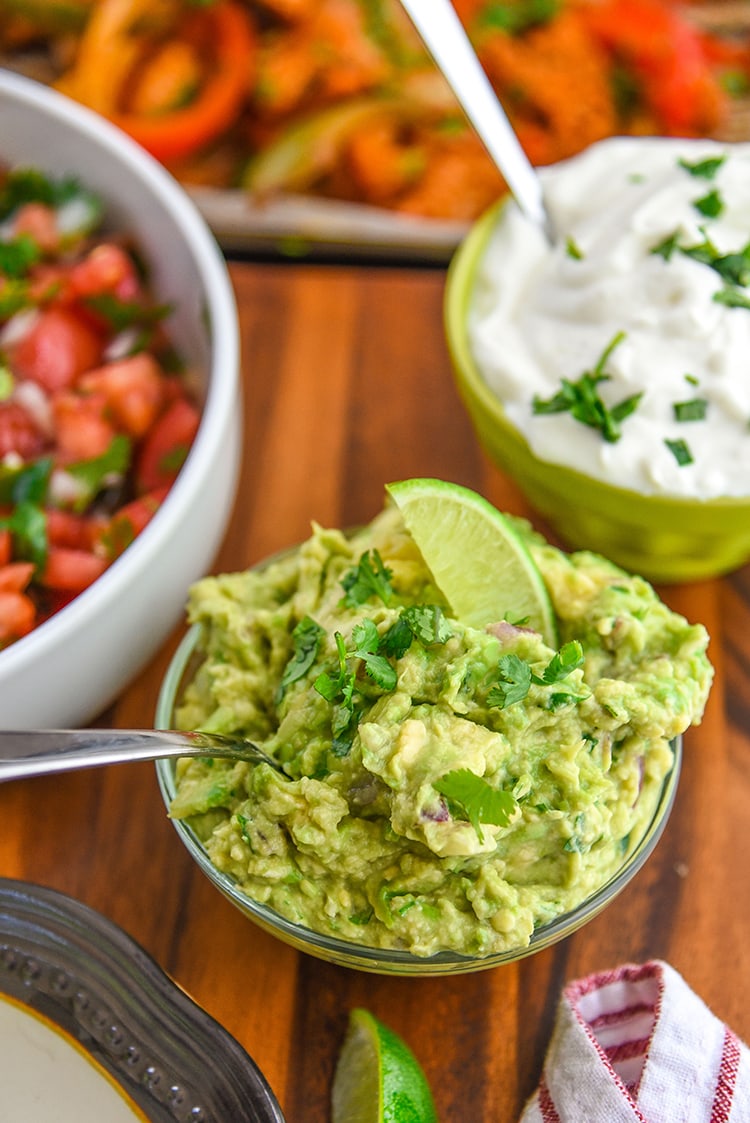 Baked Chicken Fajita Recipe (sheet pan meal!)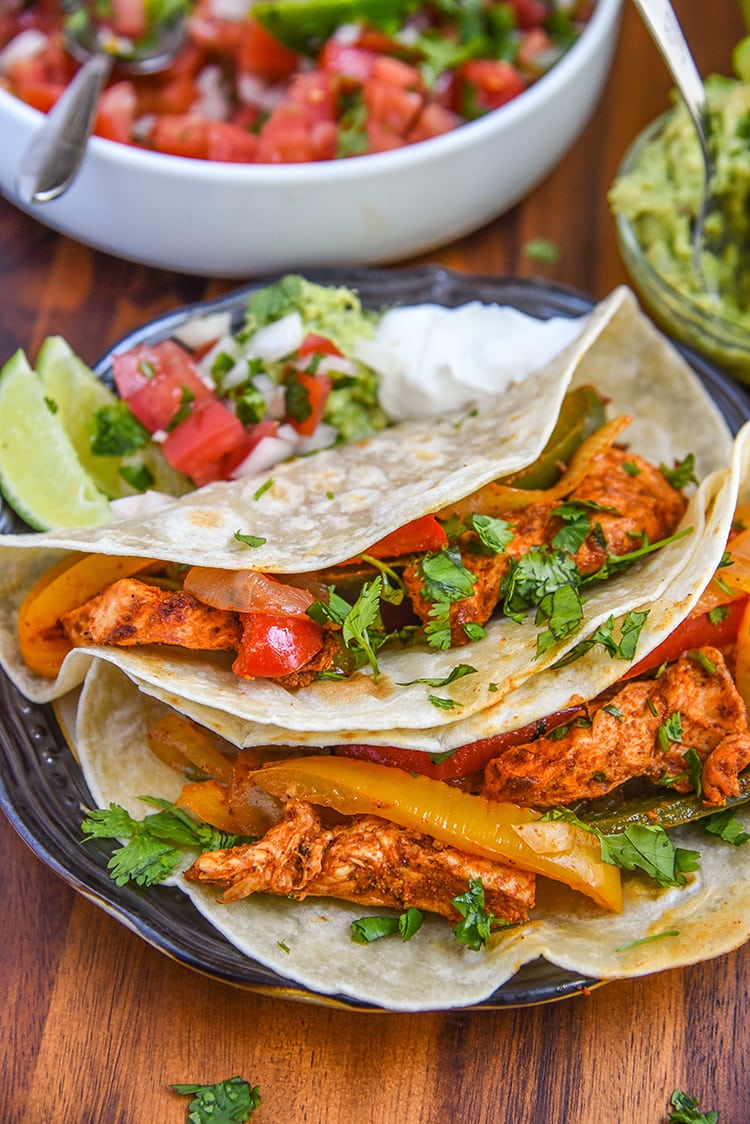 and our Fajita Seasoning Mix – no need for fajita seasoning packets!