Our Candy Corn Ice Pops on Mini Chef Mondays make a delicious fall treat, especially for Halloween entertaining. We make ice pops regularly and this is a combination of my daughter's favorites! We use fresh fruit and yogurt for the layers. Healthy whole food ingredients for a nutritious dessert.
this post contains affiliate links, if you make a purchase we earn a small commission – thanks for supporting our site!
We love to share and create easy recipes for Mini Chef Mondays so that your kiddos can really enjoy the process. My daughter and I blended up the ingredients to make these last night since she wanted ice pops for breakfast. She can absolutely have ice pops for breakfast with our Candy Corn Ice Pops, why?
The first layer is our pineapple lemonade ice pop recipe which my daughter LOVES. No lie when we go to the store we must get a pineapple to make them. 🙂
Then the next layer is an orange mango ice pop which is super simple and you can make on it's own too!
The final layer is just our homemade maple yogurt with a bit of milk mixed in. You could easily use flavor extracts to flavor the white if you wanted a different flavor.
When my mini chef woke up this morning she was ALL smiles and ready for her breakfast Candy Corn Ice Pops. We each had one! 🙂 Pssst. This is by far the best ice pop mold we've found and it looks just like the ice pops you'd get in stores.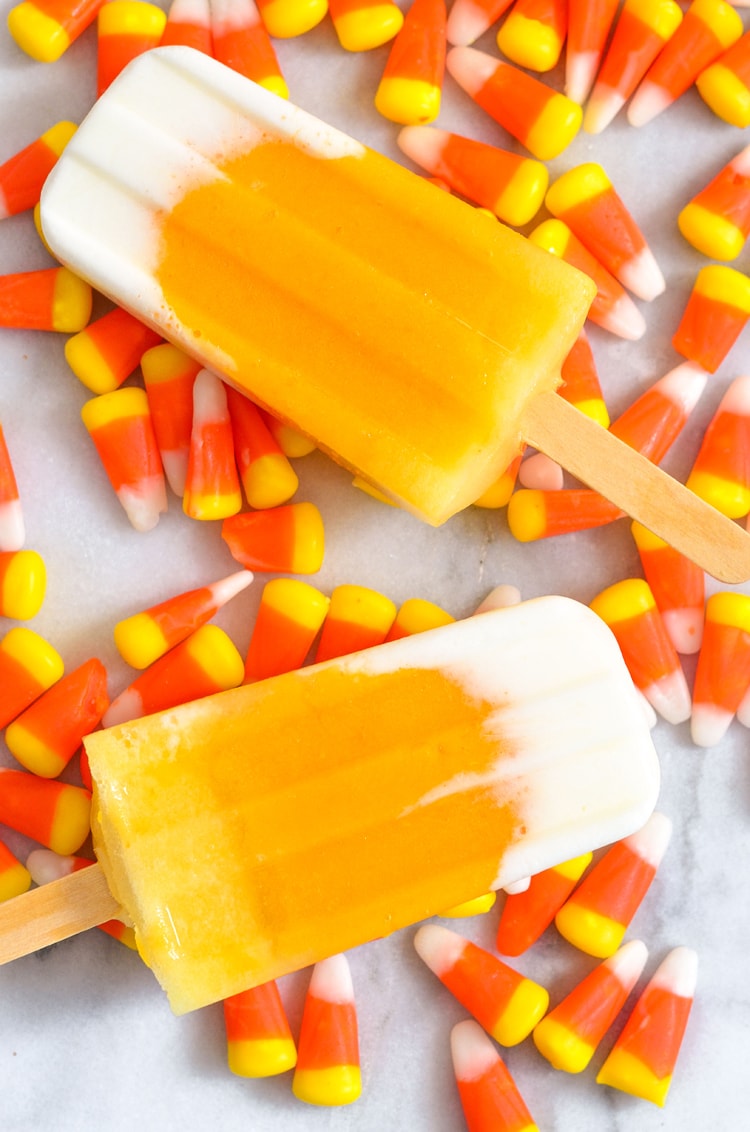 Candy Corn Ice Pops
Ingredients
pineapple lemonade

mango + orange + orange juice

, blended

homemade maple yogurt + milk

, blended
Instructions
Insert a popsicle stick before freezing and freeze for at least 4 hours.

*To get the perfect layers you could freeze individually or just make the liquids thick like a smoothie, that's what we do. 🙂
I am hosting Mini Chef Mondays along with 5 fabulous bloggers, find out more about the Mini Chef Mondays Team!
Join our facebook group to find even more recipes and share recipes too!
Get featured and follow us too!
Be sure to check out each of their Mini Chef posts as well!